$7 Zach Crawford Affiliate Marketing Course Review: Worth it?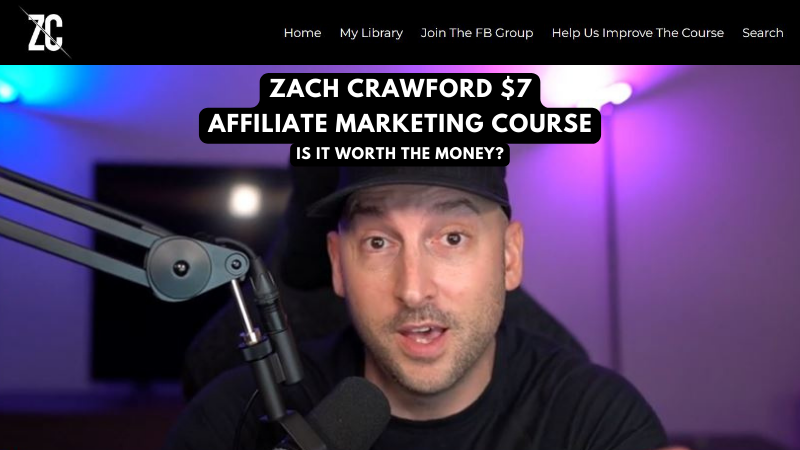 Should you dish out $7 for an affiliate marketing course!? Or should you look elsewhere? That's the real question we're discussing in this post on the new $7 Zach Crawford affiliate marketing course.
We don't do bullshit around here, so we're going to chat about this course with zero fluff and give you an honest and brutal break down.
A step-by-step guide for basic affiliate marketing at the $7 price point.
As a full-time affiliate marketer myself, I've completed countless affiliate courses over the years. I've spent thousands on high ticket affiliate marketing courses, and I've also spent next to nothing on courses just like this one.
They all have pros and cons, so I want to arm you with the advantages and disadvantages of both, so you can make an informed decision on which one best fits your needs.
Every new affiliate is different, so take what you will from this review and apply it to your own circumstances.
Let's dive into this review of the $7 Zach Crawford affiliate marketing course.
What is Affiliate Marketing?
Firstly, what is affiliate marketing?
If you've never completed a course before, or you just think you know what affiliate marketing is, then take a quick read below.
Affiliate marketing is simply recommending a product or service to an audience who is searching for it.
You act as the vehicle, providing the solution to those who have the problem.
All you're doing, is simply recommending products and services you know, like and trust to those who need them.
You receive a once off or recurring commission for referring that sale.
That's it.
You can do this by writing content about them (just like this blog post), creating videos on social media and YouTube, or via word of mouth or paid advertising. The choice is yours.
Affiliate marketing is NOT multi level marketing.
Do not confuse the both.
These are two completely separate online business models.
Affiliate marketing (in my opinion) is the ultimate way to making money online, replacing your old income and claiming back your time.
You don't need a product or service of your own to leverage, saving you time, energy and effort.
All the hard work has been done for you.
But you want to be able to do it in a way that feels good for you and aligns with your values.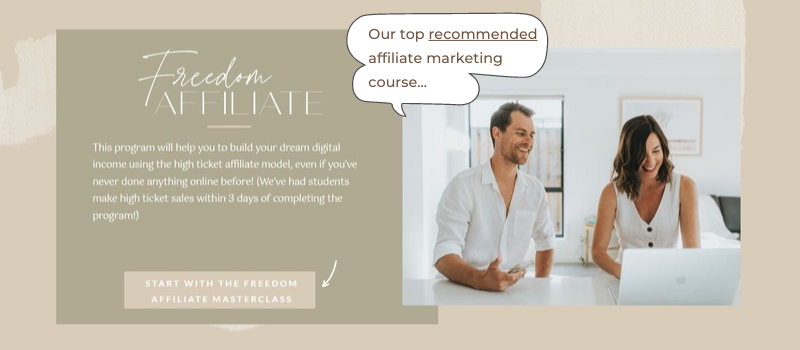 Why Should You Purchase an Affiliate Marketing Course?
This is a contentious question, because most people don't want to part ways with their money.
I get it, but truth be told, investing in a course and someone else's expertise will save you SO much time, energy and money moving forward.
Personally, I choose to purchase high-vibe courses and online resources because I don't have the time or care to try and find all the ubiquitous, free info online.
I just don't!
I'd rather pay an expert to tell me what to do, than fluff around, wasting my precious time.
I don't want to go around and around in a vicious cycle, trying to piece it all together.
I'd much rather have someone hand me all the info and show me exactly what it is I need to do.
You should not purchase a course if:
You aren't willing to grow, development and learn new skills.

Aren't willing to apply the things you learn from a course.

You just want a get rich quick/easy money option.
Affiliate marketing takes work and effort, just like any other business does!
If you're not prepared to do that to build a consistent online income, you're in the wrong place my friend.
If you've been looking for a $7 affiliate marketing course, but don't like the vibe of legendary marketer, then the Zach Crawford affiliate marketing course might be what you're looking for – it's called Passive Affiliate Profits. Check it out here.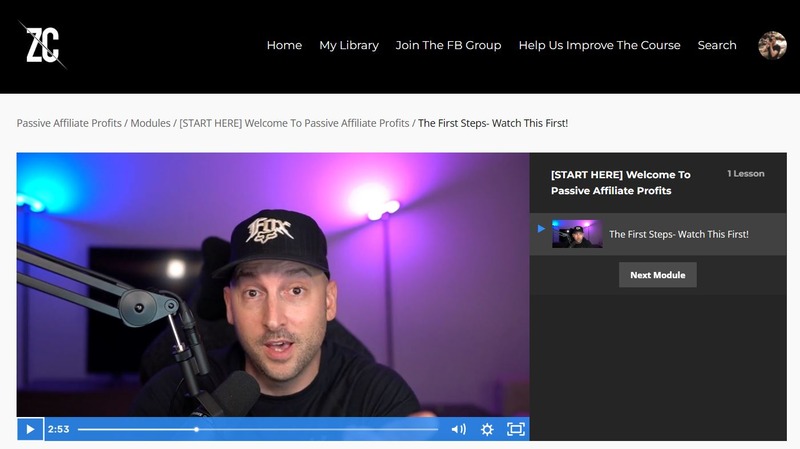 It's a beginners guide to becoming an affiliate marketer.
What I found with this course, is that it's more geared towards the American market.
The sales pages and landing pages are visually horrific and definitely leaves something to be desired in terms of aesthetics, but that aside, it might be what you need to get started.
If you're an affiliate marketing beginner, and you've never tried anything online before, this might be a good starting point for you.
I'll also provide some alternative options for you below to consider if you need more guidance, and you'd prefer a more holistic approach, that isn't as 'salesy'.
All in all, point blank, Passive Affiliate Profits is an 'ok'ish' option to start with.
It is lacking severely in some areas, though, in terms of what actually resonates in 2023 and how to effectively market through use of attraction marketing strategies.
For $7 though, it does a good job of showing you the basic principles of affiliate marketing. You'll also be given the opportunity to partner with Zach Crawford as an affiliate, so there's scope to earn while you learn, so to speak.
You can earn up to $1000 high ticket commissions at this level. More on that later…
Let's dive into more detail though…
What does the course cover?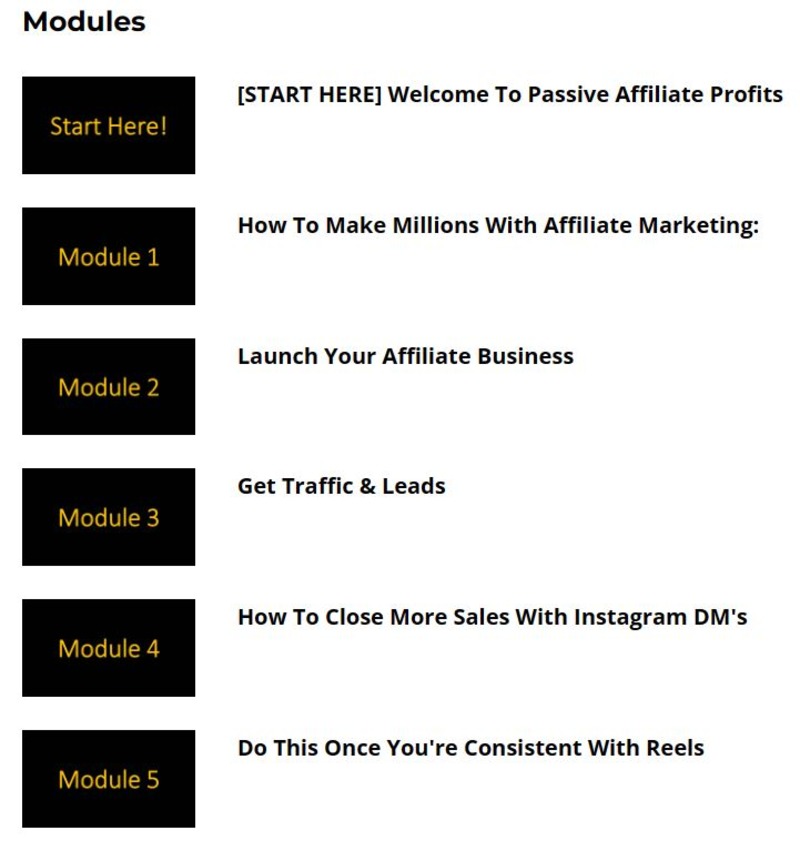 How to find affiliate links.

Sales funnel set up (via click funnels)

How to get free traffic & leads.

Social media marketing.
Advantages of the Zach Crawford Course
Disadvantages of the Zach Crawford Course
Final Words
Overall, I think this introductory course will teach you more about social media 'strategy' in a 'salesy' type of way, as opposed to effectively marketing in 2023 with authenticity.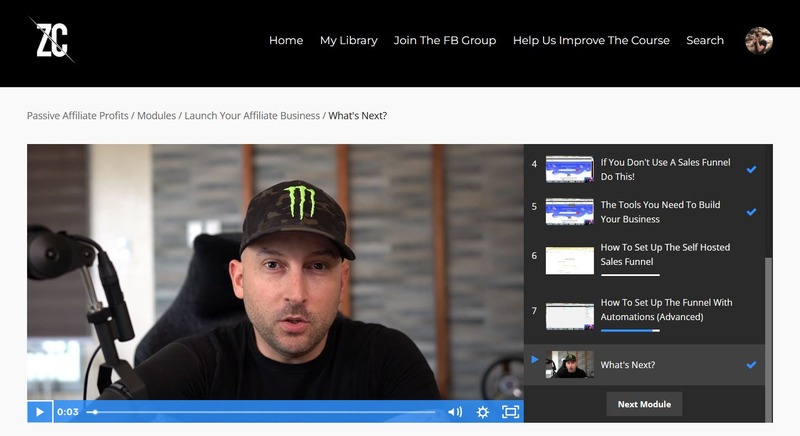 In fact (and quite unfortunately), most courses teach their students in this way. The modules focus more on what to post and where to post on socials, than anything else. This doesn't quite cut it in 2023.
Online business & earning an income online is a VERY holistic practice.
To create and leverage the online business model of affiliate marketing, you REALLY need to learn how to market in a way that feels good, and most importantly, is authentic.
To cut through in today's digital world, customers and audiences MUST see authenticity and 'realness'.
I felt like a lot of what was taught was a little outdated, and didn't really resonate with the average, everyday consumer. That being said, the course is still quite new, so it may change later on.
It felt a little tacky in places, predominantly around content creation strategies for TikTok & Instagram (eg. text on screen > telling the audience they could quit their 9-5 > 'comment to learn how' type of energy).
Now, that worked back in 2020 on TikTok – not so much in 2023.
Not to mention, it's lazy and it just doesn't feel great.
You'll need to build more of a connection as an affiliate – after all, people buy from people.
I'm all about marketing in a way that feels good, and actually aligns with your values and your audience.
While he's had incredible success, Zach's one of those online gurus who I think misses the mark a little in terms of what modern affiliate marketing looks like and what new affiliates might be looking for in 2023.
Each to their own though!
Is It Worth the $7?
Overall, yes!
If you can handle the typical, American style of course content we've come to expect from the 'money online' landscape, this is a walk in the park and is much more bearable than most courses.
To me though, and in some places (not all), it does border on those Legendary Marketer vibes.
It's definitely a step in the right direction for beginner affiliate marketers. You'll gain a better understanding of the affiliate space with this course, and you can't really go wrong with the price point.
Zach Crawford does offer higher coaching packages & services, so that might be an avenue to explore if you want to continue to learn & grow. Those prices range from $3K – $25K depending on which one you choose.
With that said, the $7 Passive Affiliates Profits course isn't one I'd wholeheartedly recommend for those more advanced marketers out there.
To summarize, Passive Affiliate Profits by Zach Crawford isn't exactly my cup of tea when it comes to affiliate marketing training. It is, however, an ok place to start if you only want to spend $7. You can get started here.
Education should be an investment, and it's incredibly crucial to your success as an affiliate, so I'd probably be more inclined to suggest a program like Freedom Affiliate Launch as your first course to start with.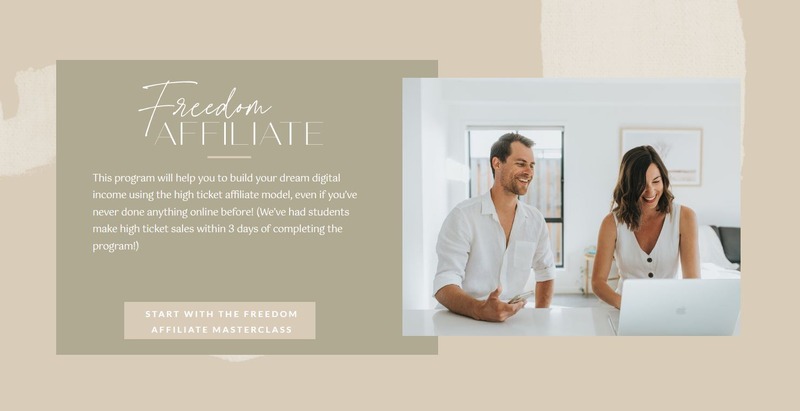 A quick reminder…
Finding affiliate links and programs to join is the easy part of affiliate marketing – which is a lot of what the Passive Affiliate Profits course focuses on.
What you really need to learn, is how to market. It's a skill set, and a transferable, real-world skill that you absolutely need to be successful in this space.
To truly claim back your time, you need to couple paid and organic forms of marketing to see the best results.
Alternative Affiliate Marketing Courses
When it comes to authentic, feel-good affiliate marketing, Freedom Affiliate Launch is in a league of its own.
The most holistic, authentic and actionable affiliate marketing course on the market. Learn how to build a consistent online income that feels good and is aligned with your values as a human being, with real world & transferable marketing skills. FREE masterclass below 👇🏼
This course has set the bar incredibly high!
It's a beautiful, holistic and empowering space to be in if you're new to affiliate marketing, or you've struggled to find something you resonate with.
It's created by two beautiful Aussies, Jade & Kev.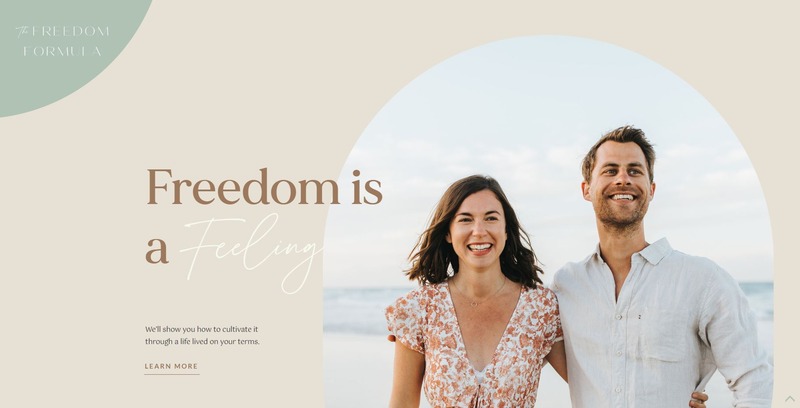 In previous times, the 'money online' space has been dominated by such a masculine, 'bro-culture' & 'salesy' attitude.
That's where these guys are different. Their range of transformative courses have completely shifted the market.
If you're just starting out, and you're ready to dive in and learn more, I'd strongly suggest Freedom Affiliate Launch.
It's a very different vibe to any other course you've probably investigated, and for good reason.
Check out the free masterclass here for more details.
Disclaimer: These are my experiences, honest opinions and stories. We are proud to partner with many beautiful digital education & travel products and services as an affiliate. On some occasions, we may benefit from a commission when you make a purchase with these links. This commission helps to support the ongoing publication of free and readily available content designed for those who wish to get started in the online business and creator space. This is not financial advice.