Ultimate Guide to the Gold Coast Hinterland, Queensland Australia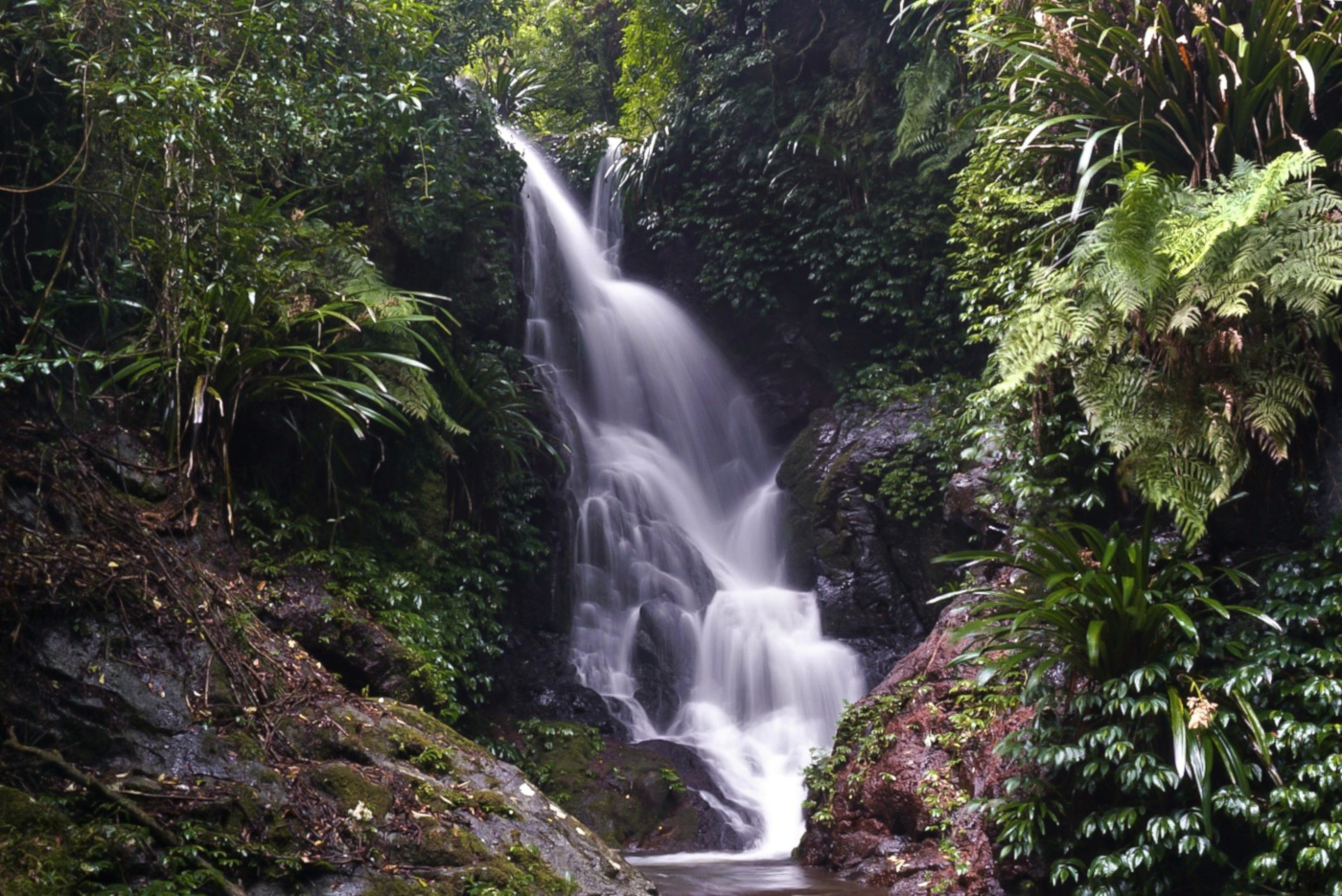 Often referred to as the 'Green Behind the Gold', Australia's Gold Coast hinterland is any explorers dream region to uncover. Dotted with multi-day hikes, lush rain forest walks, hidden waterfalls and caves filled with glow worms, the region offers visitors a large selection of adventure must do's, all within a small region of travel. Positioned to one side, the two sections of Lamington National Park, (The Green Mountains section & Binna Burra). Slightly East of that rests the thick rain forests of Springbrook National Park. North of both National Parks is Mount Tamborine – a spectacular plateau set amidst rain forest and rolling hillsides. Our ultimate guide to the Gold Coast Hinterland, Queensland Australia explores adventurous options near and far.
The wake of COVID-19 has left us all a little dazed, aggravated and confused. From the moment the virus took a stranglehold on the entire planet, causing such chaos and devastation, I don't think any of us could quite prepare for the carnage that followed those first few early weeks. Luckily, here in Australia, many states and regions have given the all clear for visitors and locals to return to the much loved 'Sunshine State' – Queensland! Wary and confused, yet itching to explore their own backyards and new found freedom, Queensland is now officially 'Good To Go'. So, where will you explore first, given you're now allowed to venture further and get back to nature? For those living in the South East, The Gold Coast has and always will be a go to adventure playground. So, in saying that, we've rounded up our favourite spots and must do activities to get Queenslander's and interstate visitors back out and exploring. Here's our Ultimate guide to the Gold Coast Hinterland, Queensland Australia: Post COVID-19 – A guide to all things Gold Coast and beyond.
If choosing to camp, the winter months are the better choice to explore and hike. If you're specifically looking to chase waterfalls and see some of the most spectacular glow worm colonies, then the summer months of February and into March/April are much more favourable. Let's jump in!
Lamington National Park:
Lamington National Park plays host to hikers and wanderers from all over the globe. It's famously recognised as one of the most spectacular hiking locations in Australia due to the sheer number of trails and it's rich biodiversity. The area is also home to the rare Albert's Lyrebird. Lamington National Park is the only place in the world that the Albert's Lyrebird is found. Not only is the bird extremely rare, but it's notoriously known to mimic even the most intricate sounds. With a huge array of waterfalls and natural beauty to discover, Lamington National Park is sure to impress even the most picky adventurer. Let's take a further look at some of the regions' highlights.
Larapinta Falls:
Not afraid of adventure? Don't mind the occasional leech infested ground cover? We've got the perfect hike for you! Hit the trails in the Gold Coast Hinterland and explore some of the more hidden sections of Lamington National Park. The Lost World Valley is the perfect example of a hidden secret, deep within the jungle, and only an hour and a quarter drive from Surfers Paradise. Be well prepared before tackling this track by carrying a first aid kit, plenty of water and a sense of adventure. The reward is worth it in the end, boasting a private swimming hole, towering waterfalls and dense rain forest canopies. Emulating scenes of those from Jurassic Park, the aptly named 'Lost World Valley' is sure to take you back in time to one of the most incredible landscapes that the Gold Coast has on offer. Allow eight hours return to complete the hike to Larapinta Falls. Definitely take a hiking partner for this one to ensure safety.
Elabana Falls:
There are waterfalls, and then there are waterfalls! Elabana Falls, hidden deep within the Green Mountains section of Lamington National Park is one of the most aesthetically pleasing waterfalls going around. You'll get it all to yourself by arriving early at O'Reilly's Rainforest Retreat – a short twenty-minute winding and scenic drive from Canungra. Take in one the most serene and lush rain forest settings the Gold Coast Hinterland possesses by visiting this section of Lamington National Park. Grab a park map from the information center prior to hiking and set foot on an adventure among some of the oldest sections of rain forest in Australia.
Box Log Falls:
Located only a short stroll from the base of Elabana Falls, Box Log Falls is fantastic side track that rushes off a ten metre drop. It's the perfect addition to tackling the seven kilometre return journey to Elabana Falls, so we'd recommend tacking on the extra hundred or so metres to take a look.
Where to stay
If visiting Lamington National Park, we'd highly recommend a stay at O'Reillys Rainforest Retreat. With a large selection of rooms, luxury villas, cabins and camping options, O'Reillys hits the mark for every type of explorer.
Springbrook National Park:
Best explored during the wet season, Springbrook National Park boasts a list of highlights too long to rattle off here. We'll do our best with the following highlights. The National Park is only a short drive from the Gold Coast and makes for the perfect weekend away to tackle some hiking and exploring. Here's some of our suggested must do's whilst visiting Springbrook National Park in the Gold Coast Hinterland.
Twin Falls:
Another strikingly beautiful waterfall in South East Queensland, Twin Falls is an easy drive west of Gold Coast City, located in Springbrook National Park. The walk to the base of the falls is one of the easiest trails in the region, taking only fifteen minutes to reach. If you're searching for something adventurous on those rainy days in South East Queensland, Twin Falls is often best explored after heavy rainfall – so be sure to keep this one up your sleeve for those less impressive beach days down at Burleigh Heads or Surfers Paradise. Twin Falls is easy to find once you reach the Springbrook National Park plateau. Follow the road through beyond the Settlement Campground, and onto Canyon Lookout two minutes further up the road to reach the start of the Twin Falls Circuit. Begin your hike in an anti-clockwise direction to reach the base of the falls quickest.
Purlingbrook Falls:
Located on the same road as Twin Falls and only meters before reaching the Settlement Campground, you'll first encounter Purlingbrook Falls – the tallest waterfall in the region. Whilst the hike is considered more strenuous, it remains gentle for a majority of the duration with the occasional incline and sets of stairs on the return journey. Purlingbrook Falls stands at 109 meters tall and offers one hell of a view after heavy rainfall. Duration: 2 hours. Track length: 4km circuit.
Springbrook National Park Glow Worms:
Without a doubt, one of the most incredible natural phenomena to occur on the planet just so happens to take place right here on the Gold Coast, Australia – The Springbrook National Park Glow Worms. In fact, this is one of only two countries in the world that you can observe such a large display of glow-worms in their natural environment, almost completely uninterrupted. Other than New Zealand, Australia is home to the largest colony of glow worms in the world.
Known for our eight species of glow-worms, Australia remains the ideal location for such a beautiful and complex animal. The premise for this – our Gondwanan rainforests, rocky structures and cave systems that play host to the ideal conditions in which glow worms seem to favour. These areas are often wet and humid for a majority of the year, providing the glow worm with a source of food in the form of small invertebrates and insects. Contrary to popular belief, glow worms aren't actually worms – they are the larvae of the fungus gnat – a mosquito like fly that thrives in humid and wet environments.
One of the largest clusters of bioluminescent larvae is located in the Gold Coast hinterland, more specifically, at the Natural Arch in Springbrook National Park. To most locals, it's no secret that they exist out this way, yet most visitors aren't aware of the natural phenomenon or have any clue how to get there or visit. As the glow-worms are completely inconspicuous during the day, it's a visit at night that will certainly impress as a light spectacle of thousands of tiny larvae light up the caves and pathways.
The glow worms are best viewed during the warmer Australian summer months (November-March). This is typically when the humidity is at its highest, along with the occurring wet seasons. This provides the ideal environment that glow-worms typically thrive in. This also means this is when they are likely to be at their brightest luminosity. Personally, I like to enjoy Springbrook National Park in the wet season as this allows for a multi day visit to experience the range of waterfalls you can also enjoy in the National Park. To avoid as many other tourists at the glow worms caves as possible, I'd recommend travelling later in the night with a fellow companion or traveller. Drive carefully at night, as the road to the Natural Arch is winding and narrow at times.
All in all, this is one of the BEST experiences you can do on the Gold Coast. It's the perfect idea for families of all ages as the hike to the cave is a low degree in difficulty. It may get slippery during the wetter months, so please take care. To reach the caves, follow the signs to Numinbah Valley and on toward the Natural Arch.
Where to stay:
Camping at Springbrook National Park is also possible, however spaces are limited so we'd recommend booking here in advance to secure the perfect campground. Bookings can be made directly through Queensland Parks and Wildlife. There are only basic toilet facilities at this campground, so it's definitely more suited to the more self sufficient campers and travellers. Nights can get extremely cold and the weather can change at a moments notice – be sure to travel accordingly. Camping not your gig? That's cool! We get it! Why not try a stay at the Mouses House Retreat or Springbrook Mountain Chalets. Both are well appointed and offer some top notch accommodation for those hikers looking to rest the feet. Note: Be sure to check local health and safety warnings in the area for COVID-19 restrictions before booking.
Tallebudgera Valley:
Tallebudgera Valley Falls
Ok. Buckle up! Tucked away at the very end of Tallebudgera Creek Road in Tallebudgera Valley, lies one of the most incredible natural swimming holes, accompanied by a double-tiered waterfall! Sound too good to be true? Exactly my thoughts when I first heard about it. Resembling a Balinese jungle oasis, this waterfall is one of a kind. I'll leave the adventuring and explorations up to you…but this location is one well worth seeking out.
Mount Tamborine:
Located north of the aforementioned national parks and nestled in amongst the Tamborine Mountain Plateau is a sleepy little mountain village – Mount Tamborine. It's an absolute hit with the locals and visitors in the know travelling from Brisbane and the Gold Coast. The quiet town boasts a rather elaborate range of adventure activities and sights to take part in. The highlight? Definitely Curtis Falls! Only being a short hike from the towns entrance, Curtis Falls is a picturesque waterfall set in amongst a curtain of mist drenched ferns and rain forest palm trees. The hike is short, proving to be popular with just about every visitor to the region. With a huge selection of wineries, pubs and small cafes and eateries, Mount Tamborine is a must do for all explorers looking to maximise their time in the Gold Coast Hinterland.
Mount Barney National Park:
A little further afield than the standard Gold Coast Hinterland attractions, Mount Barney National Park remains a popular tourist trail for those visiting Gold Coast and Brisbane. Located further afield, and resting on the border ranges, Mount Barney National Park is covered in a multitude of trails, rock pools and waterfalls. The foothills of Mount Barney offer stunning visuals early and late afternoon. Rolling hillsides and incredible rock formations exist as far as the eye can see. It offers some of the more challenging hikes and trails that are more suited to experienced walkers. One of these includes the Mount Barney summit hike – A 17km, ten hour return journey. Despite the travel distance, the region boasts some of the more untouched hidden gems that make the travel time all the more worthwhile. The foothills of Mount Barney offer up pastures of rolling green hills – an indication of the earlier wet season. In total contrast, the hillsides turn to different tones of light brown and yellow during the drier months.
Please note, the summit hikes in this region are not 'walks'. These are extremely difficult, 'grade 5' tracks suited to only skilled and well accomplished hikers with navigational and overnight hiking experience.
If you're up for a trip that's a little further afield from the traditional Gold Coast 'must do's', Mount Barney National Park is definitely one to consider. Make a weekend of it and book your self a stay at the Mount Barney View Lodge. Mount Barney National Park has a small variety of accommodation choices for hikers looking to explore the region. Following that, on foot camping options are scattered all throughout the park. It's best to check in with Queensland Parks prior to commencing your trip to determine which camp ground will be best suited for your adventure.
Well there we have it – The ultimate guide to the Gold Coast Hinterland Queensland Australia! A comprehensive list of 'must do's' in the Gold Coast hinterland and beyond. Remember, if you're looking to tackle any of the more strenuous hikes mentioned in this article (Larapinta and Mount Barney hikes), we'd recommend doing your own thorough research and hiking with a fellow explorer.
There's a huge array of adventure for the family, solo travellers and small groups to experience in the Gold Coast region. While you won't see it all in a weekend, the Gold Coast hinterland will no doubt keep you coming back time and time again. Remember, stay safe during this time of COVID-19 by washing your hands frequently and thoroughly, adhering to health authority regulations and maintaining safe social distancing practices.
More Gold Coast Locations
Disclosure: Some links provided in this blog are affiliate links for beautiful digital education products & services we're proudly partnered with. On some occasions, I may be compensated with a commission if you use these links to make a purchase. It helps to support the ongoing publication of free, and readily accessible content for those looking to get started in the online business & travel spaces. This site is not intended to provide financial advice and is for entertainment only.