7 Best AI Content Generator Tools to Save Time & Energy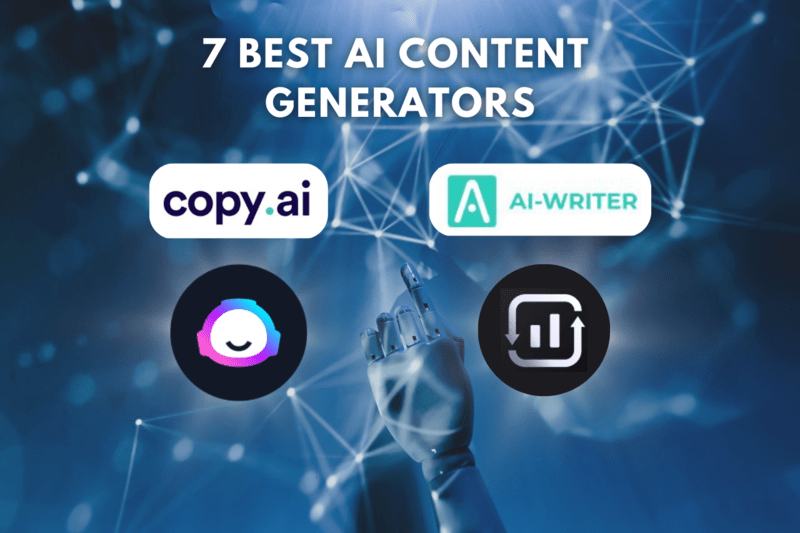 In the world of content creation, artificial intelligence (AI) technology is becoming increasingly popular. AI writers give businesses and authors the ability to create high quality, unique content quickly and easily. Here are my top picks for the best AI content generator tools to produce compelling content, that also saves you time and energy:
These tools are perfect to simplify the content creation process.
Each of these tools offers a range of features that make them an invaluable asset for bloggers & content creators looking to stay ahead in the digital age. Some offer both free AI generated content options and also paid options.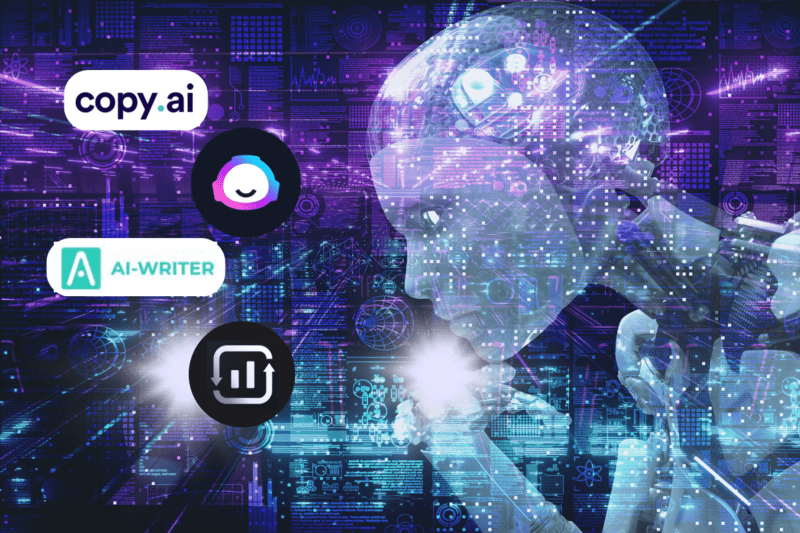 The paid AI content generator tools are usually much more detailed, and specific and offer plagiarism free content via their built-in plagiarism checker. This is extremely important as plagiarism free content will help you rank on Google, Pinterest & YouTube and overall, will help to create high-quality content. Listed below are my favourite AI writing tools to save you time, energy and effort.
How AI Content Generation Works
AI Content Generators and AI writing software are a type of artificial intelligence technology that uses sophisticated algorithms to automatically generate content.
These AI content generators can quickly generate large amounts of high-quality, SEO-optimised content that is tailored to target specified keywords. To do this, the AI content generator uses natural language processing (NLP) to analyse existing text and develop new content using its understanding of the language.
The generated content then goes through a rigorous editing process to ensure accuracy and SEO optimisation, before being published in an appropriate format for the desired platform. By leveraging machine learning and predictive analytics, AI content generators can offer businesses a faster and cost-effective way to produce high-quality content on demand.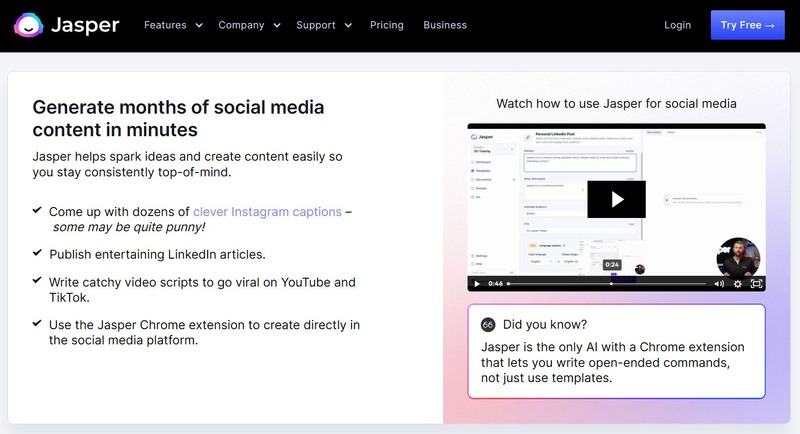 What is the Best AI Content Generator?
Choosing an AI content generator that best suits your needs can be challenging as there are so many different options available.
Each AI writer has their own strengths and weaknesses. It's important to look for a tool that provides you with accurate data analytics as well as a range of customisable options so that you can tailor the generated content to your specific needs.
Ensuring you create blog posts and content that's free from plagiarism is also extremely important. Additionally, you should look for a tool that offers an intuitive user interface so that you can quickly and easily generate top-quality content without spending hours learning how to use it.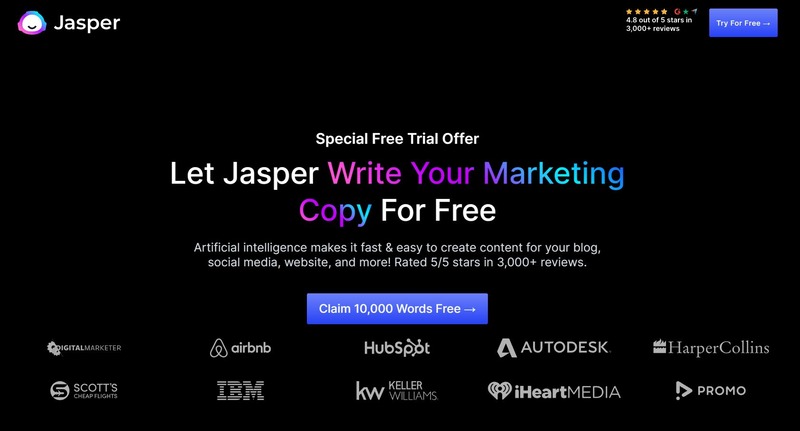 Jasper.ai is one of the leading artificial intelligence-powered content generators and ai writing tools on the market today. In fact, I used Jasper to create an entire blog outline, keywords and headings in this article. CRAZY!
It utilizes NLP algorithms and cutting-edge machine learning technology in order to produce highly accurate and engaging results within minutes. The platform also offers advanced analytics which allows users to track their performance over time as well as customisable formatting options which enable them to take control over the style of their outputted articles or blog posts.
Features
Use the ai writer & direct integration with Surfer SEO to write content 5x faster, and rank on Google.
Quickly generate blog posts, articles, social media captions, and other types of content optimised for SEO that is tailored to specific keywords.
Improve email marketing with structured, well written emails designed to convert.
Pricing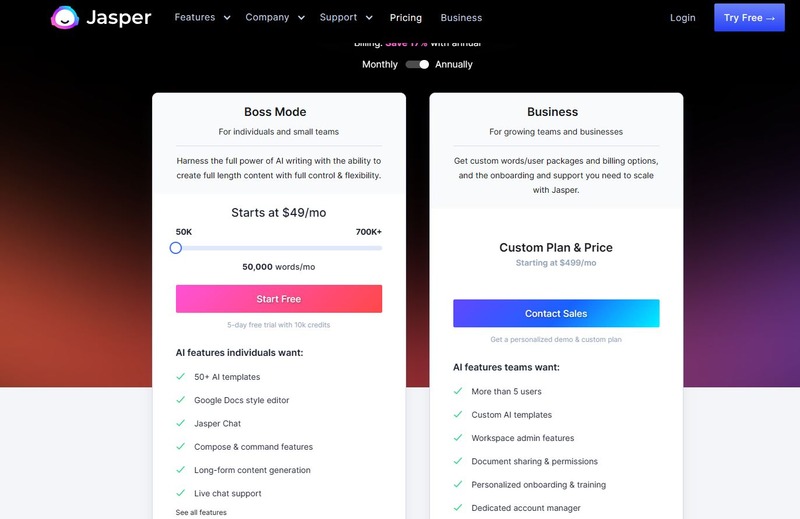 Free Trial: 5 days free trial to test out all the features.
Boss Mode: (starts at $49/month)
Business: (starts at $499/month)
Final thoughts
Jasper.ai is one of the leading ai content creation tools currently on the market. It produces original, unique marketing content across so many disciplines, so you'll find an array of tools to help create content quickly and save time and energy. There's also a free recorded demo video you can check out here.

2. Hypotenuse Ai: An Affordable Long-form Blogging Tool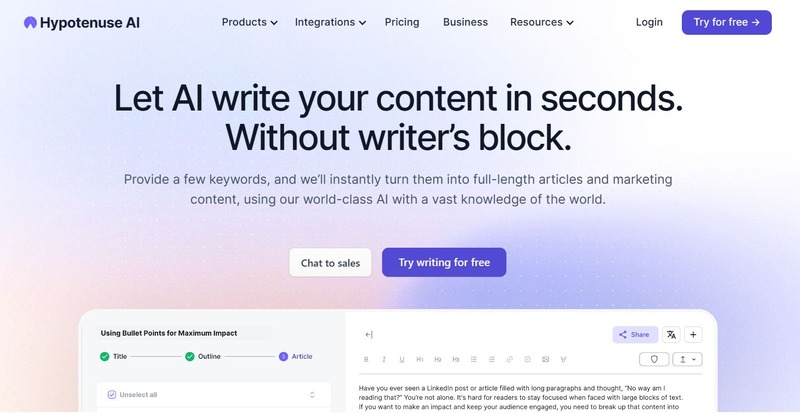 This certainly wouldn't be an AI content generator review with the mention of Hypotenuse Ai.
Hypotenuse Ai is a top-tier AI content generator specifically made for bloggers! It's an all-in-one long form content writer than can quite literally, write you an entire blog post, with correct headings and talking points from start to finish.
If you struggle to combat writers block, you're struggling for ideas or you need your very own content writer that doesn't cost a fortune, THIS is the tool for you!
Features
Entire blog workflows (execute a full blog in minutes)
General templates (write anything with one simple command)
Social media captions
Creative ad copy for Meta & Google Ads
Detailed product descriptions
And SO much more!
Pricing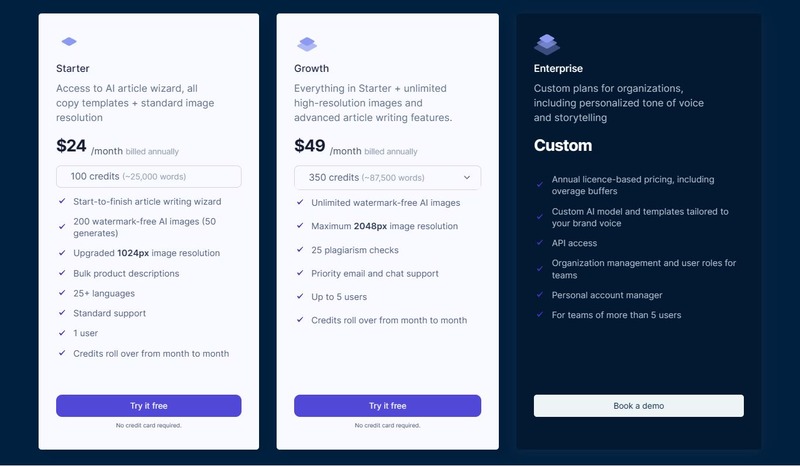 Basic: (starts at $24/mo)
Growth: (starts at $49/month)
Final thoughts
With Hypotenuse Ai, small business owners can create content that is specifically tailored to their needs. No need to hire a writer, or expensive long form software such as Content at Scale.
This AI-powered content creation tool is highly effective, offering a comprehensive range of features to help optimise your blog content, allowing you to produce content quickly and efficiently for your blog.
It is quickly becoming one of the most popular Ai Content generators on the market, with an incredibly beginner friendly and easy to use interface. This is one of our top picks!
Read the full Hypotenuse Ai Review here!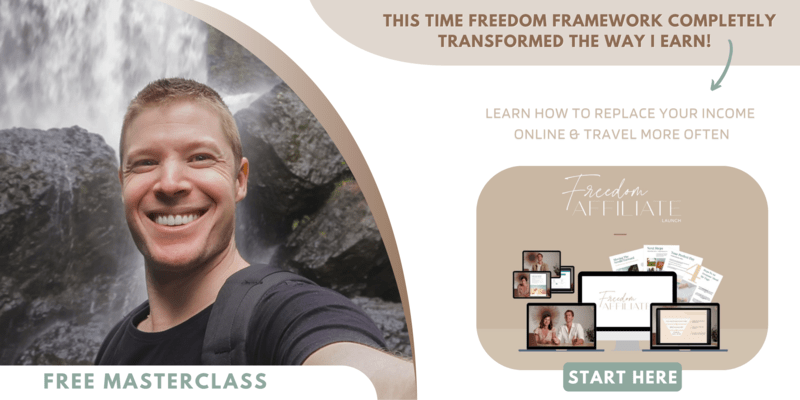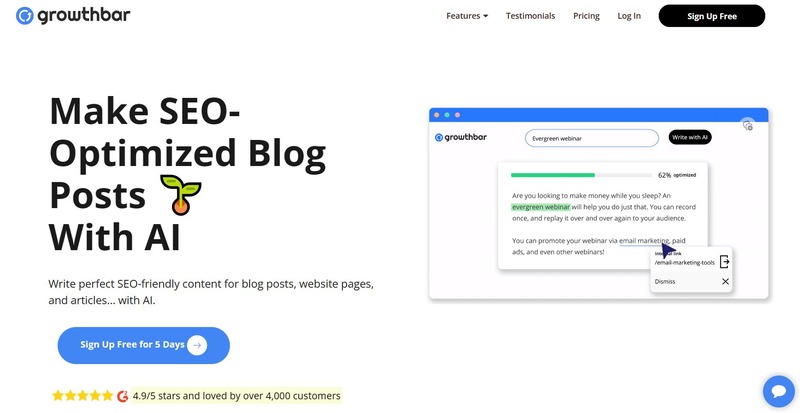 Growth Bar SEO is another powerful ai writing tool allowing you to build keywords research AND writer your article and optmise it!
It's an all-in-one tool saving the need to purchase two separate programs. It's been designed primarily with digital marketing professionals in mind; offering everything from keyword research capabilities right through to automated backlink building processes via its 'GrowBot' feature set – making it an ideal solution for those looking for an all-round package catered towards achieving higher search engine rankings quicker than ever before!
Additionally, Growth Bar also offers organic traffic analysis allowing users to accurately measure their campaigns' success over time by identifying trends both good and bad; while its intuitive user interface ensures that even novices can get up and running within minutes!
Features
AI-powered platform designed to simplify the process of optimisation by combining many common activities into one easy-to-use interface.
Features a comprehensive suite of tools including a website crawler, page performance analyser, keyword research planner and backlink manager.
Utilizes artificial intelligence algorithms combined with machine learning techniques to automate tedious tasks such as detecting duplicates or broken links and suggesting ways for improving overall website performance through various strategies like meta tag optimization or redirect mapping etc.
This AI content generator allows users to create unique pieces of optimized content based on their selected target keywords in order to improve organic rankings on SERPs over time with minimal effort required from the user's side – it's ideal for short and long form content.
Pricing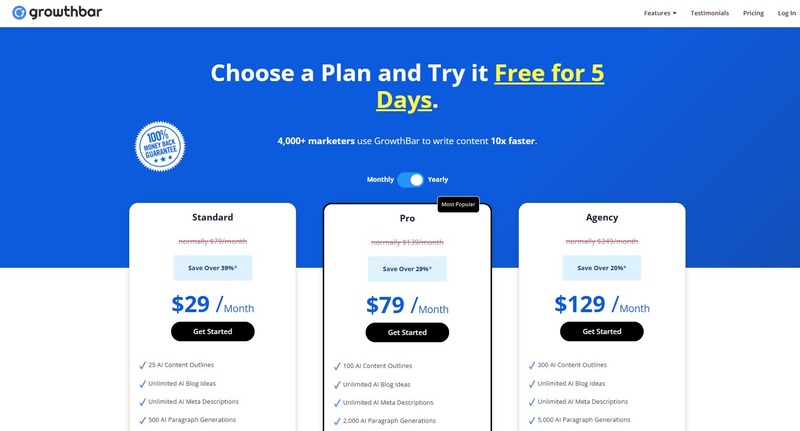 Free Trial: 5 days free trial to test out all the features.
Standard: (starts at $29/month)
Pro: (starts at $79/month)
Agency: (starts at $129 month)
Final thoughts
Growth Bar SEO is such a beautiful and well-designed all in one AI content generator. It's the best option for beginners who don't want to pay for two separate AI content creation tools (Eg. A keyword research tool + an SEO content structure tool). It really does offer the best of both worlds at a great monthly price as an all in one AI content generator.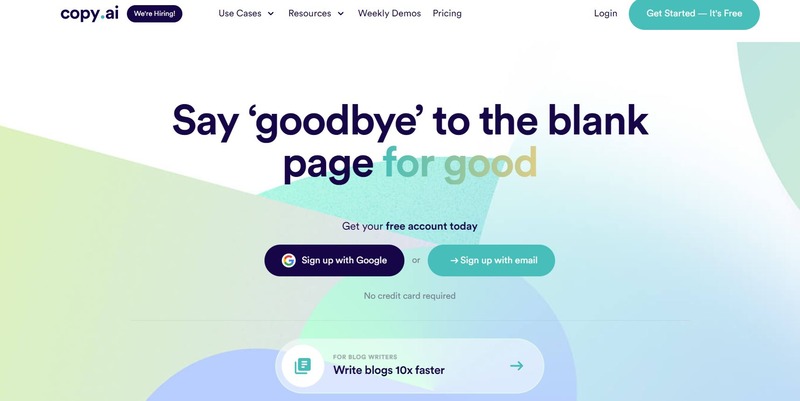 Combat writer's block with Copy.ai. Copy Ai is another excellent ai tool when it comes to generating high quality written outputs quicker than ever before – utilizing NLP algorithms combined with deep learning techniques its able process large volumes of text in order produce original pieces tailored specifically towards your desired audience or marketing goals!
With support for multiple languages, plus unlimited revisions & edits; Copy.ai ensures maximum accuracy every time; making it an irreplaceable asset when it comes to creating top notch marketing collateral quickly & easily!
Features
Free version that's free forever and no credit card is required.

100+ templates that you can use to generate copy.

Easy to use, so you don't have to be super familiar with the platform to take advantage of its features.

Ability to create high quality content, write blog posts, social media posts, product descriptions, and marketing copy and improve your writing skills overall with the Copy.ai ai content generator.

Multiple languages.

Product descriptions.

Long-form document editor.

Automatically generate ad copy without any manual work required with its array of content writing tools.
Pricing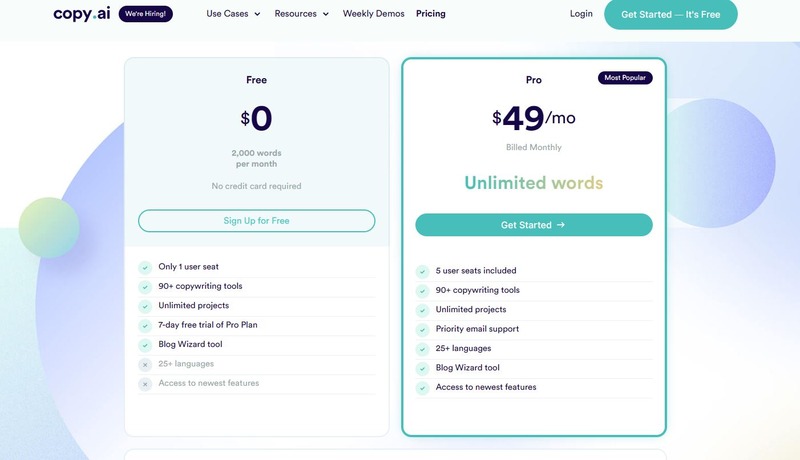 Free: Limited to 2000 words p/m
Pro: (starts at $49/month)
Final Thoughts
This is definitely a favourite ai text generator of mine and one of the best free copywriting tools on the market. Copy.ai has so many wonderful tools for marketers to try and test out. Personally, my favourite is the blog outline and blog creation tools.
It can only be accessed on the Pro plan, but is 100% worth the investment to create unlimited blog posts every month without thinking too hard.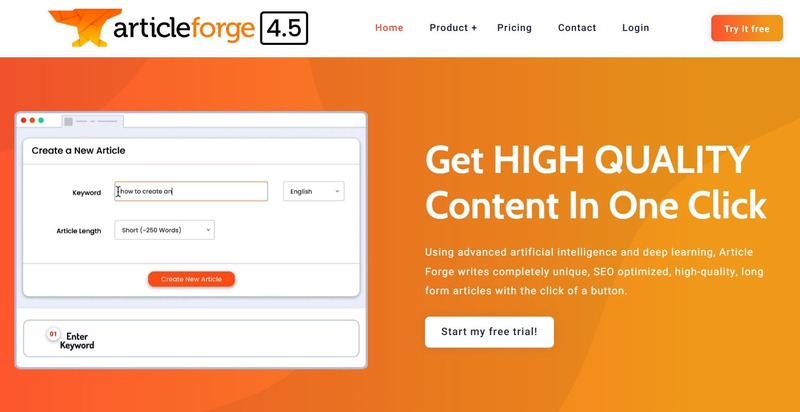 Article Forge has become one of the most widely used ai content solutions on offer today thanks largely due to its extensive feature list which includes but not limited to automatic summarization capabilities along with sentence reordering & paraphrasing functions enabling users to achieve professional-level results within minutes!
Furthermore, Article Forge supports hundreds of languages plus API integrations meaning you can export directly into WordPress; making life easier if blogging or website editing duties are part & parcel of daily workflows!
Features
Artificial Intelligence powered article generator capable of producing unique articles at scale by leveraging NLP algorithms combined with deep learning models.
Rich Content – meaning you can add videos, images and links to keep your content relevant, fresh and exciting.
Completely unique copy – so no need to stress about plagiarism.
Automatically generates well-written original articles based on any given topic complete with appropriate titles & headings just by entering your desired topic or niche.
Comes packed with useful features such as context-aware title generation, multi-topic support, plagiarism detection capabilities, auto-correct suggestion engine and plenty of other useful ai article generator tools.
Pricing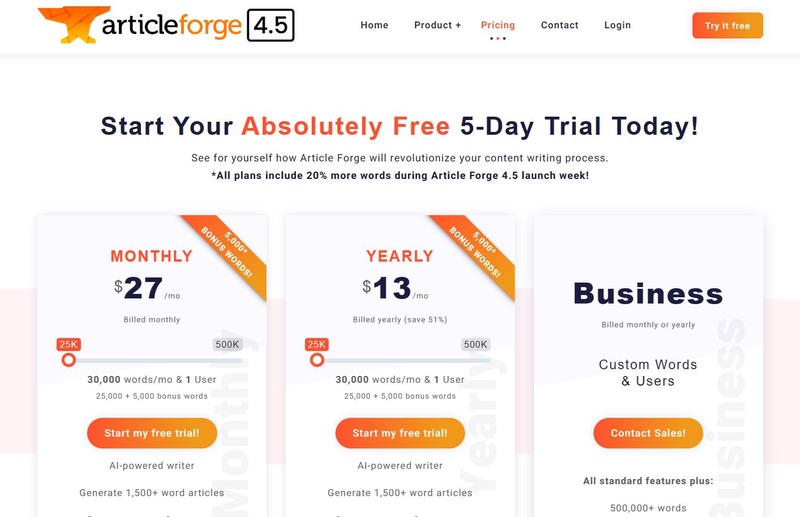 Free Trial: 5 days free trial to test out all the features.
Monthly: Starts at $27/month
Annually: Starts at $13/month
Final thoughts
For completely genuine, plagiarism free content with a tonne of incredible features, Article Forge is an absolute winner! You also can't beat the price either.
It's well worth grabbing the annual subscription as it works out to be a lot more cost effective than most other AI content creation tools on the market.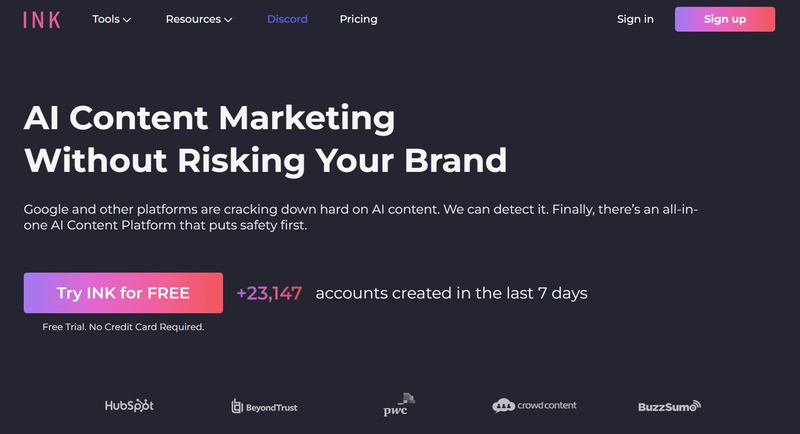 Ink For All is perfect for those who want quick & easy answers when it comes to creating captivating copy – this cloud-based platform harnesses natural language processing algorithms alongside sentiment analysis tools allowing users instantly bring words life no matter what context they working in!
Ink For All also offers advanced analytics meaning once story complete – insights gained such as reading times engagement scores help understand what resonates with target audience ultimately improving ROI future campaigns whilst keeping up momentum building online presence!
Features
A powerful cloud-based software designed specifically for creating automated marketing campaigns using artificial intelligence technology .
Paraphrasing.
SEO Rocket Tool – step-by-step video course to get massive SEO growth.
AI art image generator.

Headline optmiser.

The AI Content Generator allows you quickly create new content tailored around specific target keywords aiming at increasing organic search engine ranking positions even further through improved visibility over SERP's leading to more visitor clicks organically over time.
Pricing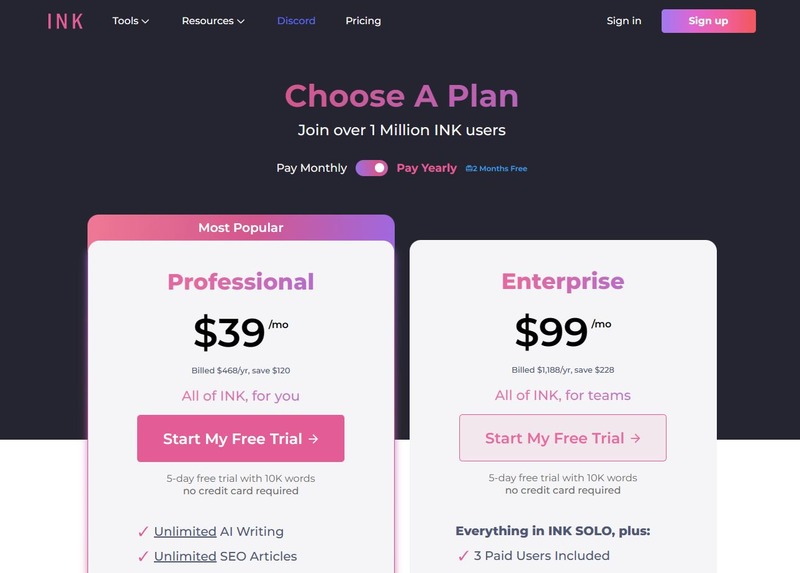 Free Trial: 5 days free trial to test out all the features.
Professional: (starts at $39/month)
Enterprise: (starts at $99/month)
Final thoughts
Ink For All ai is certainly a great value and reasonably priced ai writer tool for those just starting out or looking for a well-rounded ai content generator to begin with.
Their AI content shield is a brilliant feature, ensuring you're only getting original content that search engines won't penalise you for.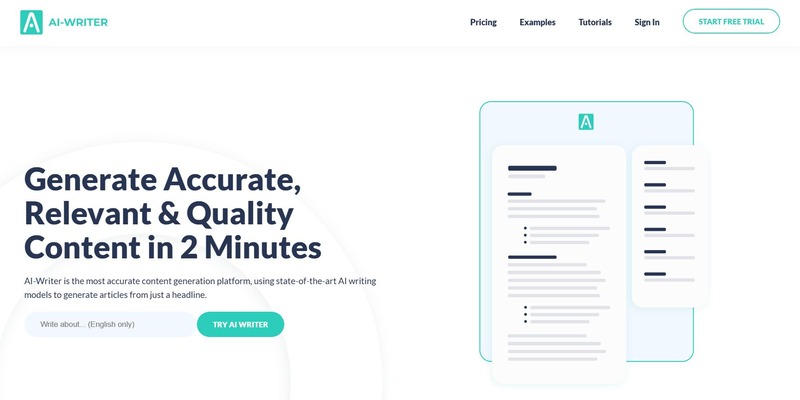 Finally, we have AI writer – this innovative platform takes things step further by equipping marketers, strategists, publishers & bloggers alike all latest technology needed create compelling stories, articles, posts and more in as little time possible.
Anyone using this as an ai writing assistant will certainly be getting maximum value and industry leading results every single time. Expect improved SEO rankings and better conversion rates across board all without compromising on quality standards.
Features
A revolutionary Cloud based software powered by NLP technology aimed at helping writers bring more creativity into their writing.

The tool includes a built-in plagiarism checker which ensures that all generated content is unique and original.

Important analytics such as keyword density metrics, readability scores and more so they can tailor their content accordingly.

Text rewording.
Original, unique content designed for efficiency and to rank.
Pricing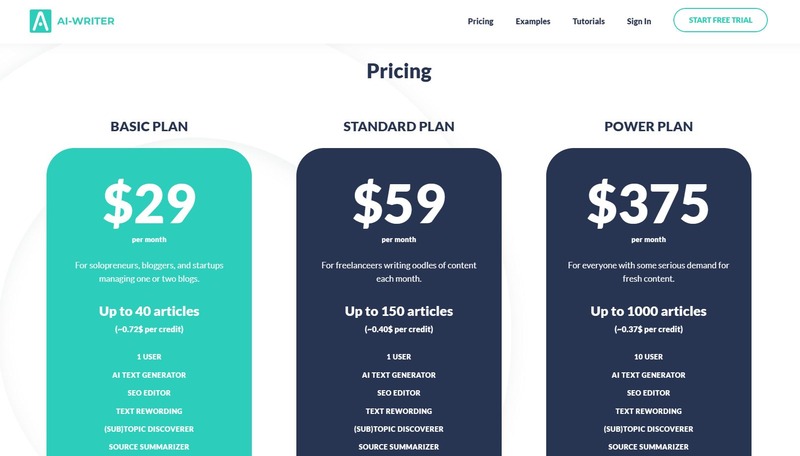 Free Trial: Test out all the features.
Basic: ($29/month)
Standard: ($59/month)
Power: ($375/month)
Annual Plans: Come with 2 months free.
Final thoughts
AI Writer is without a doubt, one of the most competitively priced AI content creation tools and AI content generators available. At just $29/monthly, it's a no brainer.
I love the insane number of features that it has, all while producing original, unique and plagiarism free content for users. This is a must have if you're searching for an ai writing tool.
FAQ's About AI Content Generators
What is an AI content generator?
An ai content generator helps to produce short and long form content at scale. Traditionally, copywriters, small business owners and marketer would have to create a lot of their marketing material themselves, often costing them time. That's now all changed in the form of an ai text generator, ai writer, and different ai writing tools such as those listed in this blog post.
What is the Best AI Content Generator?
Personally, I love Jasper.ai & AI Writer. They both produce content and ideas that are plagiarism free. My favourite ai content tools better suited to small budgets are Ink For All and Copy.ai.
What is the Best Free AI Writer?
I personally love to use Jasper.ai and Surfer SEO together to produce all of my blog and social media content. For the best price and features, go with AI-Writer.
Do AI Content Generators Work?
Absolutely! In fact, I wrote most of this article using an ai writing tool in Jasper.ai and Surfer SEO.
Why Do Marketers Use AI?
Marketers use AI and ai content generators to save time, energy and effort.
What Kind of Content Does AI Technology Work Best For?
The possibility are endless. Most commonly, ai content is used for blog posts, content idea generation, and concept building.
Can Google Detect AI Content Generation?
Yes! Google has it's own machine learning and can easily detect content that's been written by an ai writer. That's why it's important to use a tool like Jasper.ai or AI Writer that has a plagiarism checker built in and promises plagiarism free and original content that can be produced. Unfortunately, ChatGPT content is not safe for use in SEO based industries due to this.
Wanna learn how to start affiliate marketing as a beginner?
Check out this post.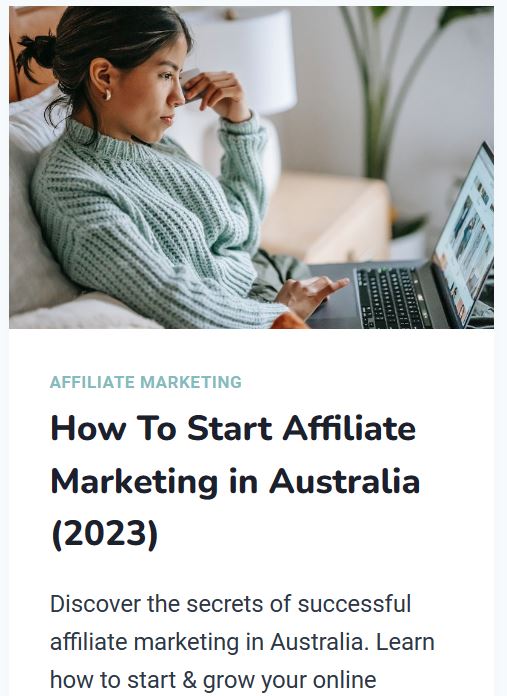 Disclaimer: These are my experiences, honest opinions and stories. We are proud to partner with many beautiful digital education & travel products and services as an affiliate. On some occasions, we may benefit from a commission when you make a purchase with these links. This commission helps to support the ongoing publication of free and readily available content designed for those who wish to get started in the online business and creator space. This is not financial advice.