7 Best Small Business SEO Tools to Explode Your Organic Growth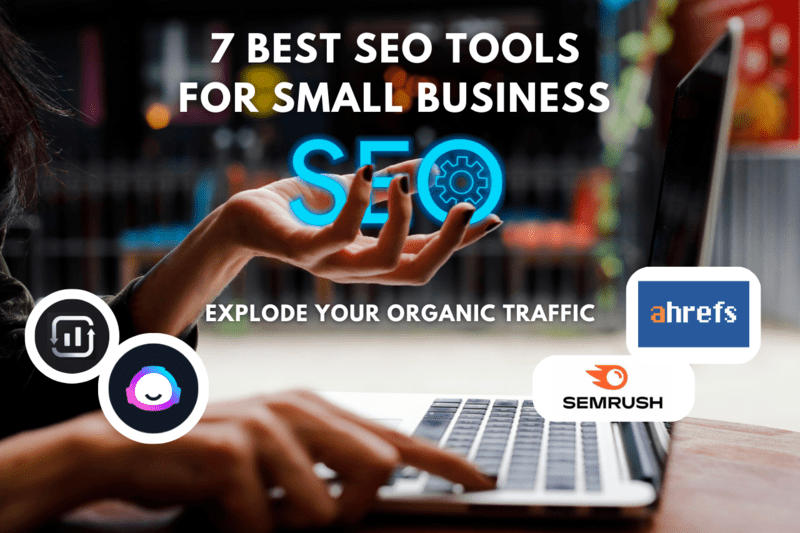 Small business SEO tools are non-negotiable in 2023. If you're a small business looking to drastically increase your customer base & organic traffic, SEO is the most effective strategy you should be using. In this guide, I've ranked and reviewed the 7 Best Small Business SEO Tools to Explode Your Growth & Sales.
Without the right knowledge and resources, it can be overwhelming to know where to start when it comes to creating an SEO strategy that will actually make an impact. High-quality, organic traffic is the ultimate dream right!?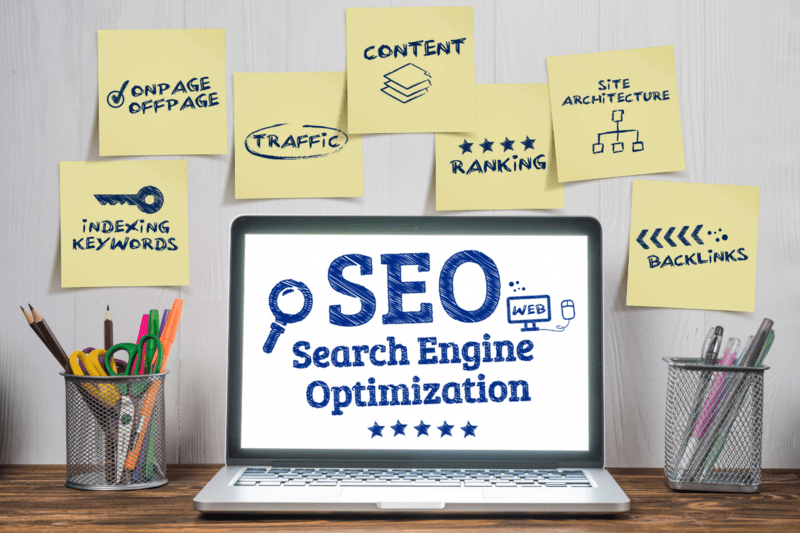 Luckily, a variety of SEO tools are available to help small businesses make sense of their search engine optimization efforts – from keyword research tools for finding popular topics, to link-building software for expanding reach, and tracking metrics for gauging progress.
In this post, I've ranked 7 of the best SEO tools such as Jasper.ai, Surfer SEO & SEMrush that your small business should consider using to explode growth & sales!
Let's dive straight into the list!
What Are the Best SEO Tools For Small Businesses?
Here are the best software & SEO tools for small businesses in 2023.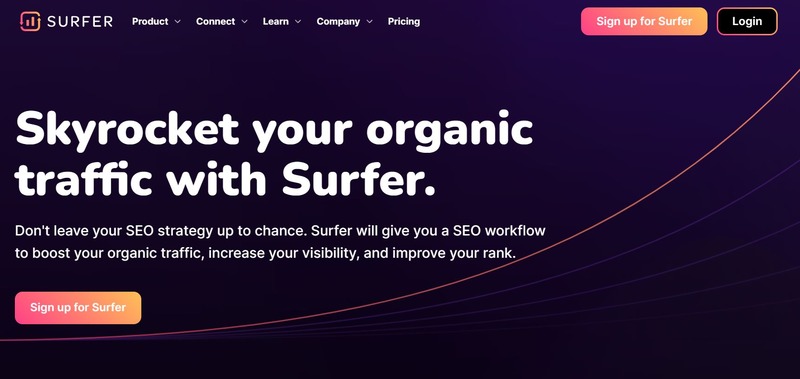 Without any doubt, THIS is the best SEO tool for small business! Do not sleep on Surfer SEO guys – it's an absolute beast when it comes to SEO software!
Surfer SEO is one of the most powerful paid tools and comprehensive platform for SEOs that facilitates and optimizes keyword research, making it easier to identify the keywords competitors are using to get ranked on Google.
With its content planner feature, users can craft a winning keyword strategy that will help to increase visibility and gain an edge in the SERPs. Surfer will generate entire guidelines, outlines, headings, NLP and semantic keywords that Google just simply loves!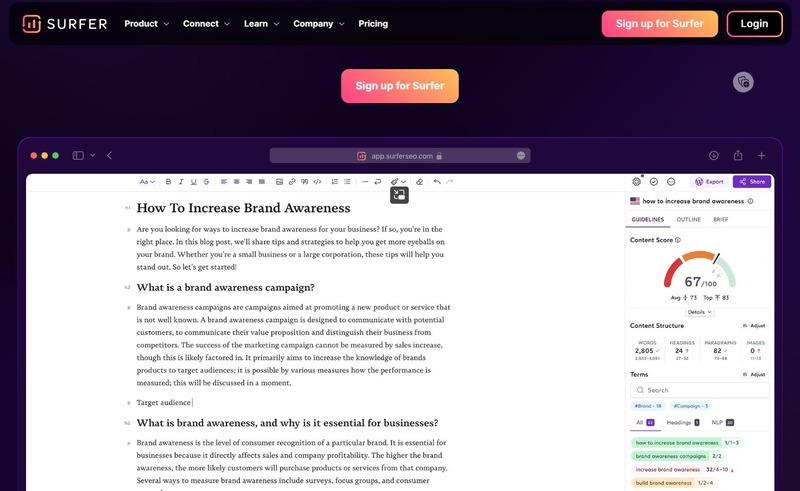 Additionally, Surfer SEO's site audit feature scans your website to ensure there are no technical SEO issues that could be preventing you from achieving optimal rankings.
In short, Surfer SEO is an all-in-one SEO tool that can elevate your SEO efforts by offering the data-gathering capabilities, keyword insights and technical analysis you'll need to succeed in organic search engine optimization.
FEATURES:
Revolutionary, AI-driven algorithm – keep your website up to date with the latest keyword recommendations to ensure you remain competitive in the SERP rankings.

Perform basic or advanced keyword search.

Maximize your content's potential – take advantage of its advanced optimization tools such as semantic analysis, content mapping, and targeted keyword research.

The Content Editor – this tool ensures you hit all SEO parameters to rank in Google search results.

Direct integration with WordPress, Jasper.ai & Google Docs.

Surfer Academy – upskill & improve your SEO abilities with free training.
PRICING: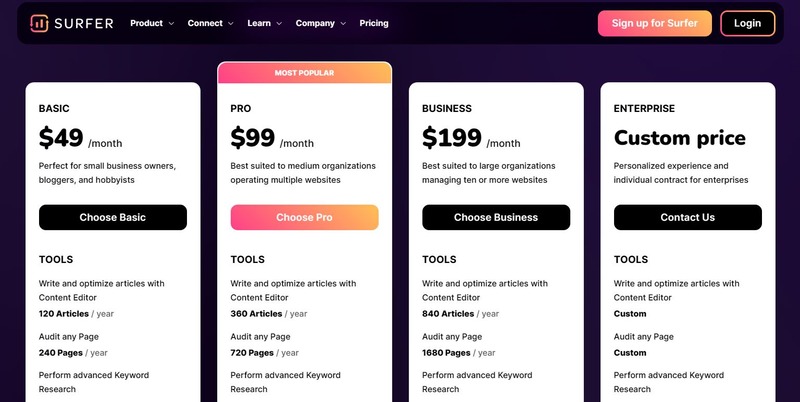 Basic: starts at $49/month

Pro: starts at $99/month

Business: starts at $199/month
Get started with Surfer SEO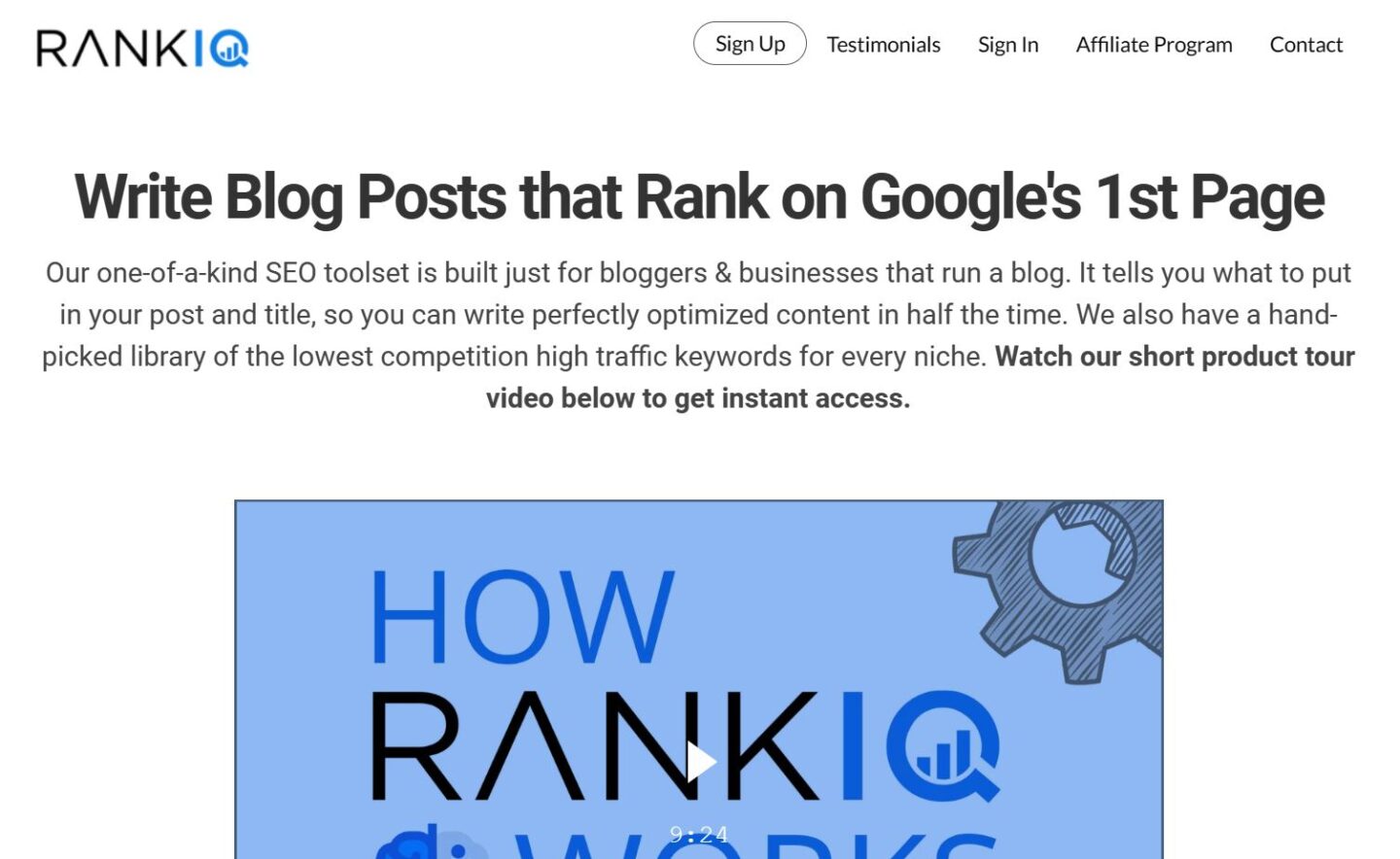 Specifically designed for bloggers, and businesses that run a blog, Rank IQ provides users with easy-to-use tools such as automated keyword research, content marketing optimization, link-building insights, and competitor performance tracking.
These SEO tools help small businesses get ahead of the competition when it comes to organic search results.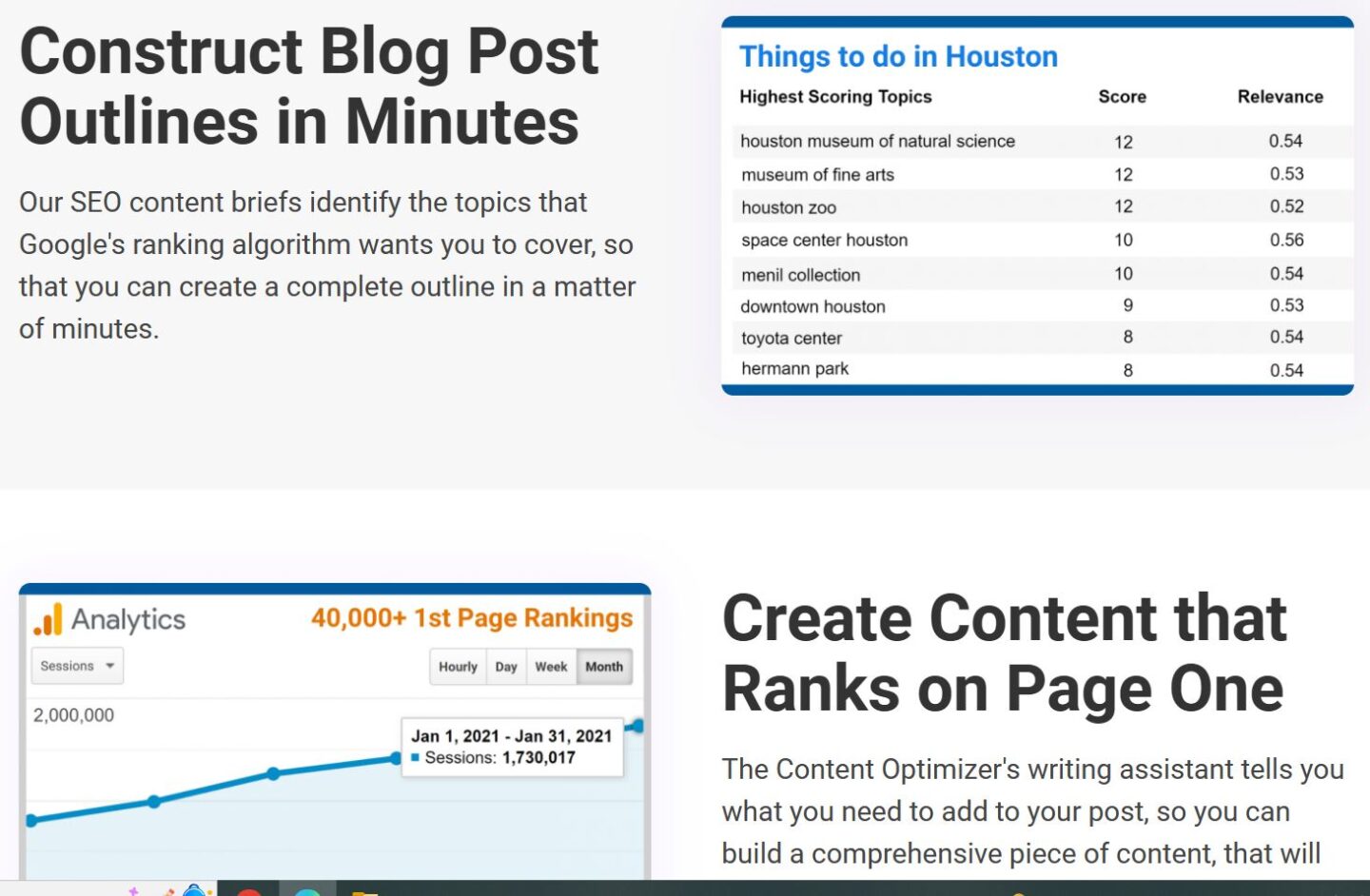 By utilizing AI technology, Rank IQ also helps small businesses save time and money by automatically analyzing data in real time so they can make informed decisions about optimizing their websites quickly and efficiently.
FEATURES:
Hand-picked keyword library – choose from predetermined high traffic keywords with low competition for every niche.

Construct blog posts in minutes – use the SEO content briefs to quickly and efficiently construct an extremely high-quality blog post.

Optimize old posts – easily and quickly optimize old posts with useful SEO tools and SEO software for big organic traffic gains.

Craft the perfect SEO title for your posts – Rank IQ's top 30 SERP analysis identifies the keywords that Google likes to see most. From here, craft a top-notch title that delivers the best click-through rate.
PRICING: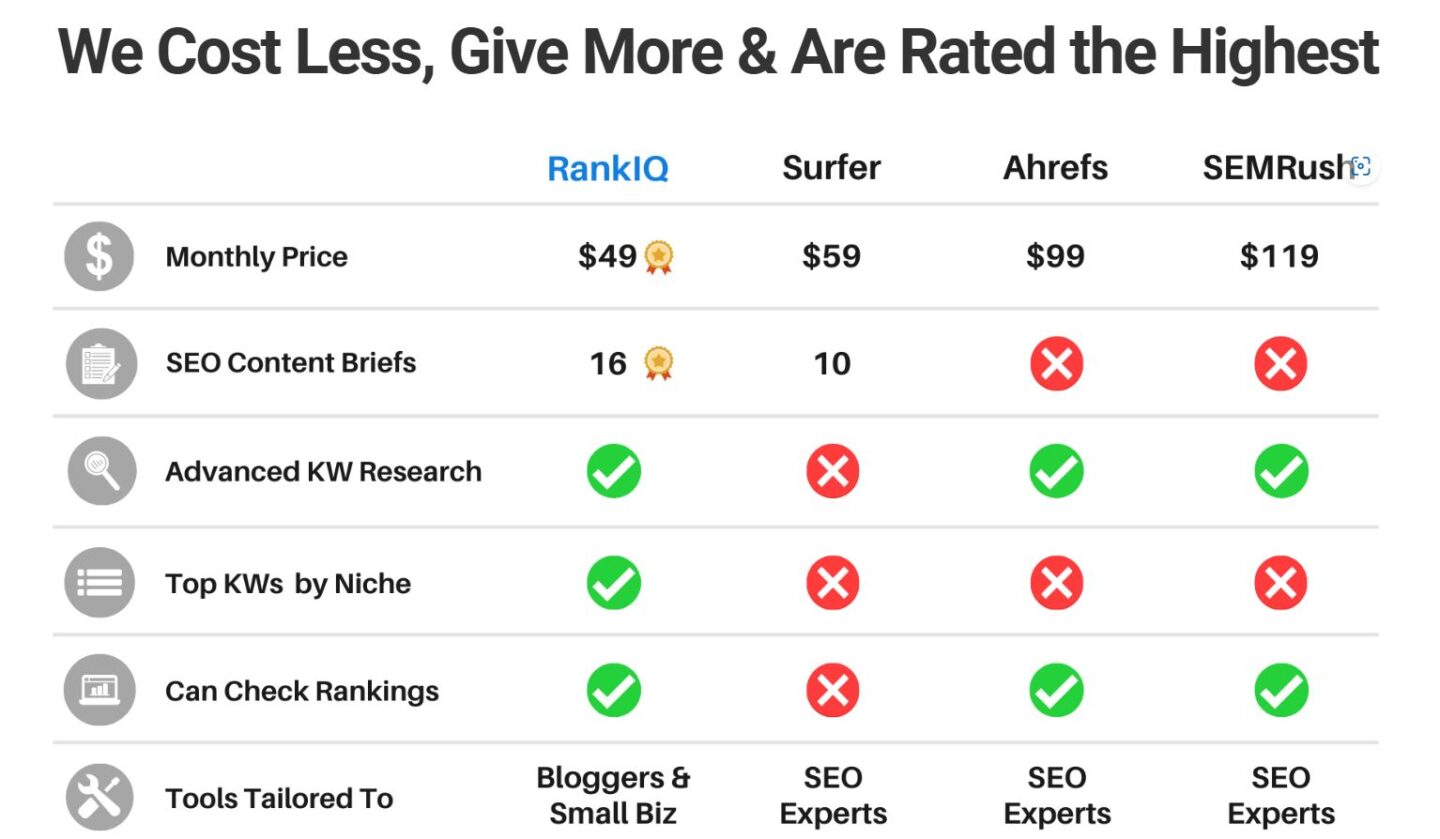 Introductory offer: $49/month ($50 off the first month). $99/month thereafter.
If you're a small business or a solo beginner blogger, looking to drastically improve your organic traffic, Rank IQ is a brilliant SEO tool to start with.
Get started with Rank IQ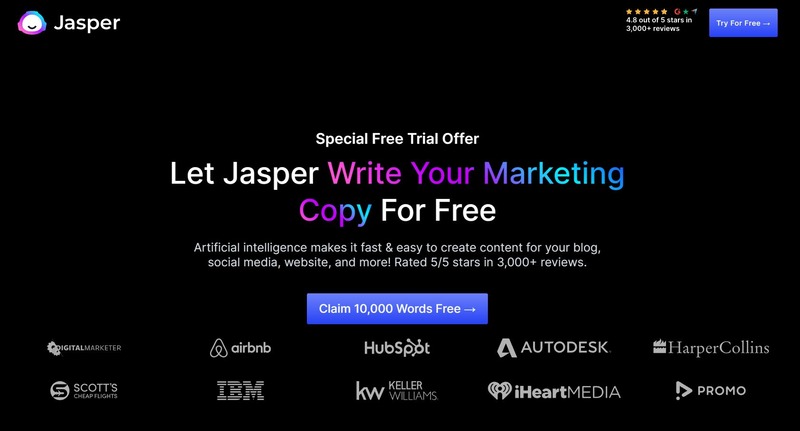 Jasper.ai is an industry-leading artificial intelligence content generator and AI writing tool that allows users to rapidly create engaging and accurate pieces of content in minutes. This powerful platform utilizes advanced NLP algorithms and the most up-to-date machine learning technology, making it possible to quickly produce high-quality results. Furthermore, it features sophisticated analytics capabilities which enable users to monitor their performance over time as well as customizable formatting options so they can adjust the style and tone of their outputted content.
FEATURES:
Direct integration with Surfer SEO – the Jasper.ai & Surfer SEO direct integration means you can write content 5 times faster and increase your chances of ranking on Google.

Generate content QUICKLY – with Jasper's help, you'll be able to generate blog posts, articles, captions & hashtags for social media platforms and YouTube descriptions more quickly, as well as 50% longer pieces than usual – all while including more details and facts, plus higher semantic richness.

Chatbot Wizard – automatically builds intelligent, custom-made chatbots that are tailored to a brand's specific requirements.
PRICING: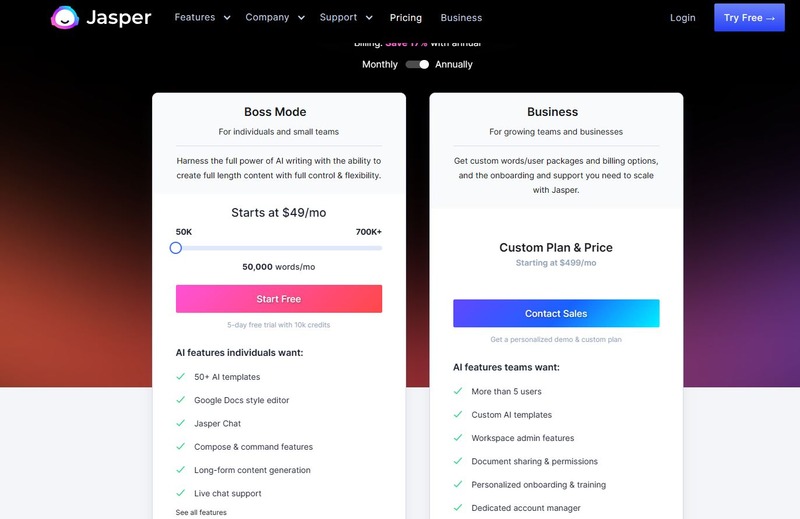 Free Trial: 5 day free trial to test all the features.
Boss Mode: (starts at $49/month)
Business: (starts at $499/month)
Overall, Jasper.ai is a marketer's dream SEO tool! Small business owners can use it to save time on their content ideas, develop search engine optimization guidelines and strategies, and grow their small businesses results. For more Ai Content Generators, click here.

Get started with Jasper.ai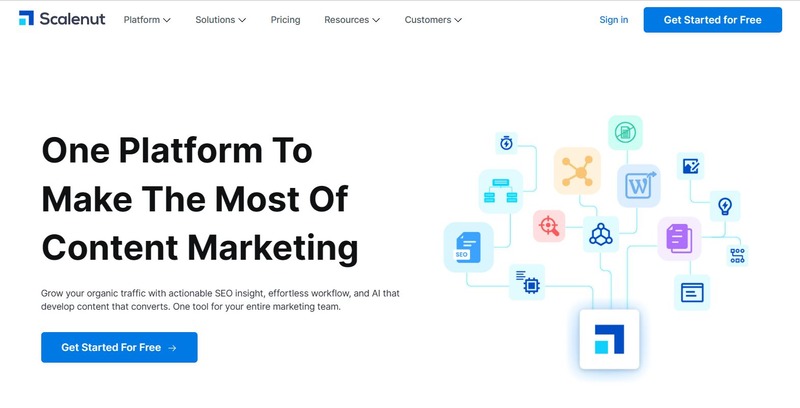 Here's an option for beginners that won't break the bank! Let me introduce you to, Scalenut! By leveraging advanced analytics and machine learning algorithms, Scalenut offers comprehensive and sophisticated insights into how businesses can optimize their websites for search engine optimization. Unlike other SEO tools on the market, Scalenut allows users to easily customize their searches for targeted keywords, analyze competitor performance, and generate detailed reports in real-time – with an intuitive user interface that helps streamline the entire SEO process from start to finish.
Small business owners can take control of their SEO efforts and leverage powerful insights via Scalenut that will help them improve organic growth over time. With Scalenut's unique suite of advanced seo tools and metrics, small businesses are able to identify areas of improvement, monitor progress, and refine existing strategies as necessary – all without relying on costly or cumbersome third-party services.
FEATURES:
Guided Workflows – generate entire blog posts in 5 minutes or less.

SEO-Focused Content Outlines – create a winning SEO recipe with an array of marketing tools from a single targeted keyword.

Unlimited Content Ideas – produce endless ideas for blog posts, product descriptions, ad copy, and YouTube videos.

SEO Hub – end-to-end content research and writing tools for small businesses.
PRICING: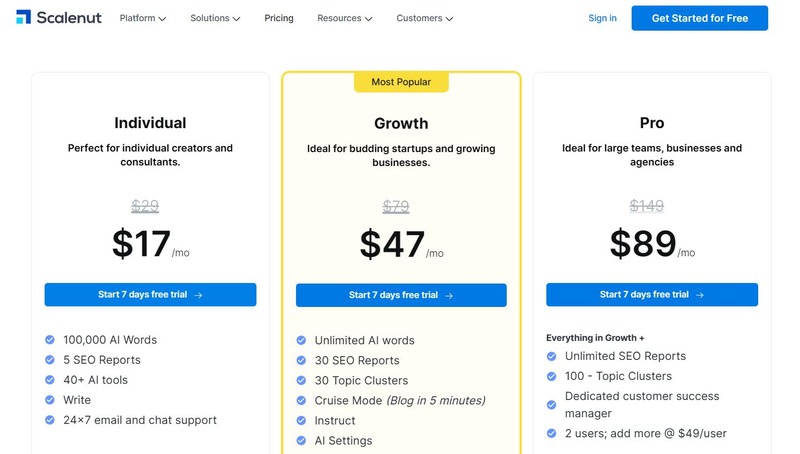 Individual: Starts at $17/month
Growth: Starts at $47/month
Pro: Starts at $89/month
Get started with Scalenut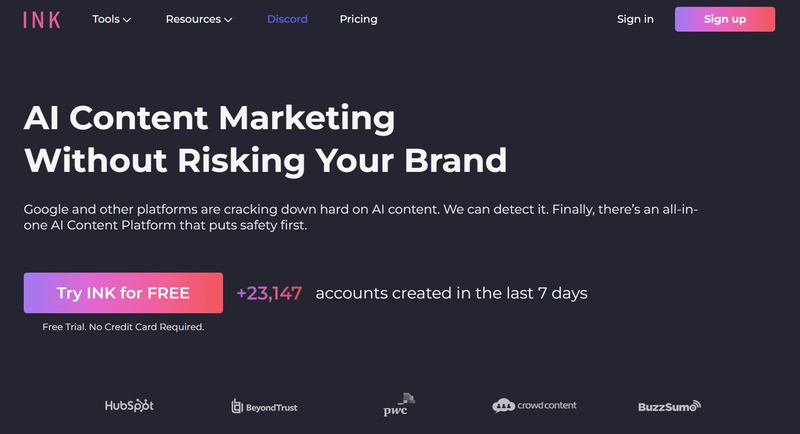 Ink For All is an AI-powered small business SEO tool that helps businesses of all sizes create and manage successful SEO campaigns.
It leverages advanced AI technology to optimize web content for search engines, such as Google, Bing, and Yahoo.
FEATURES:
Research keywords and generate relevant content based on their target audience.

Develop higher ranking organic traffic sources and improved visibility within search engine results pages (SERPs).

Paraphrasing.

AI art image generator.

Headline optimizer.

SEO Rocket Tool – step-by-step video course to get massive SEO growth.
PRICING: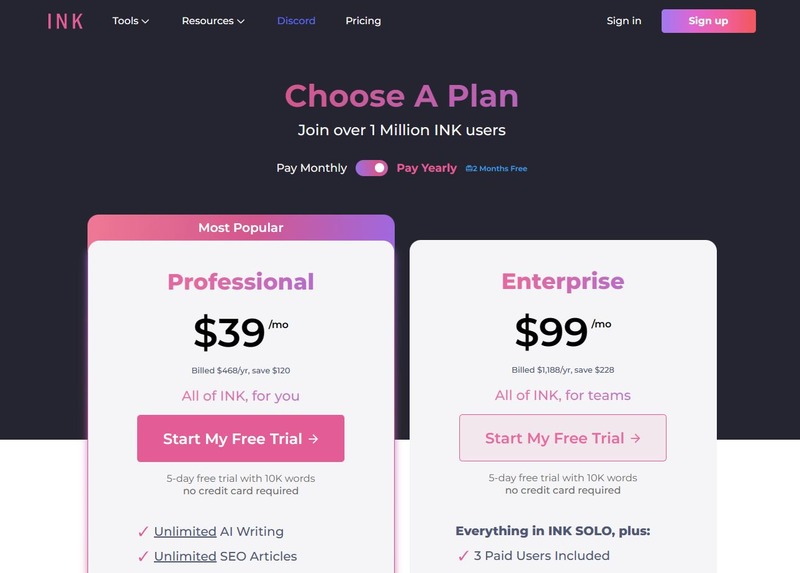 Free Trial: 5 days free trial to test out all the features.
Professional: (starts at $39/month)
Enterprise: (starts at $99/month)
Get started with Ink For All
SEMrush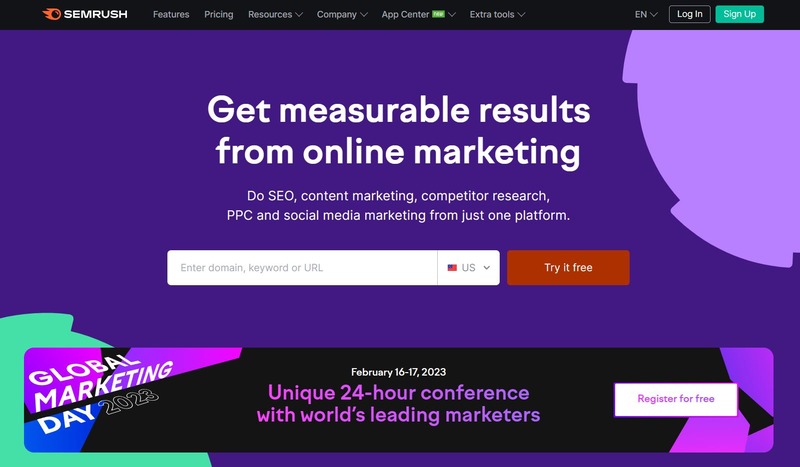 If you want the ultimate tool that rules them all, SEMrush is the SEO tool for you! This SEO software has been designed to cover it all – keyword research, keyword ideas, site audits, best SEO strategies & SEO metrics, and is without a doubt one of the most powerful pieces of SEO software on the market. It comes with a higher price tag, but the bonus is, you won't need a single other SEO software or keyword research tool to accompany it.
Unlike the free SEO tools you'll find out there, SEMrush takes care of the heavy lifting for you: Complete content marketing, competitor research, PPC and social media marketing, all from one platform. This is the small business SEO software you'll need to be ranking on major search engines and quickly!
FEATURES:
Powerful All-In-One SEO – comprehensive suite of features, including keyword research, advertising analysis, backlink tracking, on-page optimization, content marketing insights, social media monitoring and more.

Comprehensive Site Audit – scans the user's website for any errors or potential problems which may be affecting their rankings in the SERPs (search engine result pages).

Incredible Keyword Tools – provides extensive data that helps users find profitable keywords they can use in their content strategy and PPC campaigns from millions of keyword queries.

Backlink Analysis Tool – Take advantage of backlink monitoring by discovering backlink secrets. Analyse your competitors or simply see how many backlinks your article needs to rank.

Spy on Google Ads competitors – SEMrush gives you the tools to see ad spending and budgets from similar or competing businesses that run advertising through Google.
PRICING: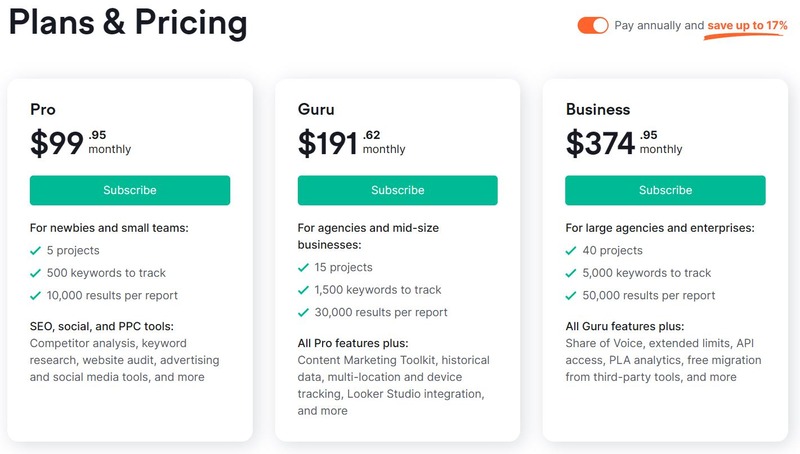 Pro: starts at $99.95/month

Guru: starts at $191.62/month

Business: starts at $374.95/month
Get started with SEMrush
Ahrefs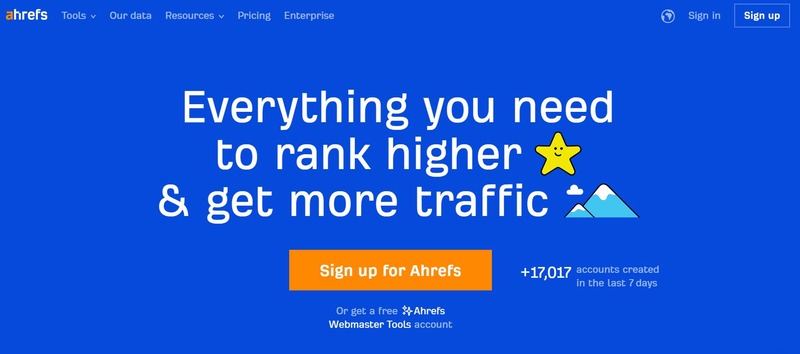 Here we have the holy grail of keyword research tools for small business SEO software Ahrefs! It's a little more expensive, but for a very good reason.
Ahrefs is the leading best SEO software for those who want a serious keyword research tool. Let's see why in the features below:
FEATURES:
Rank tracking tool – see where you and your competitors rank on Google search results.

Keyword rankings – identify prospective new keywords with high search volume and low competition with a single search query.

Site Audit – audit and optimize your website.

Site Explorer – analyze your competitors.
Ahrefs is without a doubt a leader in SEO software for small business. Increase your website traffic by intentionally and strategically singling out specific keywords that you know you can rank for with all these incredible SEO tools from Ahrefs.
PRICING: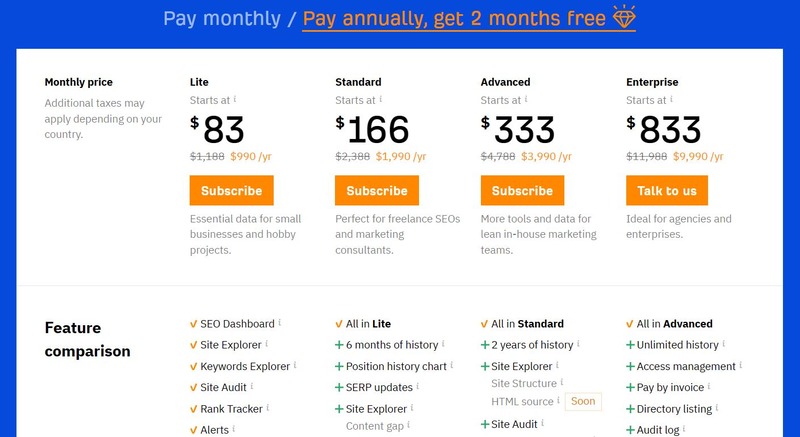 Lite: Starts at $83/month
Standard: Starts at $166/month
Advanced: Starts at $333/month
Get started with Ahrefs
Best SEO Tools For Beginners
Ok, so we've seen the best paid SEO tools for small businesses and solo content creators. We'd definitely recommend these over free versions and free SEO tools as you'll receive a much better experience and the detail that these tools provide are exceptional. It really makes crafting SEO content and strategy A LOT simpler, often generating better organic results…
That being said, here are some of the best free SEO tools for small businesses.
Best Free Small Business SEO Tools
Effective free SEO software can be difficult to come by – that's why we recommend paid options over a free version. For those just starting out though, here's a list of options for the best SEO tools that are free that you can start with today.
Google Search Console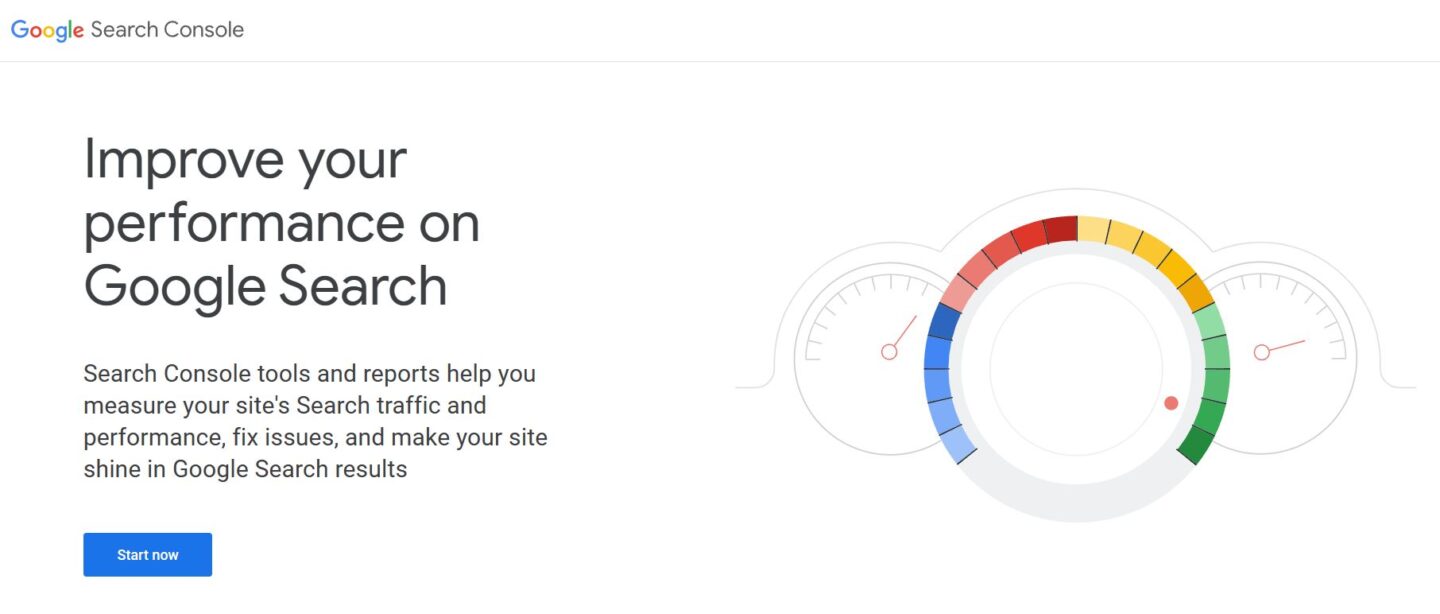 Google Search Console is a free tool that helps to measure your site's performance and traffic, all while helping fix a plethora of broken links, and website and indexing issues. Previously known as Google Webmaster Tools, Google Search Console is a brilliant free platform to keep your site in check.
Google Analytics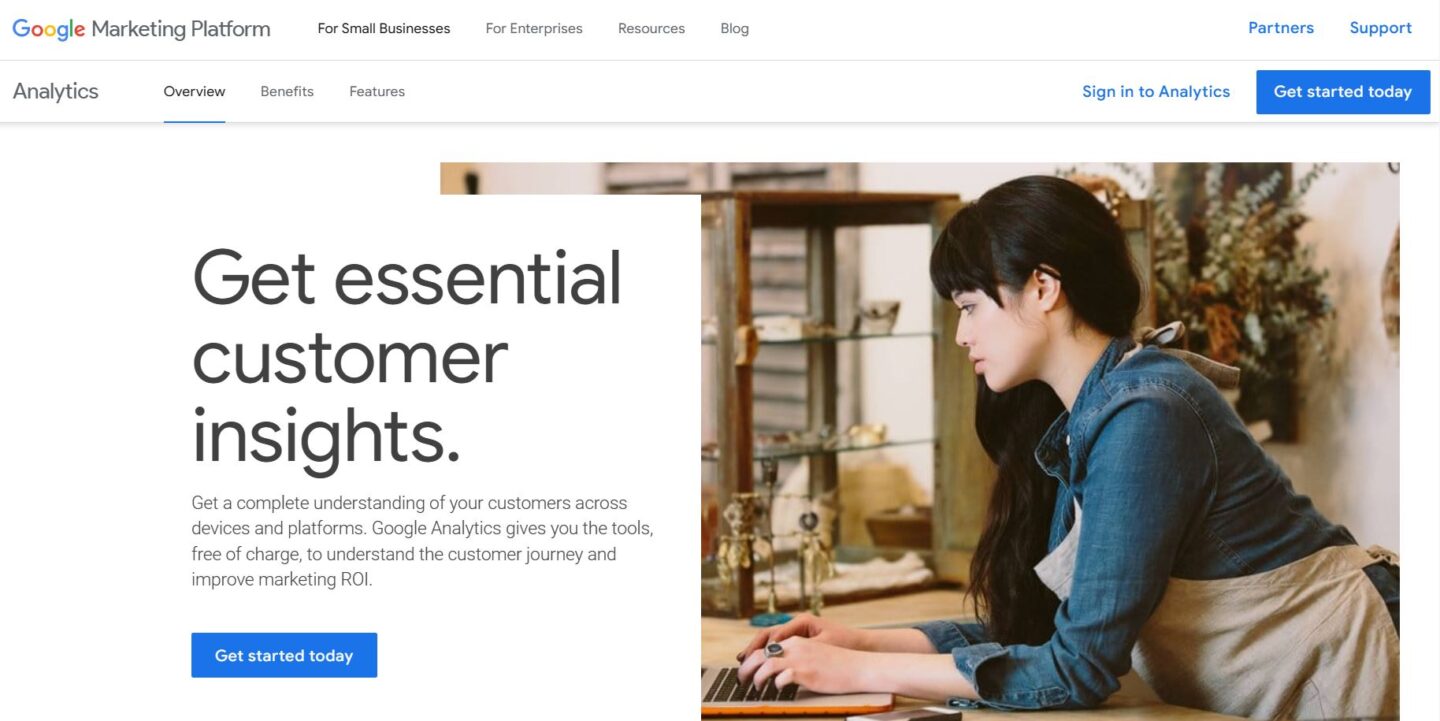 Google Analytics is a web analytics service that tracks and reports web traffic to and from your site. It's certainly one of many important, free tools that Google offers to help analyze your site and page performance.
Available to anyone worldwide, Google Analytics give an in-depth overview of your site performance and pages analytics – it really is an invaluable tool for small businesses who run a blog and website.
Google Keyword Planner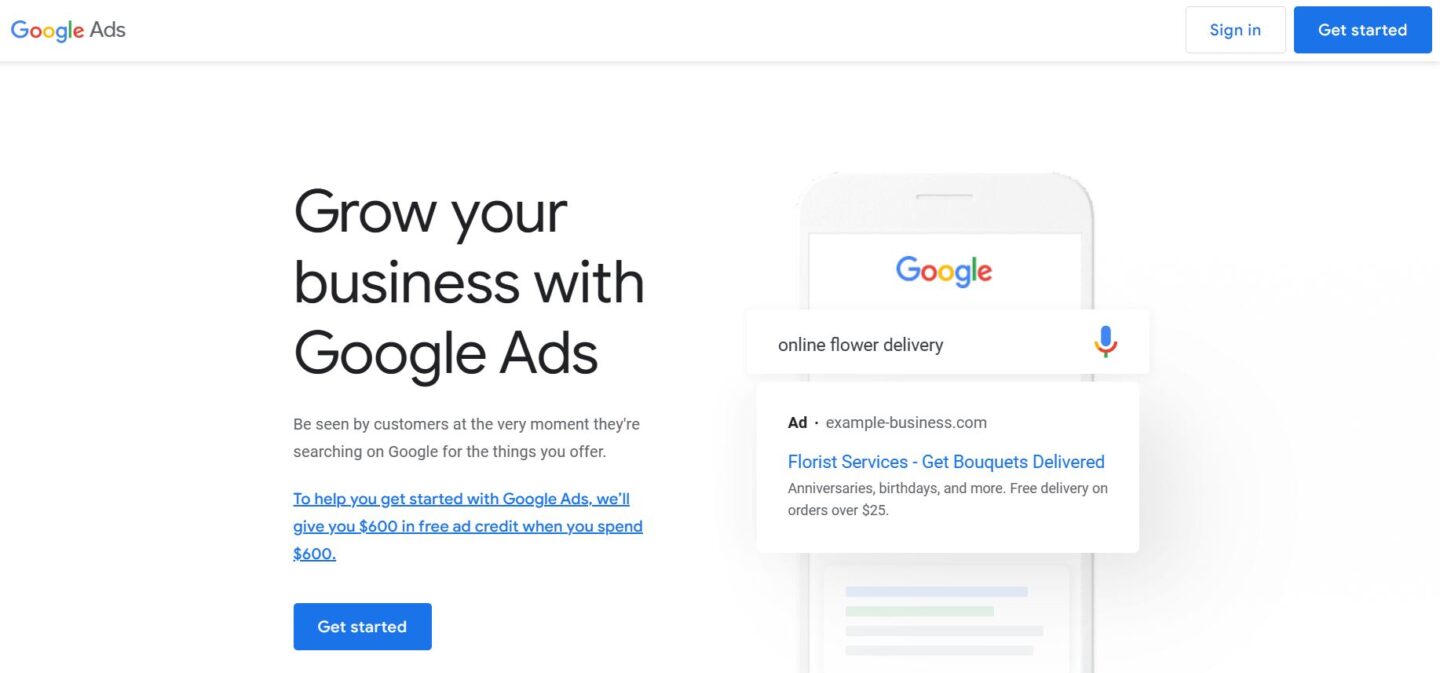 Google Keyword Planner is a useful free SEO tool offered inside the Google Ads platform. Simply sign up, and you can be exploring new keyword options to write about. Everything from competition levels and search volume.
Google Trends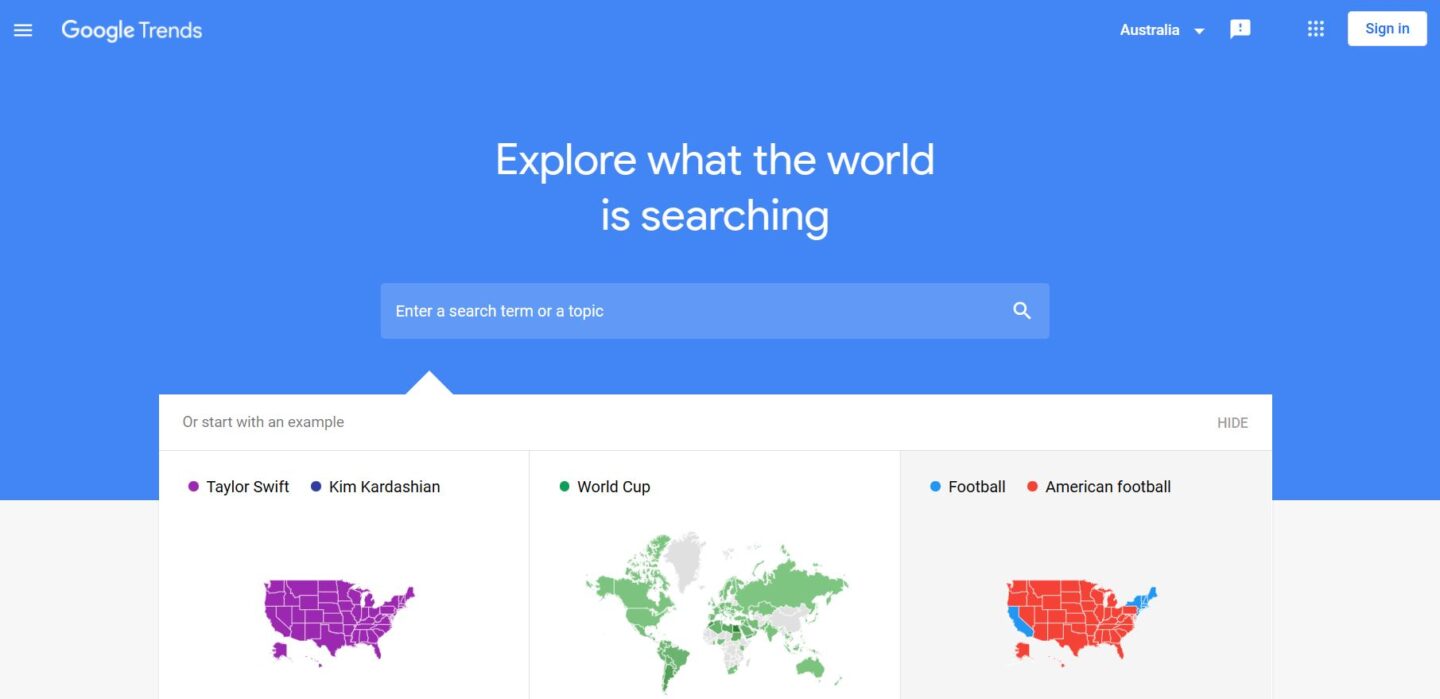 Google Trends is such a helpful free tool to narrow down your SEO efforts and content strategy. See trending search topics over selected periods of time, which countries are searching for them the most and similar keyword topics.
Best Paid SEO Tools Overall
For the user experience and an overall winning combination, I'd recommend using a mix of Surfer SEO, Jasper.ai and Ahrefs to nail your SEO research, strategy and execution. If you want an all-in-one tool, try RankIQ.
If you have the budget, you can't go past SEMrush as a powerful SEO software choice.
Every option listed will help you perform your SEO needs and reach those goals, it's just about individual experience and choice. Why not try all these options? With a free trial or free version, you're bound to find one that meets your requirements.
Small Business SEO Tools FAQ
Which is the Best Free SEO Tool for beginners?
Most of the options listed in this article offer a free version for short periods. The best free SEO tools options for beginners would have to be Moz Keyword Explorer, Google Keyword Planner & Google Trends.
Moz has a limit on search queries for keywords, so there are definitely limitations to each free version. Software such as Ubersuggest also offers a free trial for a short period of time, offering basic keyword research tools.
Can I Do SEO On My Own?
Absolutely you can! It just comes down to how much time, energy and effort you'd like to save. If you want to grow your organic traffic through SEO quickly, you'll need to explore the best SEO tools that have paid options. Sometimes, you can only get so far doing it all on your own. As someone who tried to do everything the free way early on, my blog really struggled. The second I used these tools, results improved significantly, and I started to see real, tangible growth in my blog.
What is the best SEO tool to use?
Personally, I enjoy Surfer SEO. It meets all my requirements to be one of the best small business SEO tools.
Best Free SEO Tools For YouTube?
You could use a tool like Jasper.ai to generate endless YouTube video ideas for your YouTube channel. SEO tools such as TubeBuddy and VidIQ offer a free trial and are great for YouTube SEO practices. They can be unreliable at times, so stick with a keyword tool like Ahrefs. Then use SEO software such as Surfer SEO to map out your options.
Learn How To Generate Endless YouTube Video Ideas In This Post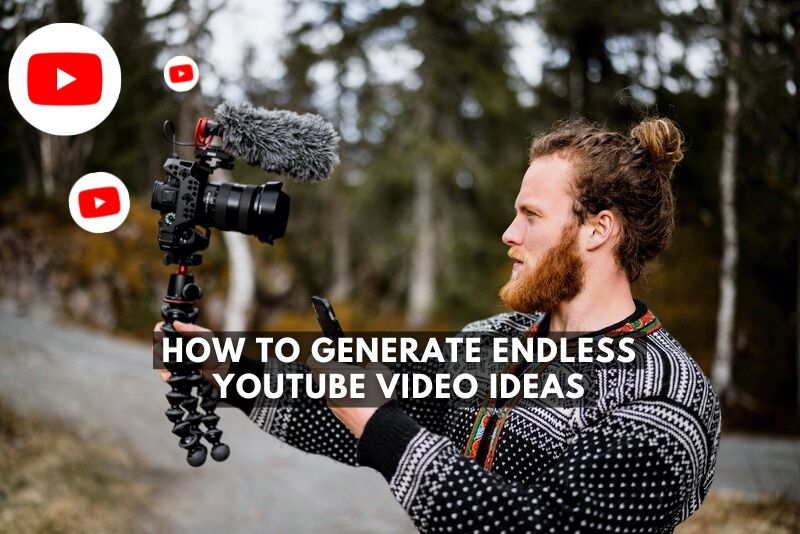 Disclaimer: These are my experiences, honest opinions and stories. We are proud to partner with many beautiful digital education & travel products and services as an affiliate. On some occasions, we may benefit from a commission when you make a purchase with these links. This commission helps to support the ongoing publication of free and readily available content designed for those who wish to get started in the online business and creator space. This is not financial advice.