Introducing Snipfeed: The Ultimate Creator Monetization Tool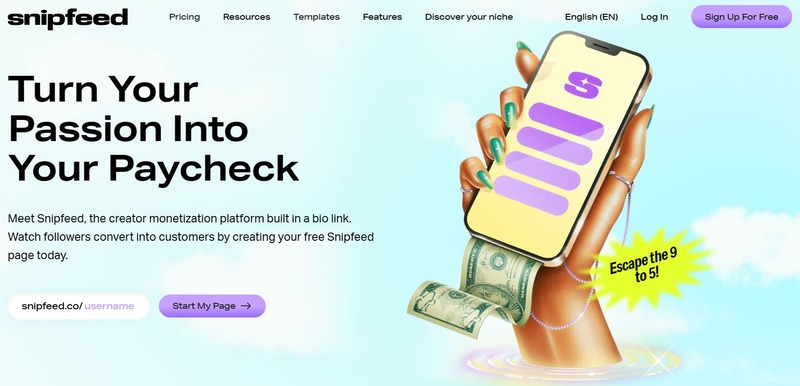 Are you a creator who is looking to monetize your content simply and easily? Let's chat about Snipfeed, what it is and why you need a link in bio tool like this one to start earning some serious money online as a content creator.
Earning an income online has never been simpler, and a creator monetization platform is a staple element to ensuring you're earning consistently.
Let's chat about Snipfeed and compare it to other link monetization tools and why I absolutely love it. I've been an online creator for 10+ years, and I personally use it as my go-to link in bio tool for creator monetization for all my exclusive content for my following. Read this post for more must have creator tools.
Welcome to Snipfeed, the monetization platform built in a bio link.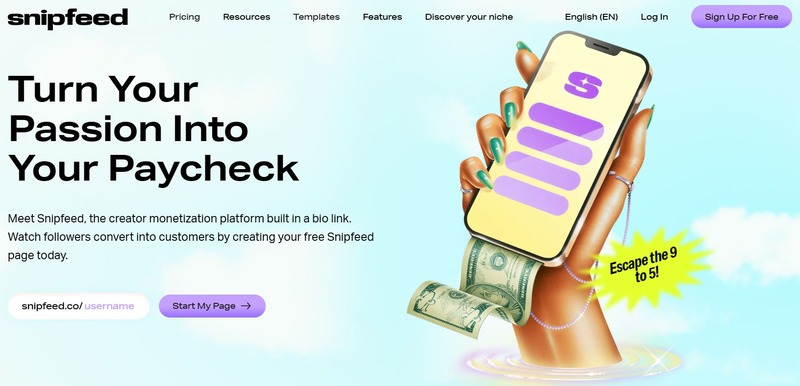 Perhaps you've worked tirelessly to buid an audience online and you're ready to monetize your content! Perhaps you'd like to promote a monetized product or service to your followers – either now, or in the future. Great! Either way, you'll need a link in bio tool to do so. One link, used for everything!
Snipfeed essentially replaces the need for a website and any other external links to products and services, delivering an incredible all-in-one experience for you and your audience in one convenient location.
Showcase your courses, social media profiles, digital products, mailing lists, one-on-one calls & consultations and SO much more with one simple monetization tool for creators. If you're an affiliate marketer, you can even showcase your affiliate links.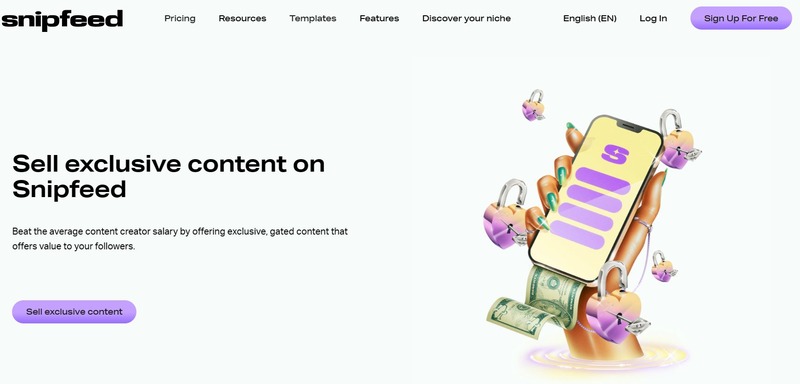 Why the Heck Should You Use It?
Snipfeed negates the need for extraneous details! As for most link in bio tools, it's designed to eliminate the friction that customers or audience's might face when visiting a traditional link in bio, that would otherwise direct to a website or third party app or platform.
Snipfeed eliminates this altogether, providing a seamless and simple experience for customers and creator audience's to shop. No one wants to visit a creator's link in bio, then travel to their website, and then travel to their calendar or booking destination just to book a mentorship call (for instance).
It links directly with Google calendar and offers the service there and then for your potential leads. Schedule, buy and purchase securely all within the Snipfeed platform.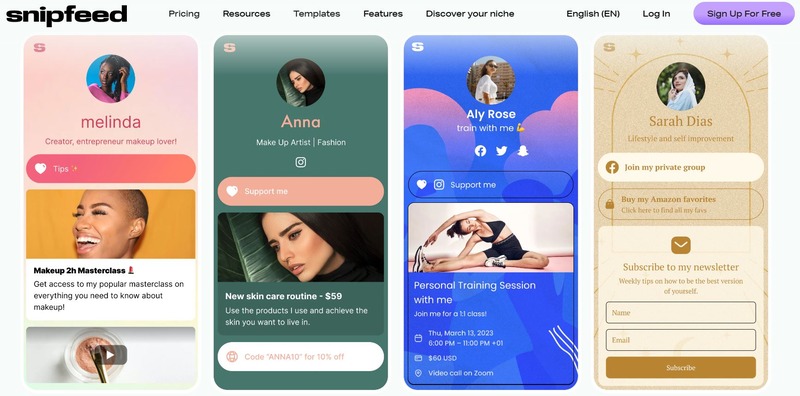 Ultimately, instead of needing 5 links to direct traffic from your social media (which simply wouldn't be possible), bio link tools such as Snipfeed provide you with one simple link, to everything you or your following needs. Get started here!
As an added bonus, this tool provides creators of all types with a generous referral & affiliate program! Earn 30% commissions on each referral you make! All new referrals will receive a bonus 1 month access to the Pro Plan to test out to ensure they absolutely love it!
Whether you're a UGC creator, influencer, blogger or an artist, this tool covers it all!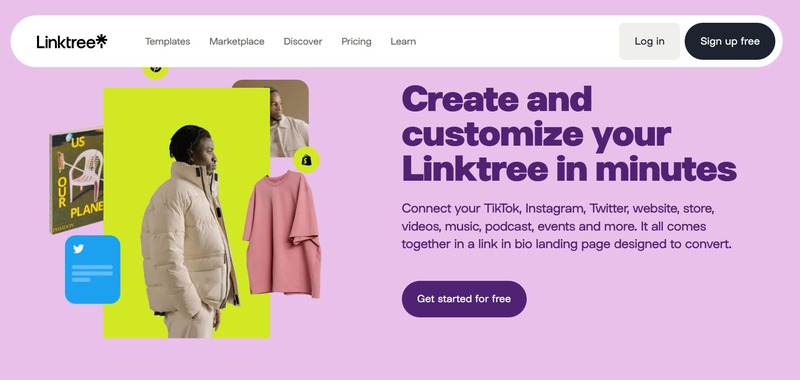 Linktree is often referred to as the OG of the link in bio world. It is, however, a little behind the times. Snipfeed is far more aesthetic while offering simple navigation throughout on their FREE plan. The design elements of Linktree are quite basic and limited on their free plan.
The pricing plan of Linktree is far more tedious, and only offers 0% transaction fees on your products for a limited time only, regardless of whether you're on a premium plan or not. This makes it a less appealing option for the long term.
As far as I'm aware, Linktree doesn't yet have an affiliate or referral program – which really is a shame for creators.
Conversely, Snipfeed has 2 structures – Basic & Pro.
Basic:
Unlimited links

Fully customize your page

15 pre-made templates

In-depth analytics on audience and earnings

Add as many monetization tools as you like (answer questions, tipping & customizable courses etc).

Snipfeed takes a 15% fee on sales made through the platform

Accept secure payments via PayPal & Stripe
Pro:
All the free features plus…

Free Custom Domain

2% transaction fees

Your Snipfeed page verified with a blue check

Advanced analytics and insights

1 hour of coaching per month from a designated Creator Success Expert

Buy now, Pay later options for your customers

Unlock our Pro Discord Community

Access to our Media Kit builder

Premium page templates and design abilities

Connect with Zapier to streamline your marketing and business needs
Pricing
The Snipfeed pricing is extremely competitive, offering both a free Basic Plan, and Pro Plan as well. You can choose to pay monthly or annually.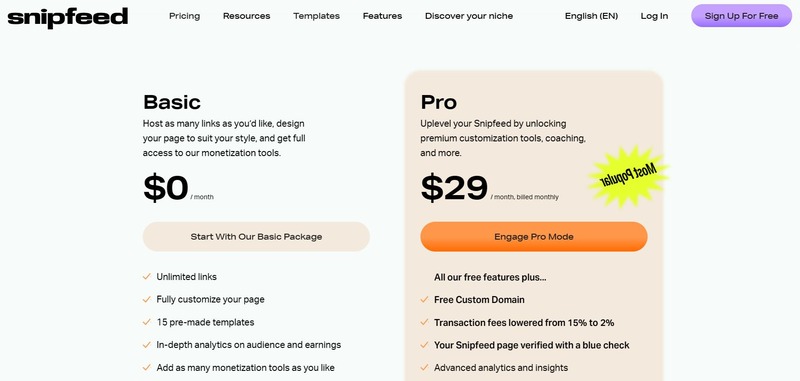 Basic Plan: Free with 30% referral commissions.
Pro Plan Monthly: $29 USD per month with 30% referral commissions.
Pro Plan Annual: $240 USD per year with 30% referral commissions.
Customer Service & Support
Snipfeed have a brilliant customer service team at your disposal! They also offer a tonne of bonus incentives for creators who use the platform such as their ambassador program!
Final Snipfeed Review
You can transform your social media into your storefront simply by adding a Snipfeed page to your bio. It's never been easier to earn online as a creator. Simply create your Snipfeed page, add your services and away you go!
Snipfeed is incredibly intuitive, mobile friendly and increases conversions considerably as it's a more visual tool – perfect for creators! Not to mention, a simple solution for your leads & prospects to navigate.
Blow up your online income and generate more conversions with Snipfeed! Get started here and receive one month FREE of Snipfeed Pro!
How Much Does Snipfeed Cost?
Snipfeed offers 2 plans: Basic (free) and Pro for a monthly fee of $29 USD.
What is Snipfeed Used For?
Snipfeed allows creators to publish & monetize their content by allowing them to add subscriptions, course, guides or packages to the list of downloadable content in their social media bio.
Showcase recent articles, a specific YouTube video or example work from your Instagram account. The possibilities and benefits are endless.
Snipfeed is a unique and powerful tool, allowing creators & influencers to sell their digital services directly via a customized bio link. It allows creators to transform their social media pages to their storefront just by using one simple link.
Linktree Alternatives
There are so many different alternatives to Linktree on the market! It might take a little bit of trial and error before you find one that you truly love!
Other alternatives to Linktree include:
Beacons.io

Taplink

Shorby
Disclaimer: These are my experiences, honest opinions and stories. We are proud to partner with many beautiful digital education & travel products and services as an affiliate. On some occasions, we may benefit from a commission when you make a purchase with these links. This commission helps to support the ongoing publication of free and readily available content designed for those who wish to get started in the online business and creator space. This is not financial advice.