The Freedom Formula Review By Jade and Kev (Best Affiliate Marketing Course)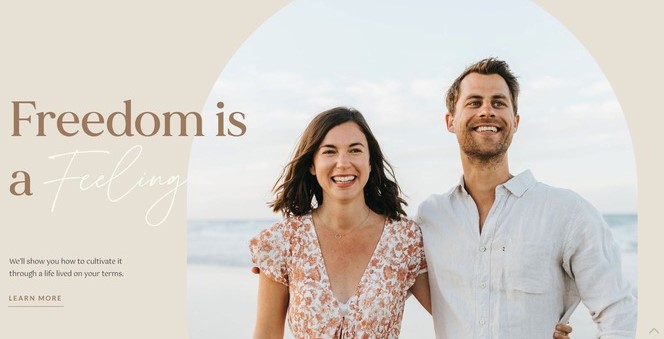 Is this the world's best affiliate marketing course for beginners? Here's my Freedom Formula Review by Jade & Kev, from someone who's taken the course and implemented its framework over a number of years. If you're new to affiliate marketing, or you're looking to start affiliate marketing in Australia, or anywhere really, first take a read of this.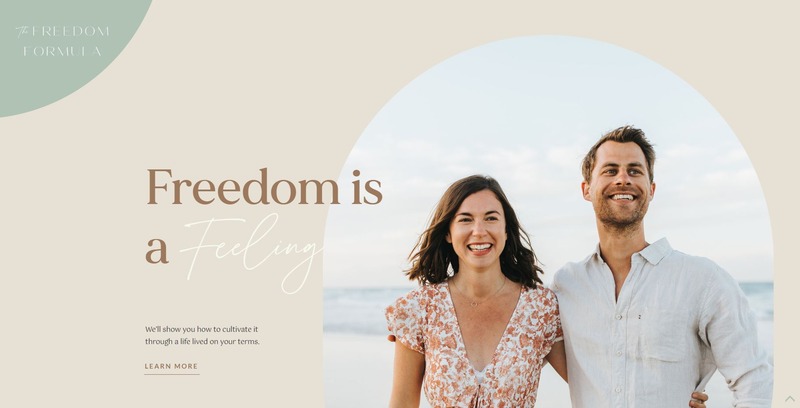 The Freedom Formula Review by Jade & Kev
Let's be frank, shall we! Freedom Affiliate Launch might just be Australia's answer to an affiliate program that does what it says it will, and shows new affiliate marketers how to actually, well…market! The course has been around for a little while, but still remains relatively new. The popularity & growth of the course, and its students has seen a quick rise in recent weeks.
The Freedom Formula, run by the Aussie pair Jade & Kev, is a digital education company, providing new and experienced marketers with a digital suite of products to learn from. Everything from affiliate marketing for beginners, advanced affiliate marketing, paid online advertising and now, more recently, money mindset and energetics.
It doesn't stop there though. Jade & Kev also show average, everyday people (like you and I) how to build their own online course and start monetising their skills and experience. The range of digital education products on offer continues to expand, all aimed at helping the average joe blow build an income online. It really is an entrepreneur's dream!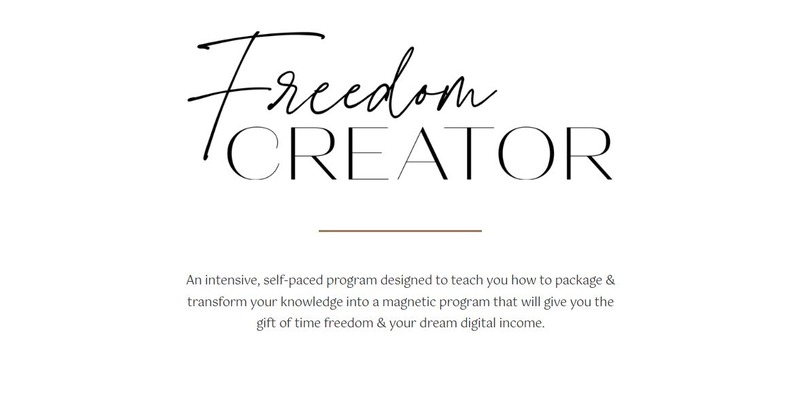 Freedom Affiliate Launch (Best Affiliate Marketing Course)
Freedom Affiliate launch is their signature affiliate marketing program, coming under the umbrella of their company name, The Freedom Formula. It's an exceptionally comprehensive course that walks students through the essentials required to run a successful affiliate marketing business. Everything from website creation, sales funnels, mindset & energetics, email marketing and how to market correctly through social media (more detailed info on the course breakdown a little later on). It's all click by click, step-by-step, over the shoulder, follow along video tutorials and much more.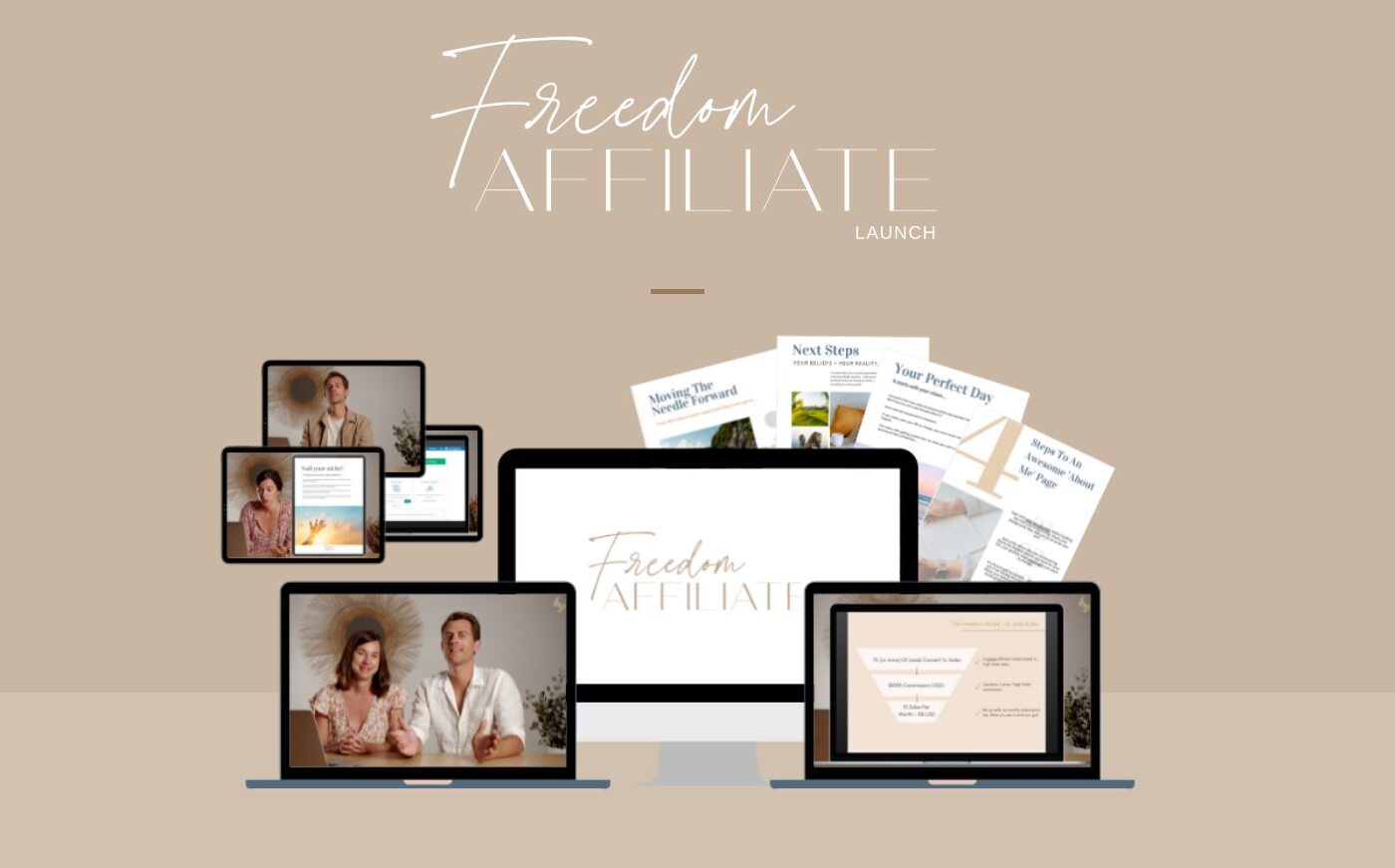 Let's get brutal! Comparatively speaking, The Freedom Formula by Jade and Kev, and its subsequent range of affiliate marketing courses provide and extremely holistic, well-rounded approach to earning in the online space, all while claiming back your time through the power of automated systems. The affiliate marketing for beginners course (Freedom Affiliate Launch) transcends the outdated, convoluted and salesy vibes of any other affiliate marketing training or online affiliate marketing course that currently exists. End of discussion. (Fight me, I'll die on this hill).
The efforts & sheer achievement of many, many years of hard work by both Jade & Kev are evident from the second you lay eyes on their landing pages.
Other relative courses in this space such as Legendary Marketer (which I've completed personally), Six Figure Mentors and Wealthy Affiliate lack a complete sense of personal touch, direction and vision for new affiliates, often making it feel overwhelming and as though you're just another number. Not to mention the absurd cost to get started & continued training. The sales funnels and landing pages those courses have their students creating far too often appear scammy, gross and kinda slimy. That is not the vibe we're after!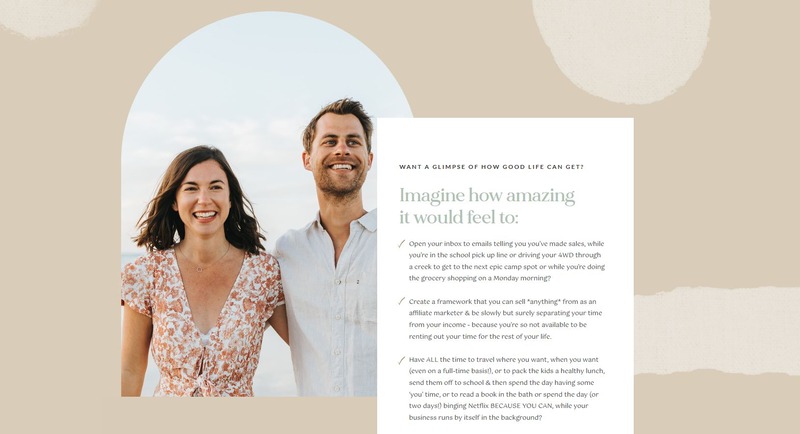 The Freedom Formula (and Freedom Affiliate Launch) squash those old school notions of online business and marketing with a much more welcoming atmosphere, all designed to nurture your growth, authentically – a vision shared by Jade & Kev from day one, and a strikingly clear point of difference from any other course you'll currently find. This was unequivocally, the most luring aspect of the program I've adored since its conception. Not to mention, the fact they also have their own partner program. An affiliate marketing education + online income stream in one! Score! Sign me the hell up! I'll honestly talk about this course, it's approach to affiliate marketing and its beautiful community until the day I die – it really is one of a kind.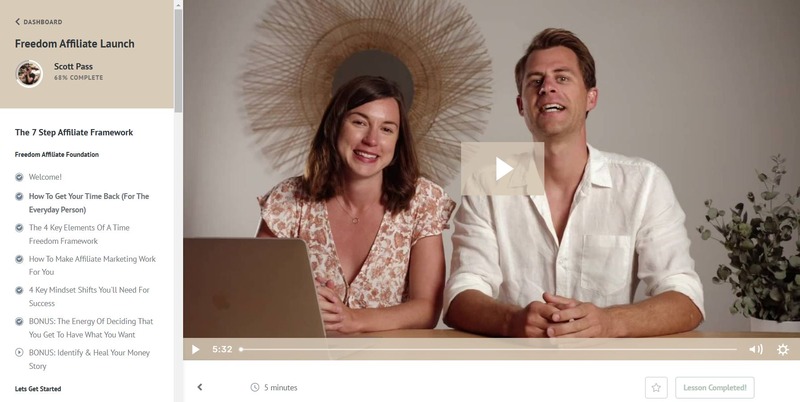 Honesty, authenticity and simplicity in the online world & affiliate space was VERY much needed – a feat the pair have no doubt succeeded in. You won't find any bullshit here. No smoke and mirrors. Just clear, actionable training with real world skills. Don't get me wrong, other affiliate programs offer this too, but in a much more complicated way. I needed simplicity, clarity and actionable direction in a mentor and in a program – and that's exactly what I received. I hope this Freedom Formula review helps you gain clarity on which affiliate marketing course is best suited to you also.
Other affiliate courses available always seem to have such a complex, smoke and mirrors feel, often attributing to the industry's misconceptions and concerns by budding new affiliate marketers. The Freedom Formula truly is miles away from any of that, riding the highs of a more authentic approach to earning online and building something you're proud of – a real cornerstone of the company.
Since starting out with Freedom Affiliate Launch, I've completely transformed my money story, reshaped my views around money and how I earn it, all while allowing me to consistently earn in the online space in a way that felt right for me. I've gone from working a shitty retail job, scraping by, selling my soul and earning $25 an hour, to earning thousands in a matter of days with affiliate marketing. It's been wild!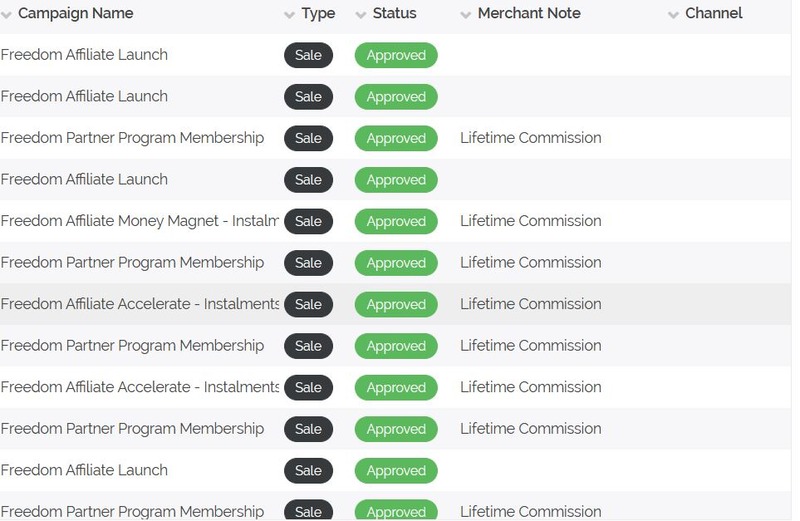 I've built a legitimate business that I'm more than proud of. I wake up every morning these days excited to 'work' and believe me, there's hard work involved. Nothing comes easy, but none of it would've been possible without the step-by-step guidance and framework that these two VERY successful former affiliate marketers have shown me.
I'd buy the course 10 times over because it really is that insightful.
I'm not sure how much more honest I could be in delivering a review about something you truly believe in and admire, but each word you've just read rings true.
I'm extremely grateful in finding something this special and wish nothing but the best for anyone else looking to get started as an affiliate marketer. Learning to earn online is life changing, and not just in a financial way. It's so much more than that.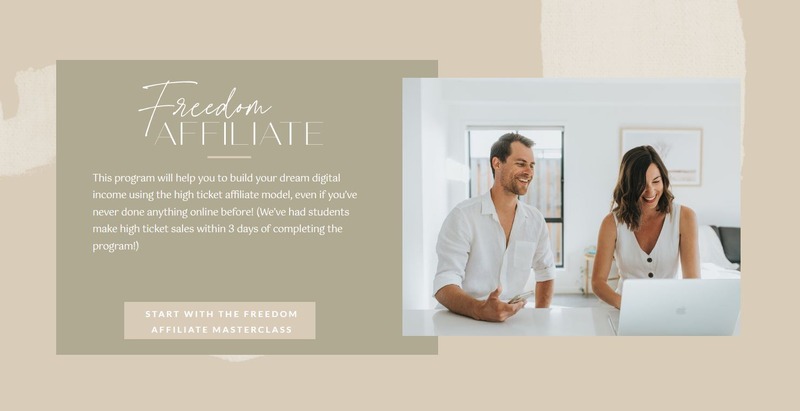 Final Thoughts: The Freedom Formula Review Jade & Kev
Perhaps you've been spinning your wheels, going around in circles, trying to piece this whole damn affiliate marketing thing together. Perhaps you've felt trapped and feeling limited in life, rather than limitless? I've been in that exact position, not too long ago. I'd give my highest recommendation to Freedom Affiliate Launch & The Freedom Formula by Jade & Kev. It's the epitome of what online training should be and is a perfect fit for those looking to start affiliate marketing in Australia – or anywhere for that matter. The courses are available worldwide, to anyone, of any background.
If you want the entire affiliate marketing process handed to you on a platter, with a framework for success to follow, this would be it my friend. The student testimonials and results speak for themselves, and in volumes (be sure to check those out, it'll blow you away). I've personally witnessed close friends and colleagues transform their lives with this training – both financially and from a money mindset perspective.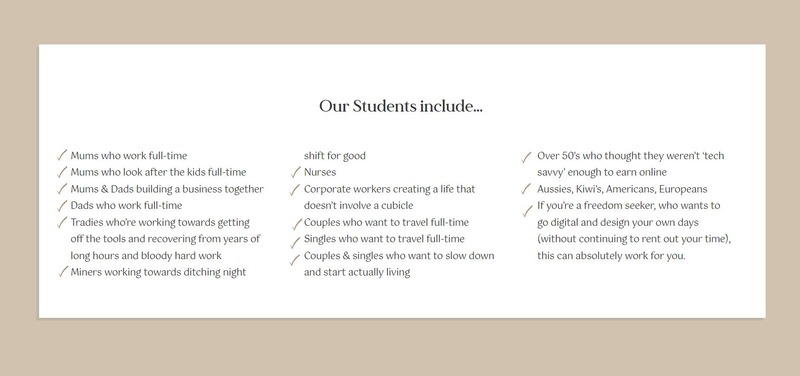 If you're ready to build something of your own, and begin claiming back your time, Freedom Affiliate Launch should be your first port of call.
For a more in-depth course breakdown & student testimonials, click here.
There you go! There's an honest and authentic Freedom Formula Review by Jade & Kev. If you have any questions, search them below of feel free to reach out.
FAQ's For Affiliate Marketing Beginners
How To Start Affiliate Marketing in Australia
Affiliate marketing is a beautiful business model that allows average, everyday people to make a once off or recurring commission by aligning with brands, products and services that know, like and trust. Affiliate marketing in Australia is growing so quickly, as more and more Aussies join in and begin creating their own affiliate or online business. Personally, I started with an affiliate marketing course because I didn't have time to chase all the free information out there online. Freedom Affiliate Launch was the course I chose and the one I recommend. Read more about how to start affiliate marketing in Australia here.
What Is The Best Affiliate Marketing Course
Personally, I chose Freedom Affiliate Launch for its simplicity and clarity. It's run by Jade & Kev from The Freedom Formula. It's an Australian business and company designed to help beginner affiliate marketers get started.
How To Become An Affiliate Marketer
Becoming an affiliate marketer takes time, patience and some hard work! If that's you, you can choose to find all the free information on how to start affiliate marketing online, or you can take a similar course like I did. Generally speaking, you'll need to develop digital marketing skills, email marketing skills, have a business mindset (or willing to develop one) and be willing to commit to process of becoming a business owner.
Disclaimer: These are my experiences, honest opinions and stories. We are proud to partner with many beautiful digital education & travel products and services as an affiliate. On some occasions, we may benefit from a commission when you make a purchase with these links. This commission helps to support the ongoing publication of free and readily available content designed for those who wish to get started in the online business and creator space. This is not financial advice.