How to Start Affiliate Marketing in NZ (For Beginners)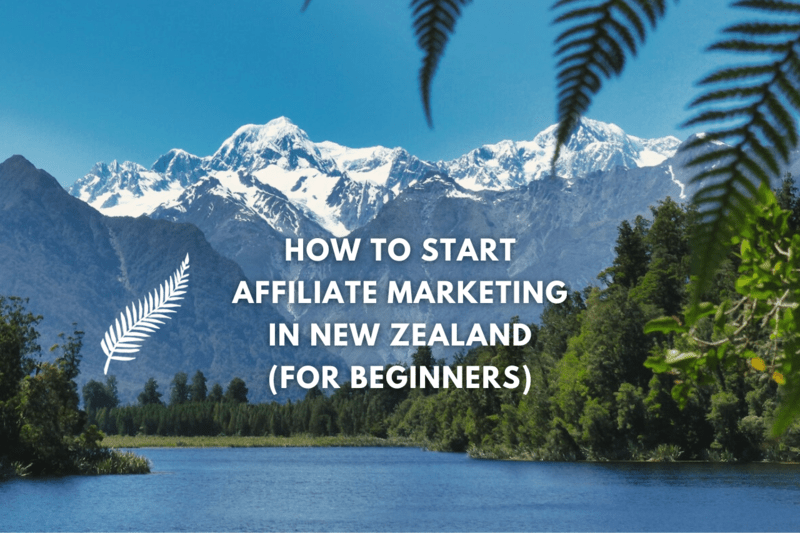 So, you want to start affiliate marketing in NZ? You're not sure where to begin so you've been going around & around in circles, searching for all the scraps of free information online, but you're still stuck. You're still nowhere nearer to actually starting!
I've been there! I understand it – it sent me insane!
In recent times, the power of affiliate marketing has become increasingly apparent for businesses of all sizes, but did you know that average, everyday humans (just like you and I), can leverage the power of affiliate marketing to completely replace our old incomes?
Yup! That first online commission you receive is something you'll never forget – it's an indescribable feeling! It's even better when it's a high-ticket sale!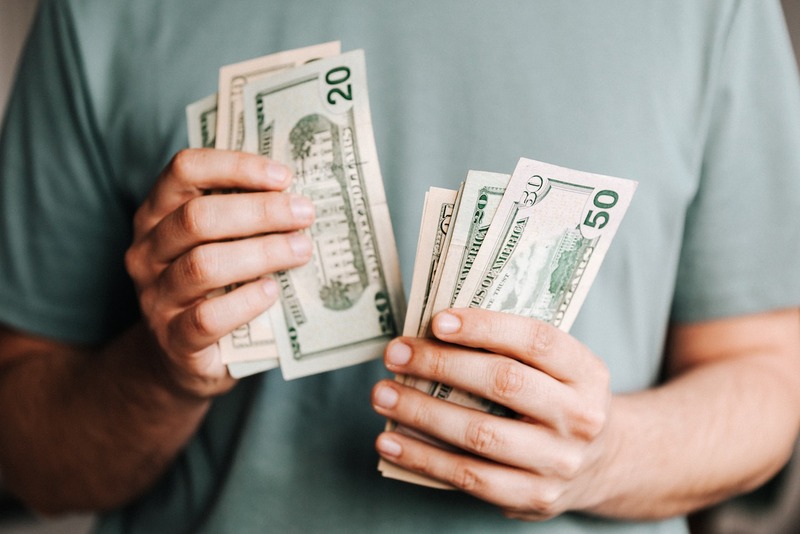 This post is going to show you how to get started with affiliate marketing in New Zealand and how you can start your very own successful affiliate business. No fluff. No B.S, just actionable, straightforward information.
Although the concept may be familiar, understanding the ins and outs of affiliate marketing can be daunting. To make things easier, we'll cover all the essential topics in this guide – from how it functions in practice and why high-ticket affiliate marketing should be your number one priority. Let's get started!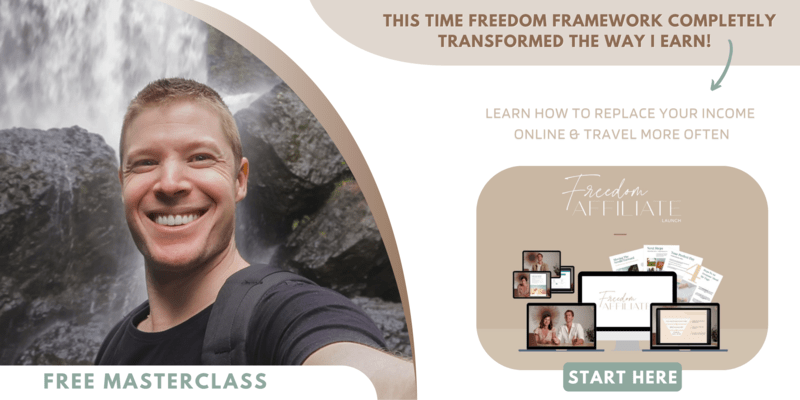 What is Affiliate Marketing?
You're probably here because you've investigated the affiliate space and how to earn online at some point. Heck, you might've even typed in the exact phrase, "affiliate marketing NZ" to Google! We've all been there. Perhaps you're here because you're ready to start, but you're looking for that final push!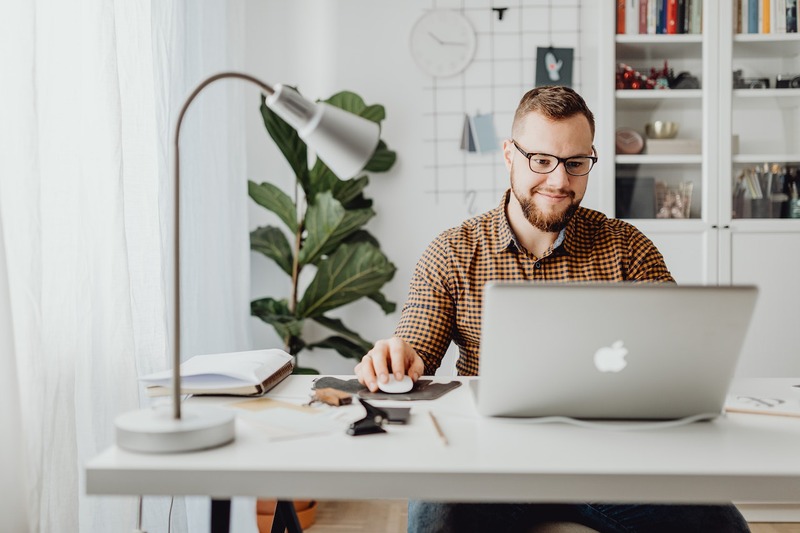 I started my affiliate business a couple of years ago, and it's been the most freeing, and liberating online business I've ever dipped my wee little toes into. There's no reason why you can't do the exact same!
Creating an affiliate income isn't for the 1% – it's for beginners just like you and me.
In the world of online business, affiliates represent an integral aspect. They function as middlemen who bring together online businesses & retailers and the consumer, enabling seamless links between all parties involved.
As affiliate marketers, when a customer makes a purchase after clicking on a unique affiliate link of yours, you'll be paid a once-off or a recurring commission, based on the product or service – it's that simple!
Your only goal as an affiliate, is to be the vehicle for someone looking to purchase a product or service that of value to them. That's your only job!
As an affiliate marketer, you're given the opportunity to be compensated when affiliate sales are generated by your content and links. You partner with brands, products or services that align with you, and you choose to post those links wherever feels best for you.
Example: Blog posts, socials media posts in your link in bio, YouTube videos, guides, e-books and SO much more!
Affiliate marketing in New Zealand is growing HUGELY! It's great to see so many people taking it seriously, and changing their lives in the process.
Learning how to start affiliate marketing in New Zealand is a fantastic opportunity to earn an additional income stream, or better still, replace your old income entirely. I've done it, my friends have done it and I've never looked back!
How to Start Affiliate Marketing in New Zealand as a Beginner?
Let's break this down in a little more detail for affiliate marketing beginners. I've highlighted a very brief step-by-step breakdown of how to start below:
1. First Start with Research
You'll first want to research your niche and any potential NZ affiliate programs.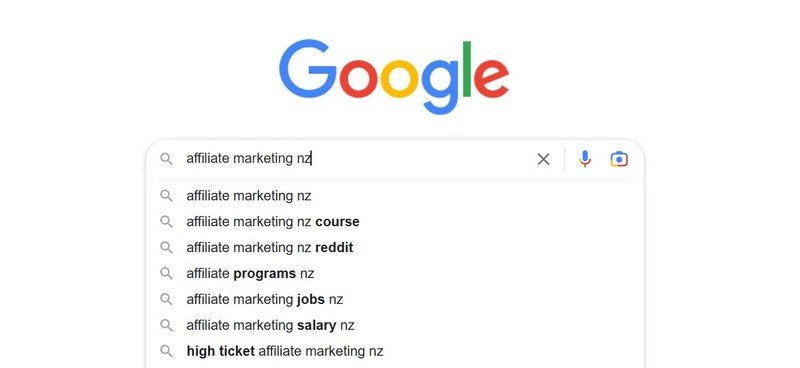 Hot tip: Your ideal niche is the brand of you! What is it you enjoy, do, think and feel? The idea is to share products and services you use, love, know, like and trust!
If you're feeling stuck, unsure and you just want to get stuck into this whole affiliate thing ASAP, then this is the exact same course I took – it's called Freedom Affiliate Launch.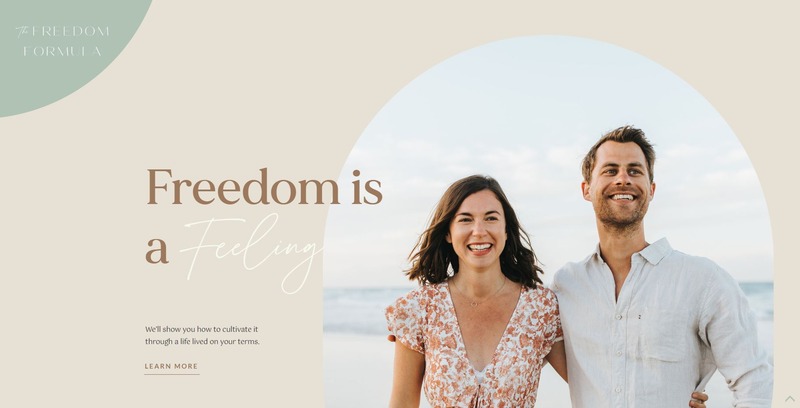 It's a holistic, comprehensive, beautiful and actionable training. There's no bullsh*t. Just all the stuff you really need to get started today. More info below or read the full review here.
3. Create an Affiliate Website, Blog & Social Channels for Your Offers.
You'll need a place to host all your content and a beautiful space to showcase you. You'll also need to create a landing page where you can potentially collect leads, sign-ups or broadcast any updates for your audience.
If that all went straight over your head, don't panic! All this and more are taught within Freedom Affiliate Launch.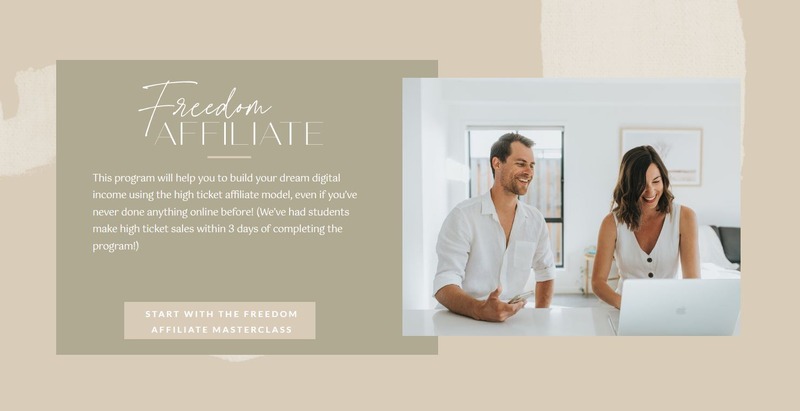 4. Generate & Drive Traffic (Paid and/or Organic).
This is the fun part! You can write blog posts, utilise search engine optimisation (SEO), create videos on TikTok & Instagram or dedicate an entire YouTube channel or a YouTube video to your affiliate marketing business. The ideas and opportunities are endless.
It's even better when you have an engaged audience who's invested in what you talk about and offer. You don't have to be social media influencers, or anything cringe like that, just a small and dedicated readership or following on any platform.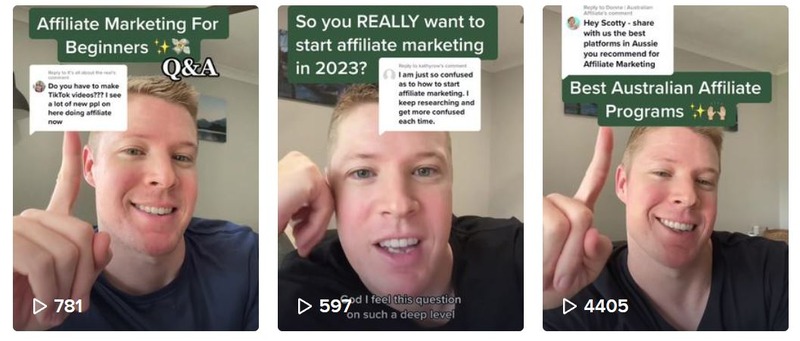 There are honestly so many marketing tools you can use to streamline your workflow for your content marketing as an affiliate. So many in fact, that I couldn't simply mention them all here. Instead, check out more detailed posts of the tools I use here.
6. Continue Joining & Expanding with New Affiliate Networks and other New Zealand Affiliate Programs.
Choosing an affiliate network or different New Zealand companies to join should relate back to you and your interests, and then how you can best serve your intended audience.
If you love to travel, you can join many of the affiliate programs aligned with the travel landscape. Eg. Contiki, G Adventures, Booking.com and so many more.
I would never have had the success I've experienced as an affiliate, without first taking a holistic, and comprehensive affiliate marketing course. I'll make this very clear – it's a completely personal decision whether or not you take an affiliate course.
Personally, I certainly didn't have the time or energy to learn it all myself. I wanted someone who'd done it successfully to show me exactly what I had to do to set up my own affiliate business.
All the information needed to be handed to me, with step-by-step instructions to fast-track my progress. I didn't want to fluff around, wasting more time. I just wanted to start! Trying to figure it all out on my own was exhausting, and I never got anywhere (consider this your very own kick up the bum to get started!) God knows I needed one myself back when I first started!
I researched heavily on the perfect affiliate marketing course and decided to go with Freedom Affiliate Launch. It's a beautiful, holistic and empowering affiliate course run by two Australians, Jade & Kev.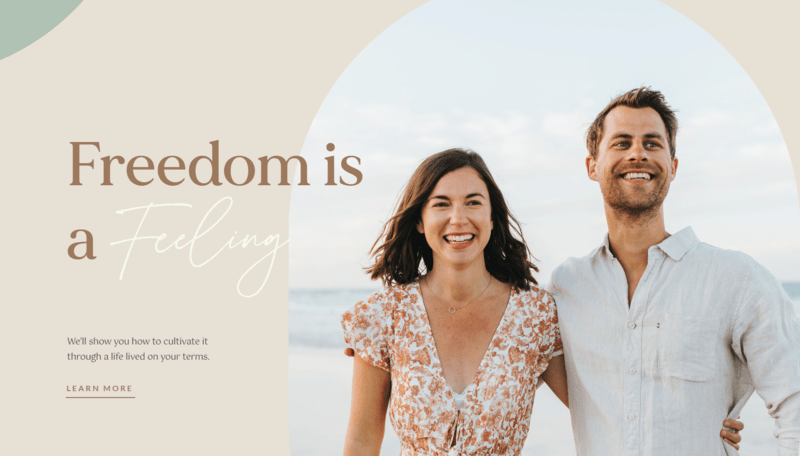 It's completely step-by-step, click-by-click, over-the-shoulder training from start to finish. It didn't have the gross 'salesy', feral kind of vibe that SO many American courses have. Yuck!
It just felt like a safe, beautiful and enjoyable space to be a part of! I've since taken many of their other course in Business Mindset & Energetics, Course Creation and Advanced Affiliate Marketing & Advertising. The best part about the Freedom Formula and the range of courses they offer – you can also choose to partner with them as an affiliate and on sell their affiliate products. Win-win!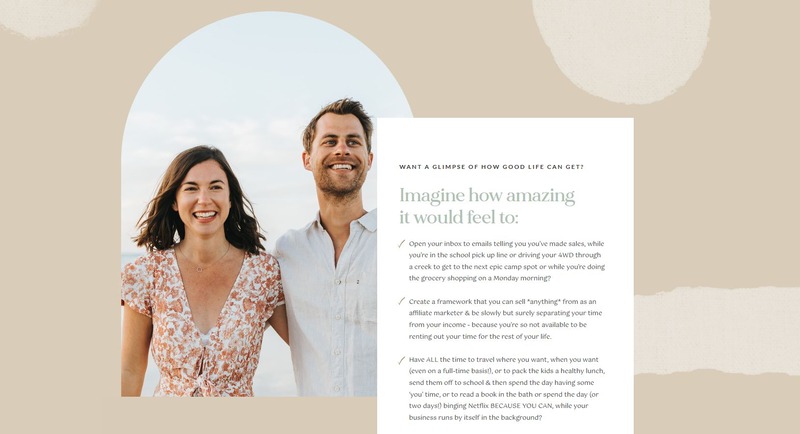 If you're tired of feeling stuck, and you're actually ready to move the needle forward in your own affiliate journey, you can get started here. It's hands down, the best online affiliate marketing course available in New Zealand and Australia. Chefs kiss, would recommend!
Check out the free masterclass here.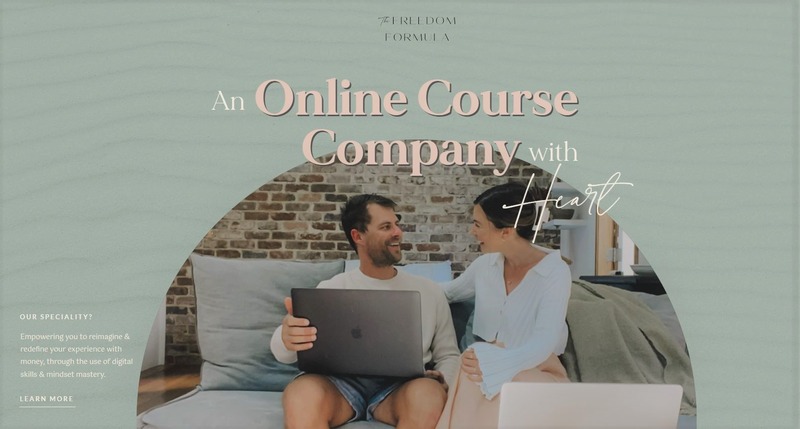 What are the Pros of Affiliate Marketing?
You can create a passive income from your website, blog, YouTube channel and social media. The web is brimming with opportunities for affiliates to take advantage of. I've trialled many different online business ideas, and this is without a doubt, the simplest and easiest online business you could dream of.
Additionally, when compared with other forms of online marketing like Google Ads and Meta Ads – affiliate marketing allows for considerable control over your own success. You call the shots; you decide who to partner with and you alone, get to decide how you'd like your business to operate. Your affiliate marketing success comes down to you and how you'd like to show up online.
Advantages of Affiliate Marketing:
Work-life balance & flexibility.

Recurring, monthly income.

You don't need a product or service of your own.

High-ticket commissions.

A limited barrier to entry (simple to start).

Uncapped income potential.

Easy to maintain.

Inexpensive, cost-effective start-up.

Easily scalable.
What Are the Cons of Affiliate Marketing?
There are minimal drawbacks to consider when comparing affiliate marketing with other online opportunities, but honestly, not too many. The pros certainly outweigh the cons.
Firstly, it requires one to devote some initial time and effort in order to gain traction.
Affiliate marketing is not a get-rich-quick business model, however, when it's up and running, you can automate it, so it runs non-stop, 24 hours a day in the background. We're here to run a sustainable business – one that has longevity! The goal is to replace your old income, right? Experience more freedom? You'll have to put in the work, in the beginning, to make it happen.
We call this a leveraged income.
On top of this, commissions paid out to affiliates can fluctuate from month to month – so not only does this leave some earnings potential exposed; but it can also be slightly unpredictable.
Disadvantages of Affiliate Marketing:
Generating organic traffic can take a little bit of time.

Income instability when first starting.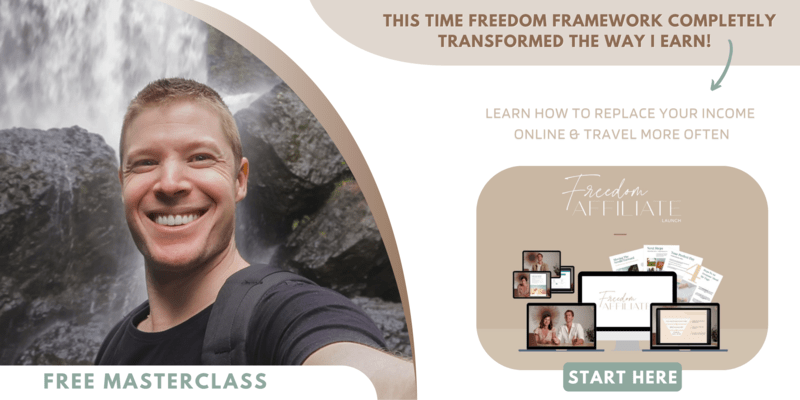 Affiliate Marketing Business Reminders
Don't feel as though you need to be an internet or marketing genius in order to succeed in this space. Here are a few things to take note of when starting your journey:
The number one selling point in becoming an affiliate marketer is that you don't even need a product or service of your own to start. You're aligning with other people's products and services and simply recommending them based on your experiences.

Search for potential affiliate partners by 'Googling' the niche you are in and looking for an affiliate program sign-up.

Ensure you have the correct affiliate marketing legal disclaimer on your affiliate site and advertising avenues. As a legitimate business, you want to protect yourself and your livelihood.

Partner with an affiliate program that aligns with your values & who you are as a person. As affiliate marketers, there's no point promoting products and services from a completely unrelated niche and one that you don't even enjoy.

Continue to learn and grow. Develop your skillset over time and invest in educating yourself. Look for online marketing tips and resources to continue building out your offers, your landing pages and your website.
What Are the Best New Zealand Affiliate Programs?
In the New Zealand market, there happens to be a wide range of local and international options to partner with as an affiliate. I've listed some example affiliate program options below, so you can start to earn affiliate income as a beginner.
Affiliate Marketplaces
Individual Affiliate Programs
The Freedom Formula (minimum 40% commissions)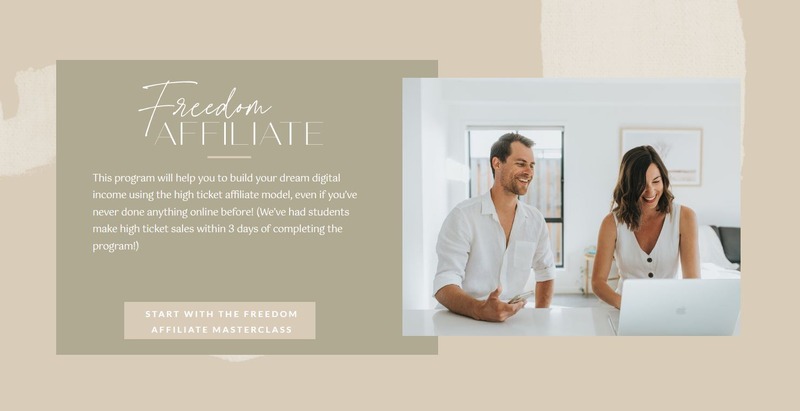 2. Digital Product Affiliates (50% commissions)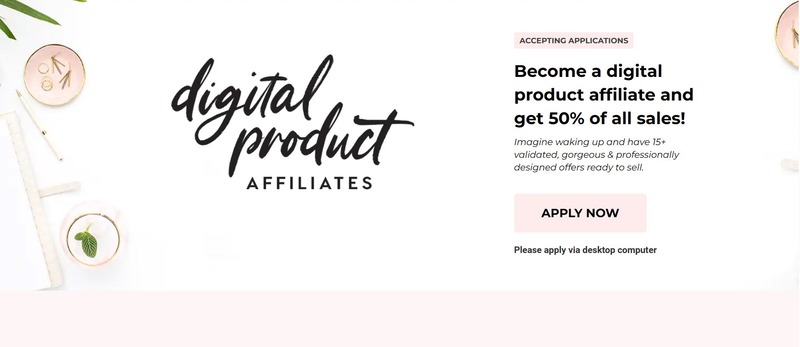 3. Haka Tours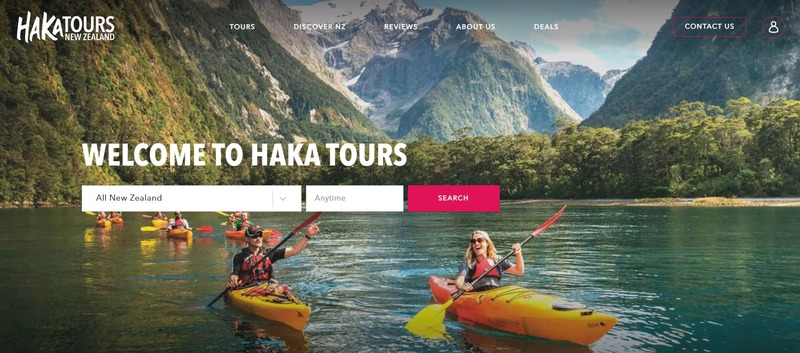 4. Ecowarehouse
5. Macpac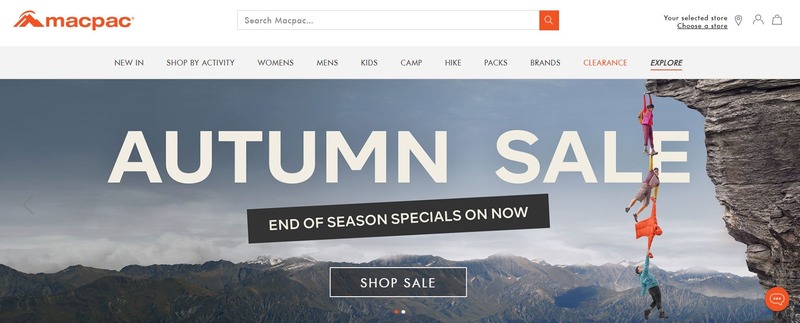 6. S.L.I.C.E Digital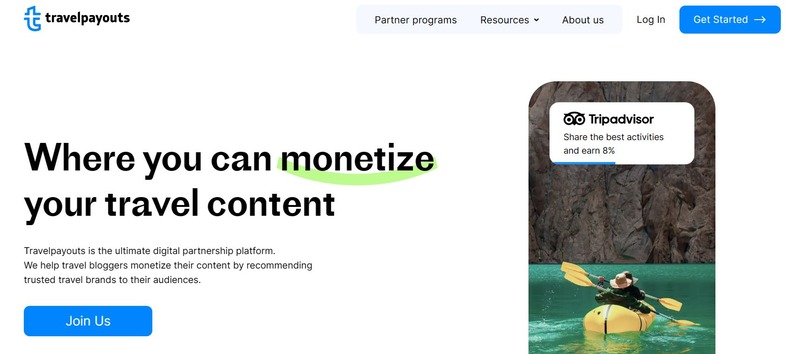 The beauty of becoming an affiliate is, you can join whichever affiliate program you want and choose to promote it globally. It doesn't just have to be located within New Zealand.
You could join the Amazon Affiliate Program (low ticket commissions) or choose something that's more of a high-ticket item – the choice is yours.
How Do You Pick a Program to Join?
Selecting the ideal affiliate program is a process involving trial and error, research, and experimentation. Ultimately, you'll want to find one that has all the features you require – such as tracking links, an easy to navigate affiliate dashboard and decent commission rates.
For me personally, I write and produce content around how to earn money as a creator, creator monetization, travel, marketing and how to earn online. It makes sense for me to utilise affiliate programs within those niches.
How to Find Affiliate Programs in New Zealand
Finding a program is super easy! You can choose to join programs individually, based on what you find most interesting, or you can join a marketplace.
To find these, I typically like to type in the company name to Google, go to the website, and then scroll to the bottom of the page and look for a link called "Affiliates", "Partner with Us", or "Become an Affiliate". You then just simply sign up directly with that link.
Alternatively, you can sign up for an affiliate marketplace like Impact, Avantlink, Partnerize, CJ Affiliates or Commission Factory.
Affiliate marketplaces are just sites that host many different businesses affiliate programs that you join. This just requires a once-off sign-up process to be accepted, and you can then apply to individual businesses within the marketplace.
Low Ticket vs High Ticket Affiliate Marketing
To build an affiliate marketing income quickly, you'll want to look for high ticket affiliate marketing opportunities. Generally speaking, most new affiliates start with low-ticket because it's simple and easy. Let's discuss each below:
Low Ticket
Low ticket refers to products and services that offer a low monetary value. Amazon associates would be considered a low-ticket commission model (you're paid approximately 4% on most items).
In order to replace your income online, you'd have to sell such an insane volume of low-ticket items or services to replace a full-time income. This is why I try to educate new affiliates on high-ticket affiliate marketing instead – even better still, if it's a recurring monthly commission.
Once you've mastered it, you can turn your attention to low-ticket offers.
High Ticket
High ticket affiliate marketing in NZ involves selling high-value products and services. Generally speaking, commissions paid to affiliates are $1000 or more at this level! This is the fastest way to replace your old income and begin claiming back your time.
As most commissions are paid monthly, you'll want to ensure you're showcasing high-ticket offers to make it worth your while. This is why partnering with digital educational products and online services is so popular – they usually have a high price point and offer higher commissions.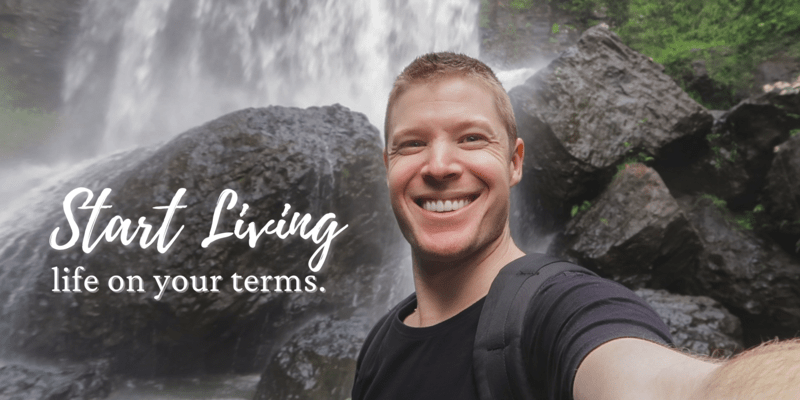 Conclusion
There's never been a better time than right now to begin affiliate marketing in NZ! Earning in the online space, and learning how to claim back your time, instead of trading your time for money is a skill that can quite honestly set you free.
I was just some average guy, who worked in retail! If I can do this, anyone bloody can!
If you're still unsure where to begin, branch out and look at taking a trusted and beautiful course and training such as Freedom Affiliate Launch. There's a free masterclass right here that's 100% worth the watch!
Frequently Asked Questions
How Do I Become a Successful Affiliate Marketer?
Success in this space largely comes down to the effort you put in and how resourceful you are. It's not all smooth sailing! Every business will face hurdles and obstacles.
You will require a few different skills such as the following:
Digital marketing skills

Patience & perseverance

Learning new skills

How to manage different marketing channels

Small business management

Attraction marketing
Can Beginners Do Affiliate Marketing?
Absolutely! Most affiliates are beginners and have started exactly where you might be right now. There are little to no barriers to entry and anyone can get started today! Get started with this free masterclass!
Does Affiliate Marketing Really Pay Well?
You bet it does! The earning potential is uncapped, meaning you can make as much or as little as you like – this is why a lot of people start.
Their income at their day jobs is capped, leaving them with nowhere to go in terms of income potential. Earning online opens up doors and opportunities you never thought possible!
Can I Start Affiliate Marketing with Little Money?
YES! That's what makes it such an attractive business model! Anyone can start with little or no money. Your only real costs will be a website, domain and any training you choose to take on.
Disclaimer: These are my experiences, honest opinions and stories. We are proud to partner with many beautiful digital education & travel products and services as an affiliate. On some occasions, we may benefit from a commission when you make a purchase with these links. This commission helps to support the ongoing publication of free and readily available content designed for those who wish to get started in the online business and creator space. This is not financial advice.