Hypotenuse Ai Review 2023: An Affordable Ai Tool for Bloggers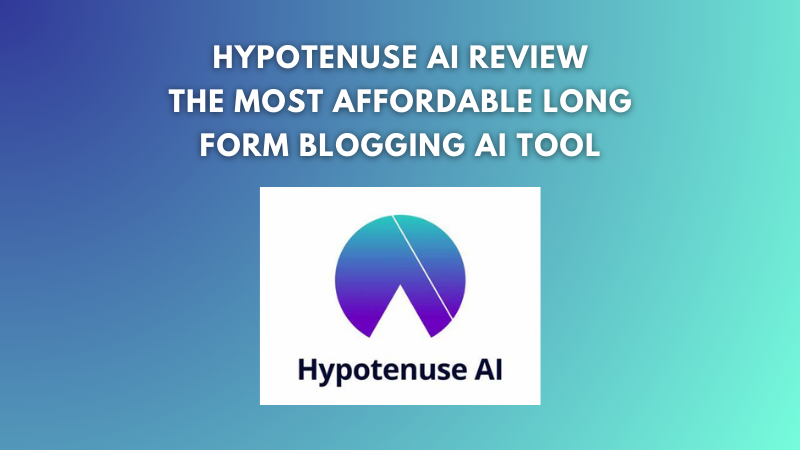 Are you a busy blogger looking for a long-form AI content writing tool that will save you time, help you produce better quality content, and is actually affordable? If so, let me introduce you to Hypotenuse Ai. In this Hypotenuse Ai review, I'll take you through what makes it unique & valuable, why it's worth its price tag, and how to get the most out of this amazing tool.
This long-form Ai writer has become the go-to tool for bloggers who want to create high quality content quickly and more efficiently.
Hypotenuse Ai is an affordable Ai tool that makes it easy for any user to craft exceptionally well-structured articles in a fraction of the time.
most affordable blog writing tool
Efficient, high quality long-form blog writing, at a fraction of the price! Save HOURS on content writing for your blog with Hypotenuse Ai.
It takes complicated topics and turns them into impeccably outlined pieces using natural language processing. And best of all, it does all this without sacrificing quality or burning a hole in your back pocket.
It really is one of the best blog writing tools to keep an eye on in 2023!
Let's dive into the Hypotenuse Ai Review.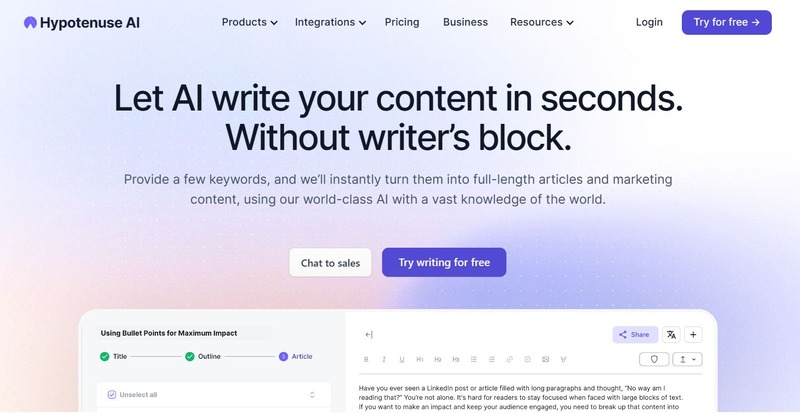 If you're a blogger or content writer, you know just how time-consuming it can be to create long-form articles or a single blog post. Perhaps you struggle trying to produce content consistently, while trying to combat writer's block! That's where Hypotenuse AI comes in.
Hypotenuse Ai is an Ai engine that streamlines the writing and image generation process and makes it simple, effective, and fast.
You can use Hypotenuse for creating product descriptions, marketing copy, visual content and images, and text all with just a click of a button. Best of all, it allows you to whip up an entire, full scale, long form blog post in minutes.
Just choose a few keywords and away it goes!
It generates content quickly by taking your keywords and ideas and turning them into full-length articles and marketing content. The platform also comes with outlines and guides to help you build the ultimate blog article quickly.
With over 3,000+ reviews, Hypotenuse Ai has earned a 5-star rating – so you can trust that it won't let you down when it comes to creating quality content quickly.
Get started with Hypotenuse Ai.
Who is Hypotenuse Ai for?
If you're a blogger or content writer, it's time to get acquainted with Hypotenuse Ai, the revolutionary tool that makes long form content writing a breeze. It's an AI generator that produces unique and engaging copy suitable for blogs, ads, product descriptions and so much more!
Whether you're just starting out as a blogger or you're an experienced writer looking to speed up your workflow, this tool seriously has something for everyone. That's exactly why I wrote this Hypotenuse Ai review – to help make the lives of other bloggers (just like you), that much easier.
Think of it like Jasper.ai, but better, and with the ability to write full, long-form blog posts – start to finish.
With just one click, it lets you generate written content (product descriptions, blog articles, ad copy etc.) with unparalleled speed and accuracy.
Even if you're not into blogging or content writing, Hypotenuse Ai can come in handy for crafting social media posts. Perhaps you've always wanted to start a blog, but the workload has deterred you? Well, there's zero excuses now when you can literally start a blog overnight!
With its easy-to-use interface and powerful features, Hypotenuse Ai is the perfect solution for bloggers and small businesses who want to save time, energy and effort when it comes to creating long-form content.
First Impressions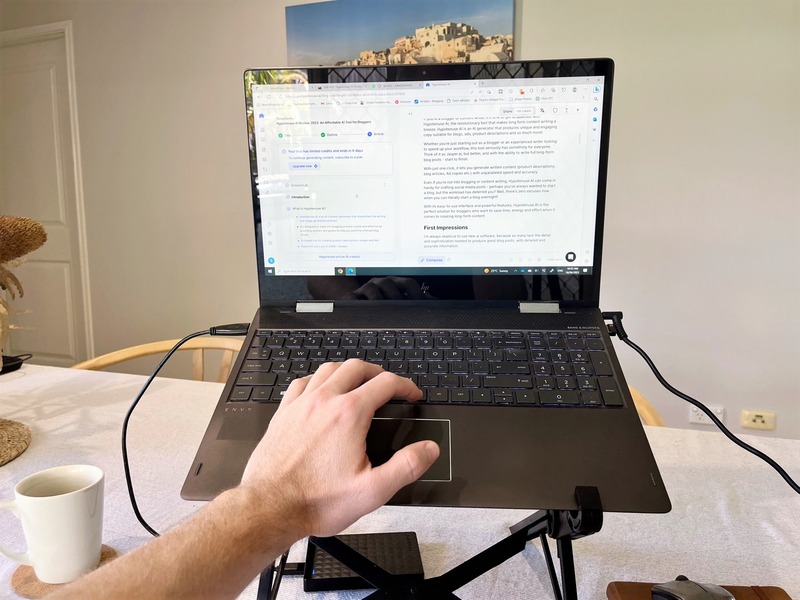 I'm always skeptical to use new ai software, because so many lack the detail and sophistication needed to produce great blog posts, with detailed and factually accurate information.
That just wasn't the case with Hypotenuse Ai. I've been thoroughly impressed and can't wait to permanently integrate this into my content production arsenal.
The interface is sleek and modern, making it easy for new users to find their way around the application without any difficulties.
The AI-powered technology is sophisticated yet easy to use and understand, with features that are tailored for new and experienced writers.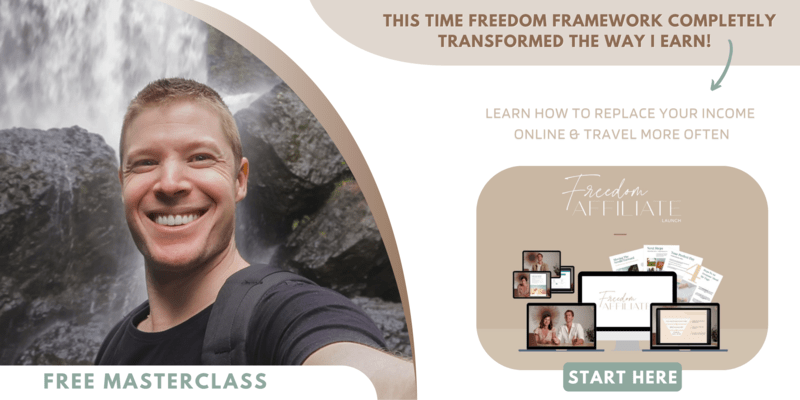 Furthermore, Hypotenuse Ai's natural language processing algorithms produce content that is both accurate and grammatically correct, allowing bloggers and content writers alike to create well-structured articles in record time.
On top of that, the software also offers an array of customizable options so users can tweak their content accordingly if desired.
Hypotenuse Ai gives bloggers a powerful, affordable tool to write better and faster. It offers a suite of features that make content creation simpler and more efficient.
Blog Articles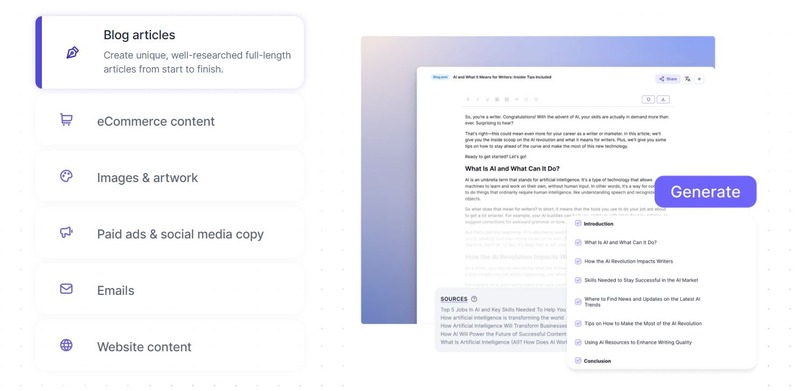 Create content with ease and speed using Hypotenuse AI's blog article generator. You take the lead by adding in keywords and talking points, while Hypotenuse Ai handles the body of your post.
Their powerful artificial intelligence can generate articles on almost any topic in minutes, freeing up your time for more pressing projects.
General Templates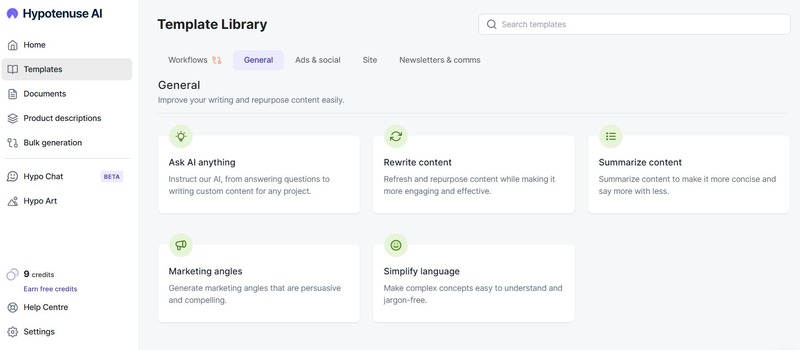 Choose from a range of general templates to get started with immediately! Re-write content, summarize paragraphs and even research and create new, unique marketing angles.
Product Descriptions
Hypotenuse AI is also a valuable asset when it comes to writing product descriptions. It can quickly create SEO-optimized descriptions that capture the essence of your product or service in an engaging way.
Hypo Chat
Keep your readers engaged with HypoChat, where you can easily create interactive questions and polls for your readers to participate in. This feature gives you valuable insight into how your readers think and feel about certain topics, helping you create better content tailored to their needs.
Hypo Art
Express yourself visually through HypoArt's library of images and GIFs sourced from the web's top providers like Giphy, Unsplash, Pexels and Pixabay. This feature helps break up long blocks of text and give your posts more visual appeal.
Google Ads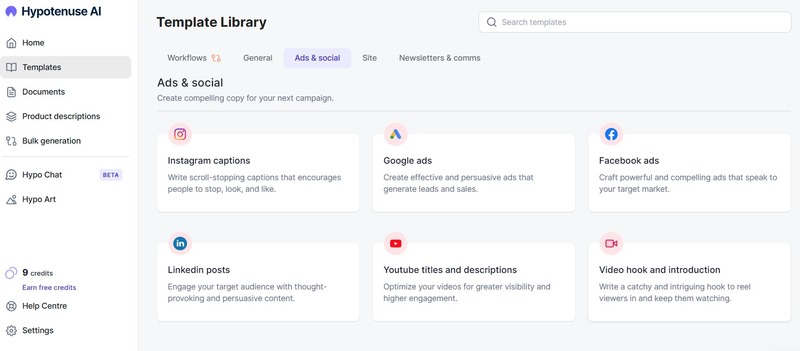 Make money through Google Ads without leaving the Hypotenuse dashboard thanks to their automated ad integration feature which quickly adds advertisements on each page of your content without any extra effort or coding required on your part.
Hypotenuse Ai Pricing Plans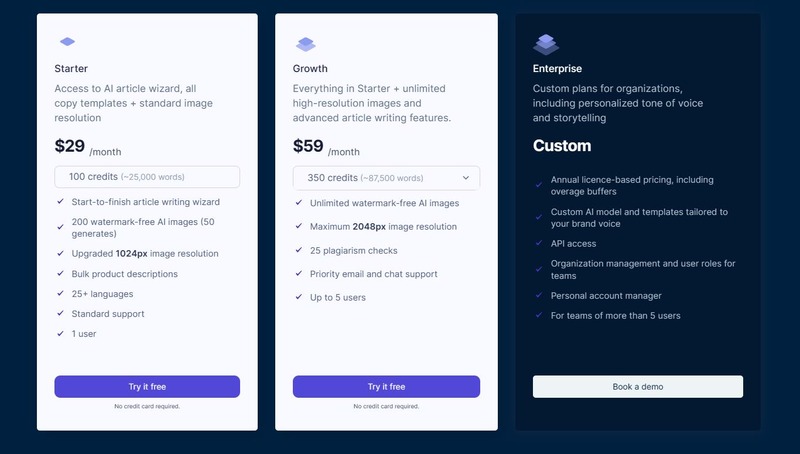 Ok! Let's chat price.
The tool is a great value! There's absolutely no denying that.
When you compare it with other long-form Ai content generators such as Content at Scale, it's extremely well priced. Hypotenuse Ai starts at just $24 a month (annually), with 350 credits per month. These credits roll over from one month to the next, so you'll never run out.
For bloggers and content writers who are serious about scaling their content production, this is an affordable option in comparison to other tools and services in the market that can cost hundreds or thousands of dollars monthly. There's even a pay-as-you-go model for those who don't plan on using the tool as often – making it more accessible for all budget sizes.
Overall, Hypotenuse Ai is an incredibly affordable and user-friendly option for those looking to streamline their blog and content writing processes without breaking the bank.
Pricing
Starter: $29/mo or $24/mo annually
Growth: $59/mo or $49/mo annually
Get started with Hypotenuse Ai.
If you're looking for an AI-powered writing assistant to help you create content faster and of a higher quality, Hypotenuse Ai might just be the tool for you.
From its easy access to language options to its delightful user experience, Hypotenuse Ai has been rated 5 out of 5 – allowing anyone to generate unique, high-quality content in under five minutes.
Pros:
Cons:
Is the Content Quality from Hypotenuse Ai Any Good?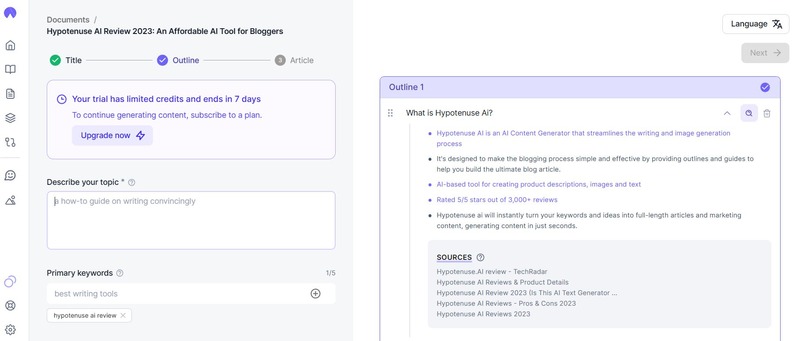 Ok, full honesty here!
I was shocked at the output of the final content from Hypotenuse Ai. When I first read through the articles it was producing for me, I had to do a double take! I immediately told my blogging friends about it! Their reactions were exactly the same!
The quality is outstanding and certainly impressive! Particularly when you factor in the affordability.
When you're using a content writing tool or an SEO tool, you need to know that you can trust the quality of the content and that it's factually accurate. This is a question many bloggers have asked about Hypotenuse Ai – is it really as good as the claims suggest?
In my experience, yes!
With Hypotenuse AI, you get access to powerful AI content writing technology that produces quality blog posts, articles and other long form content. More than 1000+ agencies and brands have already used Hypotenuse AI with great success.
The AI technology 'learns' as it creates content – so it adapts to your style and your needs over time, producing better quality output quickly and efficiently.
How It Compares to Other AI Writing Tools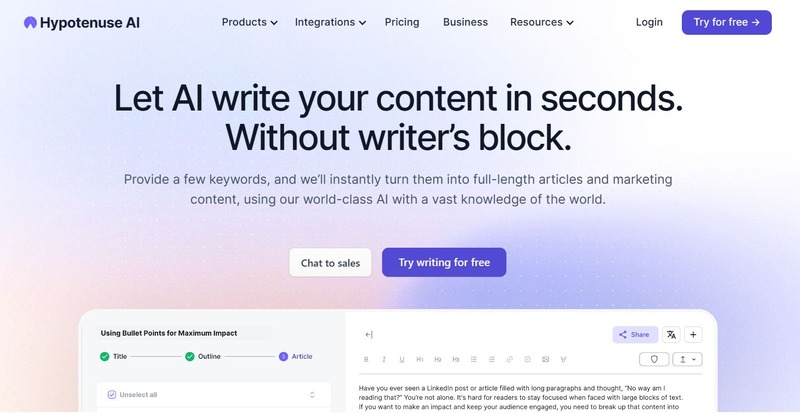 When it comes to Ai content tools, Hypotenuse Ai stands out from the crowd.
Its algorithm is capable of producing concise, accurate, and well-structured articles that meet the requirements from bloggers.
The tool's ability to generate content quickly and efficiently makes it a great choice for bloggers and content creators who are looking to save time without sacrificing quality.
In comparison to other Ai generators, Hypotenuse Ai stands out due to:
Hypotenuse AI is an affordable and effective solution for bloggers who need accurately written long form content fast.
Hypotenuse Ai Alternatives
So, if you're looking for some alternatives to Hypotenuse Ai, here is a quick rundown of the top long form Ai Content Writing tools available: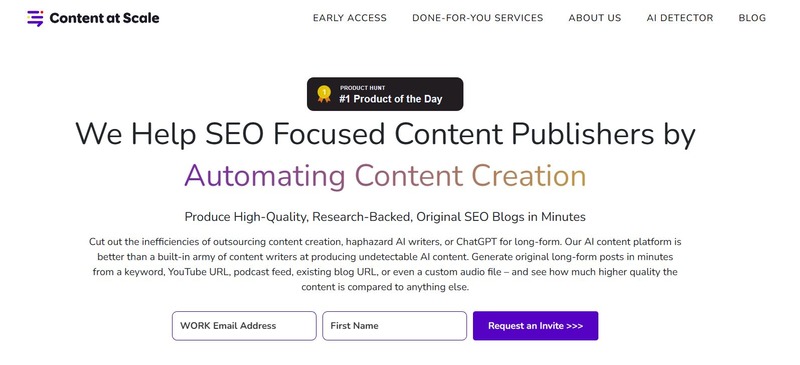 Content at Scale uses advanced technology to generate content from raw data. It has many features that make it appealing to bloggers, including automated keyword research, template creation, and the ability to quickly customize content in great detail.
Because of this, it comes with an increased price tag! Personally, I use Content at Scale most days of the week, but to be honest, I think I'll make the switch permanently to Hypotenuse Ai. The output is comparable to Content at Scale, and for a fraction of the cost.
Bramework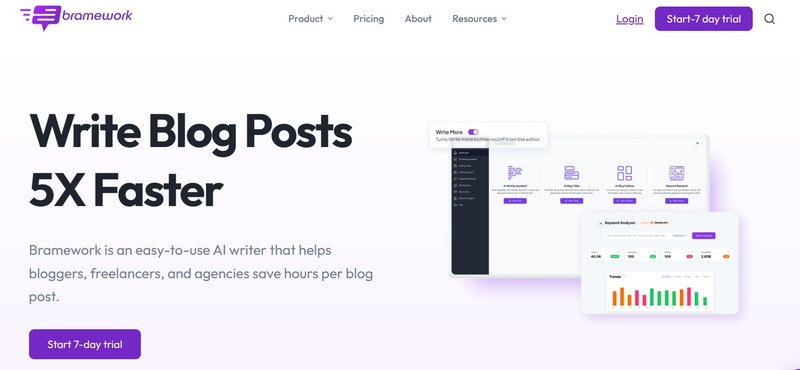 Bramework is an AI-powered content writing tool that helps writers create engaging and well-structured articles with minimal effort. It is an affordable and user-friendly application that helps users generate high-quality content quickly.
Additionally, it includes artificial intelligence features such as auto-summarization and natural language processing.
At the time of writing this, I'd say that Bramework is almost on par with Hypotenuse Ai. It just lacks a lot of the features you would otherwise find in Hypotenuse that I've really been enjoying.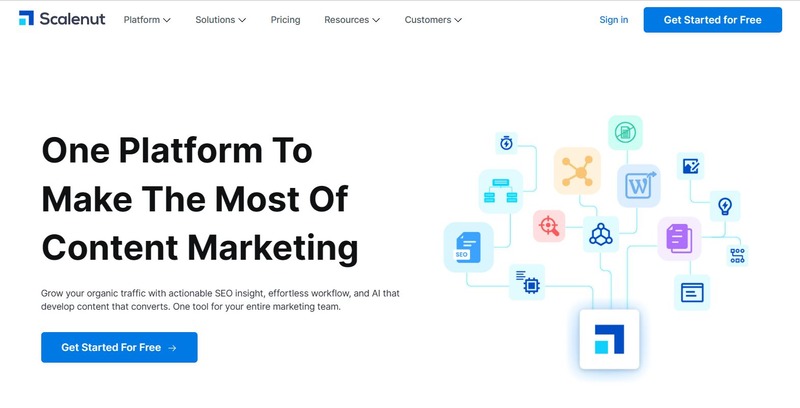 Scalenut is a powerful AI-based platform that offers writers the ability to produce content at scale with ease.
It simplifies the creation of great blog posts by using a powerful engine which automatically generates relevant content based on data points given by users. Its integration with major CMS applications makes scalability easy and efficient.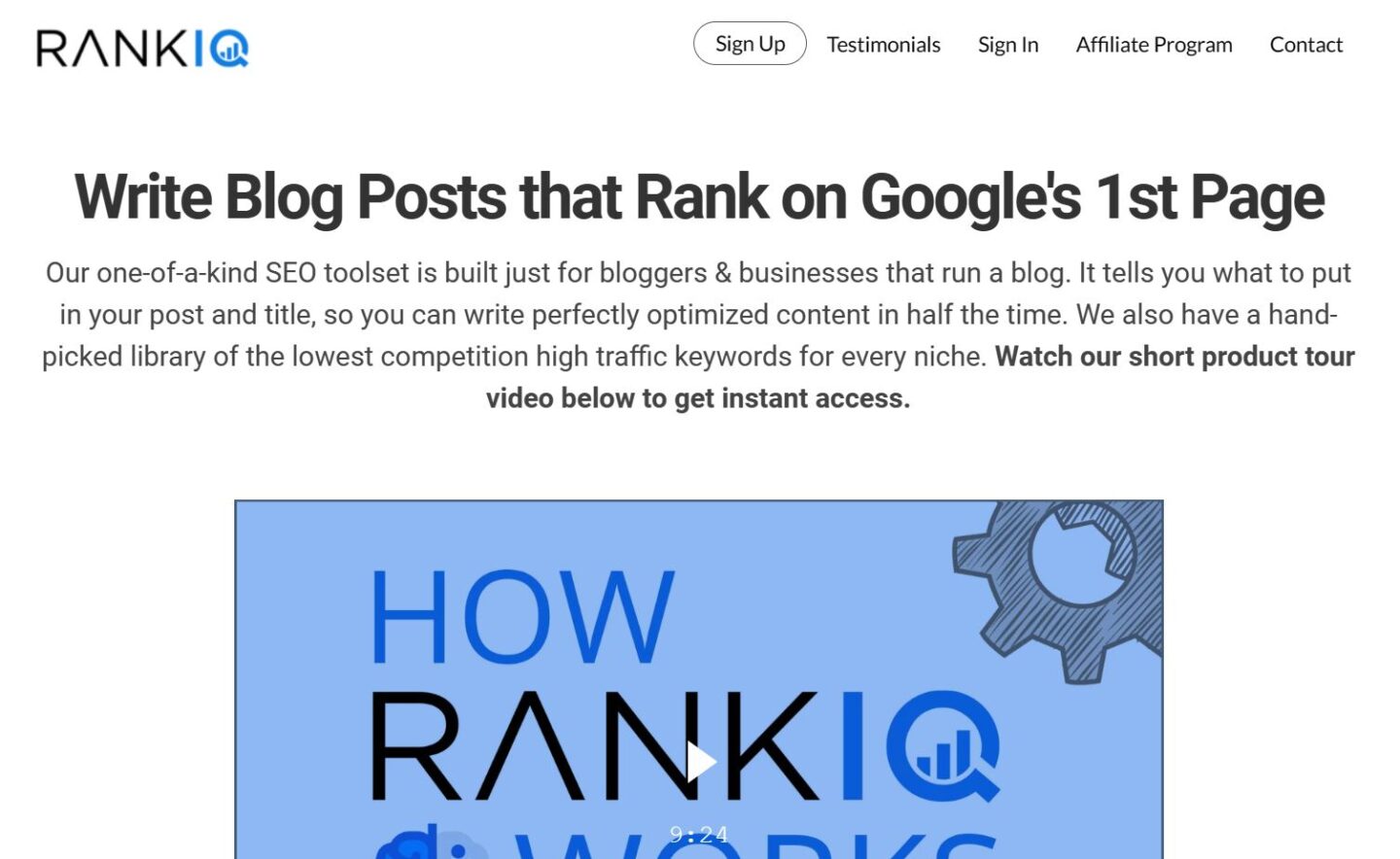 RankIQ is an AI powered platform that helps bloggers create highly optimized articles that rank faster in major search engine results pages (SERPs).
It leverages proprietary algorithms to accurately identify relevant keywords and topics from large datasets. This saves time for writers looking for relevant topics at scale.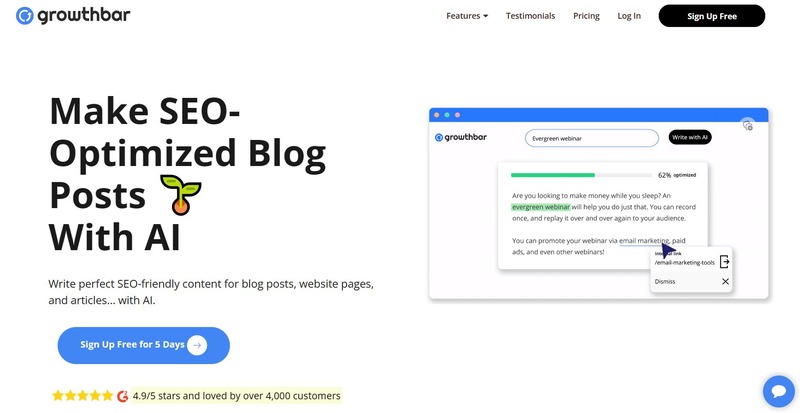 GrowthBar offers top-notch, Ai fueled content to help you drive traffic and growth. With an unbeatable 10x speed, you can quickly create SEO optimized blog content that Google loves without spending all day at your computer.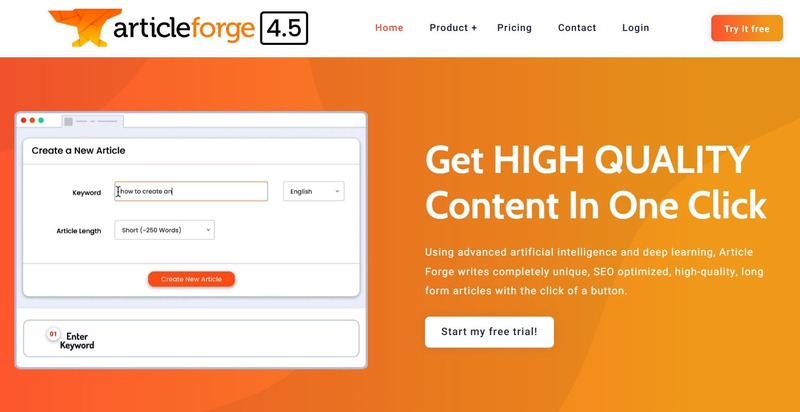 Article Forge is an artificial intelligence writing tool designed for SEO purposes.
It relies on its advanced machine learning technology to write SEO-friendly articles quickly and accurately. It uses both structured data inputted by users or automatically generated from its machine learning algorithms.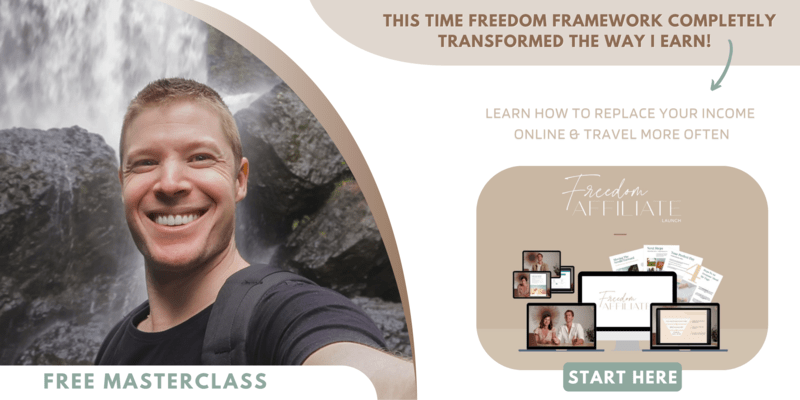 Yes! There's free trial available for 7 days. With no credit card information required, you can get started with Hypotenuse Ai today and explore your options without worry.
I have full confidence you'll enjoy this particular tool, and you'll absolutely want to continue with the paid version – it's been a pleasantly surprised and it's an Ai content writer I've quickly fallen in love with.
Hypotenuse AI's intuitive user interface makes it easy to dive in without having any prior experience creating content with AI tools.
With the click of a button, the tool will generate intuitive articles that match your desired topic in an instant. You can then make changes or additions to the generated article and customize it according to your needs.
Get started with Hypotenuse Ai.
Final Verdict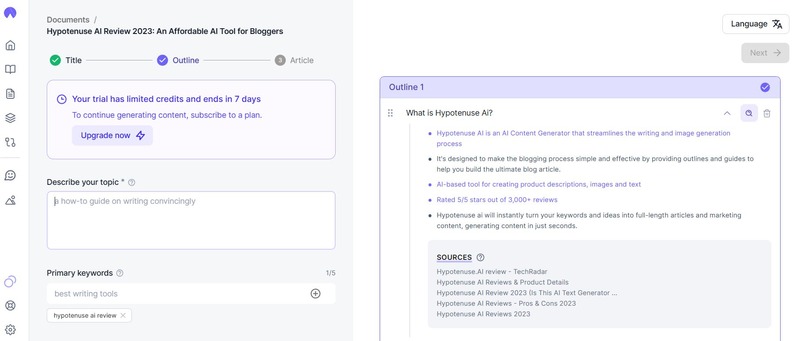 Love, love, LOVE! I've never used a tool like this before and NEVER expected it to work so seamlessly!
It's an affordable, powerful AI writing tool that offers a lot of features for bloggers who want to write more effectively. Its intuitive interface makes it easy to use, and its natural language processing technology ensures high-quality output.
The predictive engine helps with the structure, suggesting topics, subheadings, and even paragraph order. And finally, its deep learning capabilities allow for a truly personalized user experience.
All these features make Hypotenuse AI a great option for creating content quickly and efficiently.
Conclusion
If you're looking for an AI writing tool to assist you as a blogger, Hypotenuse AI is worth considering. There's absolutely no need to hire a writer when this level of Ai is currently available.
It offers a wide range of features at an affordable price point and can be used by both beginners and advanced users alike. Whether you're looking to create long-form content or just need extra help getting organized, Hypotenuse Ai should be your go-to writing solution.
This tool is a great asset for anyone looking to increase their content production process and write better-structured articles. It is an affordable solution and has the potential to revolutionize content creation, making blogging easier and more accessible. It can help you produce quality content faster and allow you to focus your attention on other projects.
I hope you enjoyed this Hypotenuse Ai review! Be sure to jump in quick, before the price increases and it goes mainstream! Grab your trial here!
most affordable blog writing tool
Efficient, high quality long-form blog writing, at a fraction of the price! Save HOURS on content writing for your blog with Hypotenuse Ai.
Disclaimer: These are my experiences, honest opinions and stories. We are proud to partner with many beautiful digital education & travel products and services as an affiliate. On some occasions, we may benefit from a commission when you make a purchase with these links. This commission helps to support the ongoing publication of free and readily available content designed for those who wish to get started in the online business and creator space. This is not financial advice.