Milford Sound Accommodation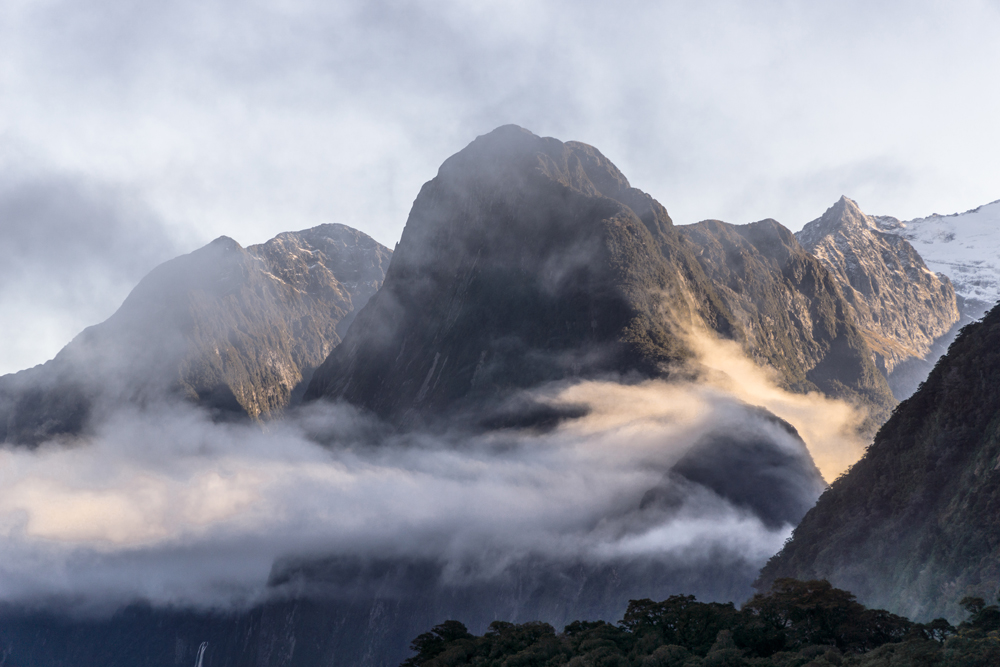 Milford Sound Accommodation – Milford Sound Lodge
If I could offer one piece of advice when travelling to Milford Sound, it would be to stay at least one night. Don't make the mistake of trying to accomplish this leg of the South Island journey thinking that a day trip is achievable. While this might actually be the case if you're extremely well planned (and don't mind spending a split second experiencing the '8th wonder of the world'), I'd thoroughly recommend staying at least one night minimum. With such a knack for wild and unpredictable weather (hello New Zealand west coast), I think it's better to extend your stay, enjoy the drive and appreciate the incredible natural beauty of this region.
When searching for accommodation in Milford Sound, you're faced with a very limited number of options. As Milford Sound is so remote and proves to have some of the most variable weather conditions in New Zealand, choosing to stay for more than one day can prove challenging. Unless you're road tripping around the South Island in a van, your options and flexibility in accommodation in this part of the world can be rather scarce.
Your options in a hotel or lodge in this section of the South Island are limited to two options:
Mitre Peak Lodge
In my opinion, pick the second option!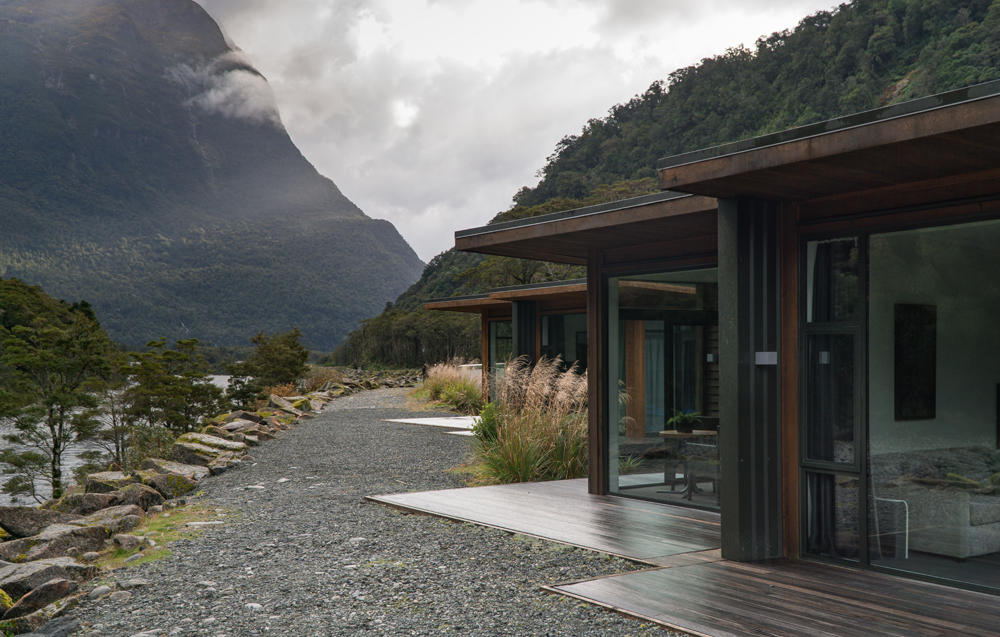 Milford Sound Lodge is a world-class accommodation option; only minutes to the Milford Sound wharf. It's from this location that you'll be departing for day cruises. Take my advice on this one and book the 'Riverside or Mountain Chalets'. While this is certainly the more expensive option offered by Milford Sound Lodges, it's definitely worth it. You'll have an entire panoramic view of the mountains, rivers and hundreds of waterfalls cascading over the edge of the neighbouring mountains. This is honestly one of the most incredible places I have had the privilege of staying. Of course, for those who don't wish to pay the $400 price tag for a riverside chalet, there are other options available. Milford Sound Lodge offers other alternatives including dormitory style rooms and additional camping and van sites. To view seasonal prices at Milford Sound Lodge, you can visit their website here.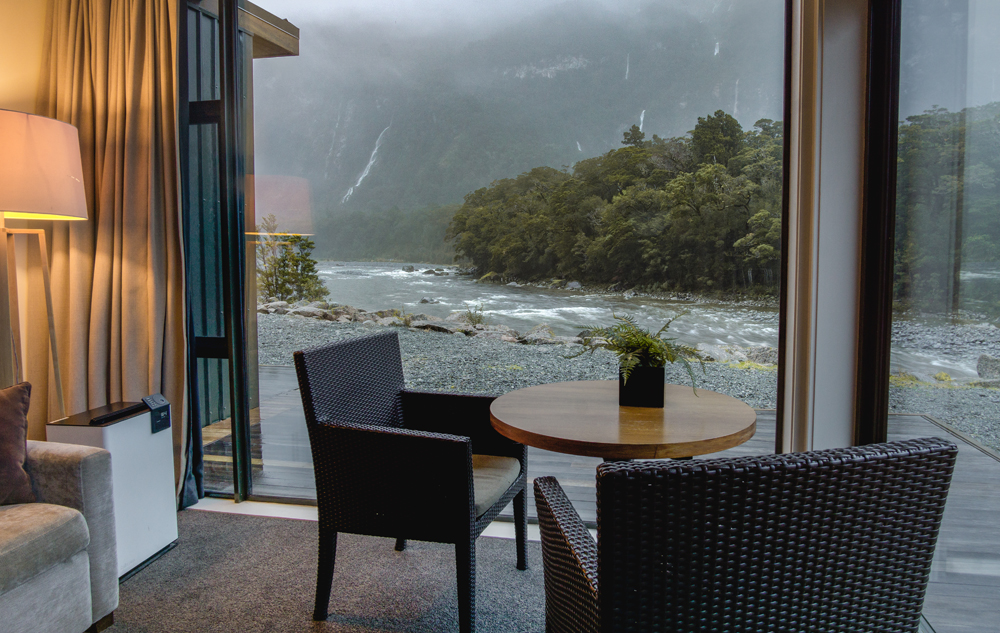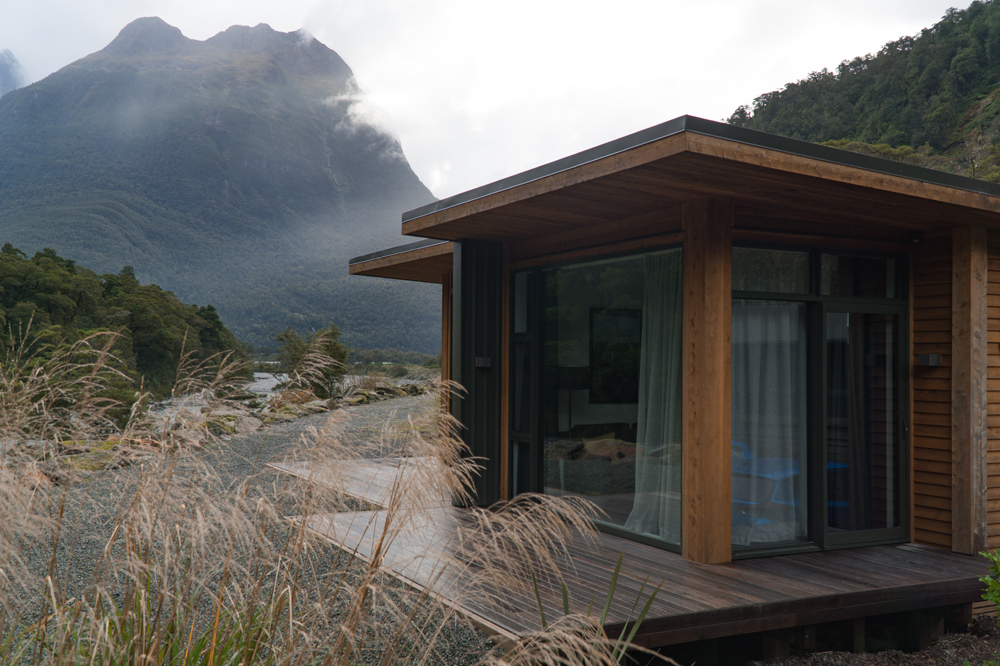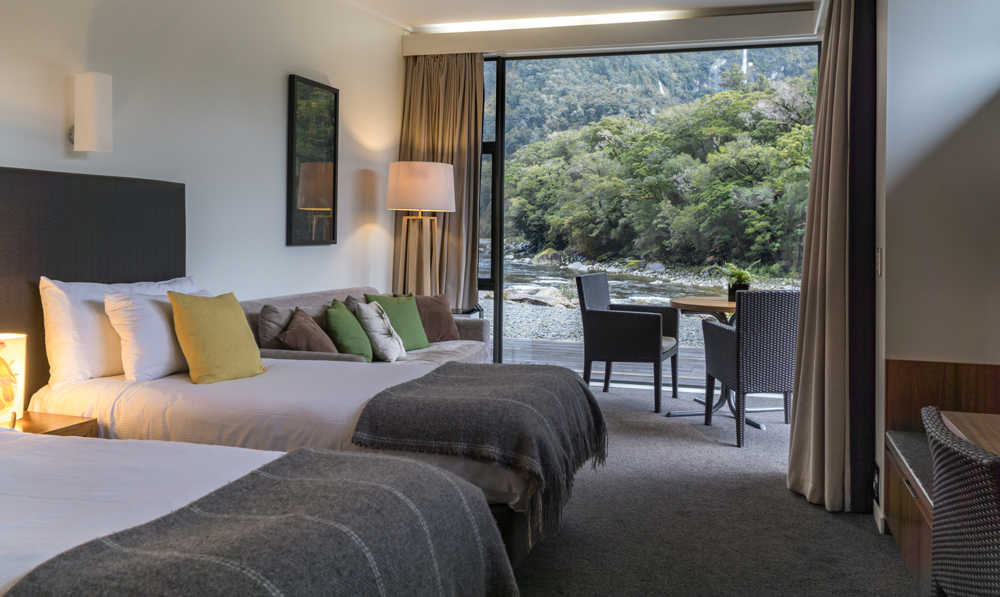 If there are a few things setting this place apart from the slim range of alternatives, it's the location and culinary experience. The food served at Milford Sound Lodge is phenomenal! A very well-rounded menu, not to mention fresh for such a remote location! We booked their online special that included most meals which was a fantastic and easy option. With a schedule that was already insanely busy, having the extras all included was a real bonus. If you're a self-proclaimed coffee connoisseur like myself, you'll be pleased to know that the guys and girls behind the coffee machine at Milford Sound Lodge know how to make a decent drop. This was a very pleasant surprise throughout the duration of my stay.
The real reason visitors flock to Milford Sound isn't in the accommodation options, yet the sheer beauty and wonder that Milford Sound and its surrounding environment offers. Unfortunately for us, we arrived into Milford Sound late at night, so I couldn't actually grasp the grand scale of things until the following morning. I would definitely recommend driving in during the day to experience the views as you enter what is considered to be 'The 8th Natural Wonder of the World'.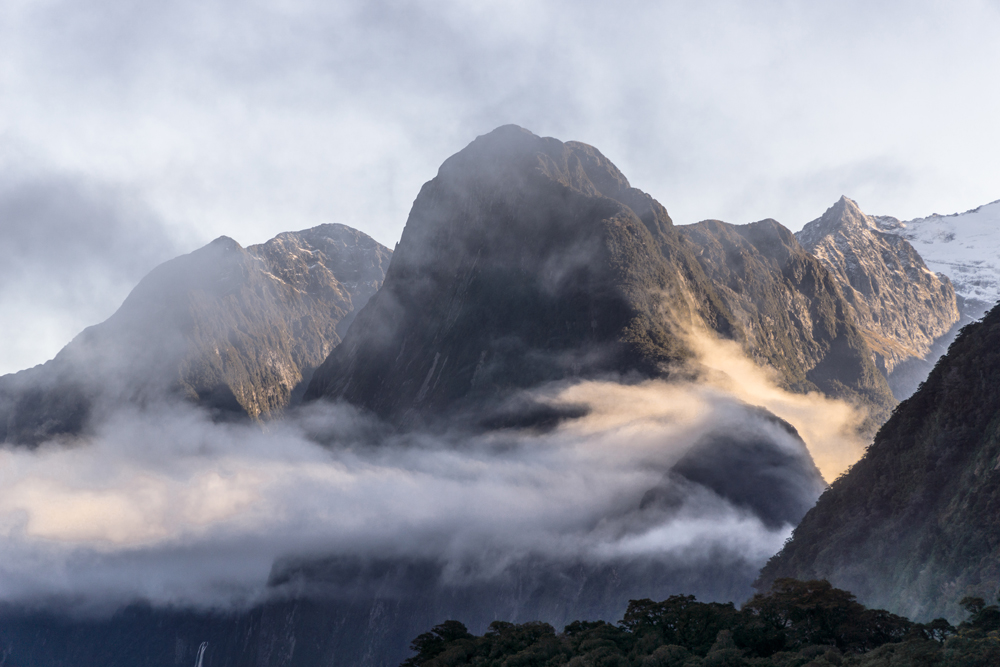 You've probably heard from a family friend or friend of a friend that Milford Sound is a must visit. I can tell you right now, they aren't wrong. The world heritage listed region offers everything from scenic cruises, flights, hikes and day trips. No matter the activity, Milford Sound delivers on every level.
With mountains as high as the water is deep, Milford Sound oozes ambience and mood. Without putting you off travelling to the region (at least in my opinion), Milford Sound almost has a feeling and impression of landscape claustrophobia – the mountains are just so intimidating and large. Everywhere you cast your glance; sheer peaks, waterfalls, and snow seem to occupy your view. The scale of things here are so jaw dropping that you can't quite seem to get over it. From the walkway at the wharf, Mitre Peak instantly demands your attention. The body of water itself is so expansive; you wonder how it's possible to see it all in a day cruise. Lucky for us, the team at Southern Discoveries know their stuff, and offer a comprehensive cruise through Milford Sound. Lunch is provided on board the cruise, and best of all, the entire half-day trip was included in our booking with Milford Sound Lodges.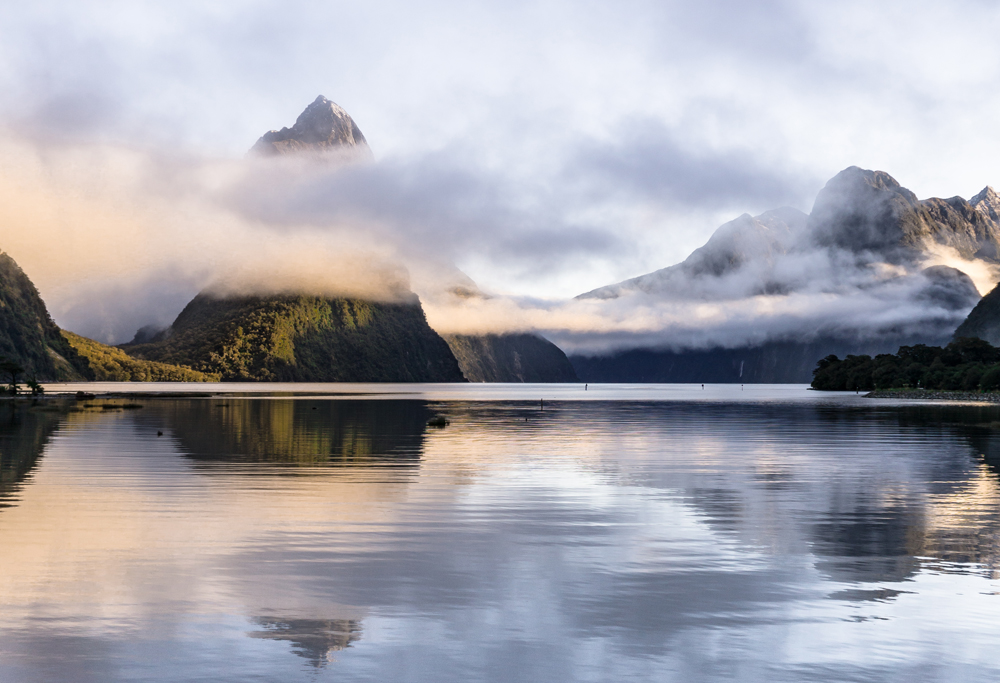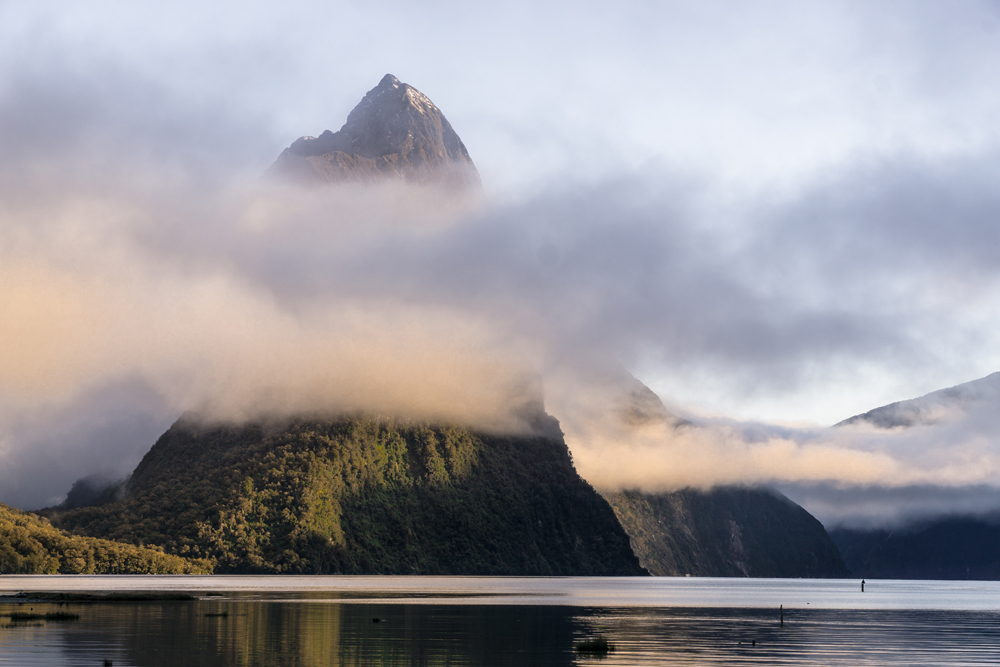 Packing tips:
While you're already more than likely to have the New Zealand essentials if making the trip to Milford Sound, I'd definitely recommend packing a variety of the following to tailor to the weather and climate:
Light, breathable waterproof jacket.
Polar fleece or similar.
Quality wool gloves and socks.
Hiking boots.
Camera of choice.
Insect repellent.
When to go:
Personally, we travelled in May, so we enjoyed a variety of weather throughout our trip. Milford Sound is one of the wettest places on Earth. It experiences an average annual rainfall of 6412mm, making it the wettest inhabited location in New Zealand. With that highlighted, there's a good chance you'll have some unsavoury weather at times. Don't let this put you off though. Milford Sound transforms into an 'eye-gasm' of atmospheric and moody photo opportunities once a little cloud and rain start to roll in. Mix that up with a little snow fall and you've got yourself a recipe for some incredible landscape images.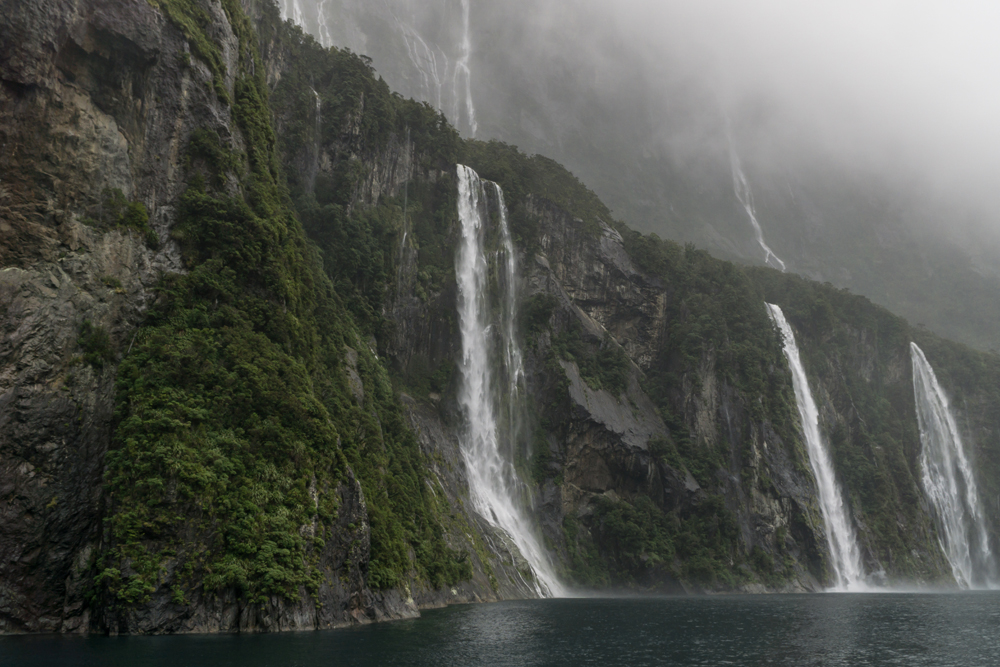 When booking with Milford Sound Lodge, they consider the summer season to span the months of October – April, while winter occupies most of the months from May – September. Accommodation packages are available by booking directly with Milford Sound Lodges and offer you the best all around experience to make the very most out of your stay in Milford Sound.
Other places of interest:
Mirror Lakes
The Chasm
The view from Homer Tunnel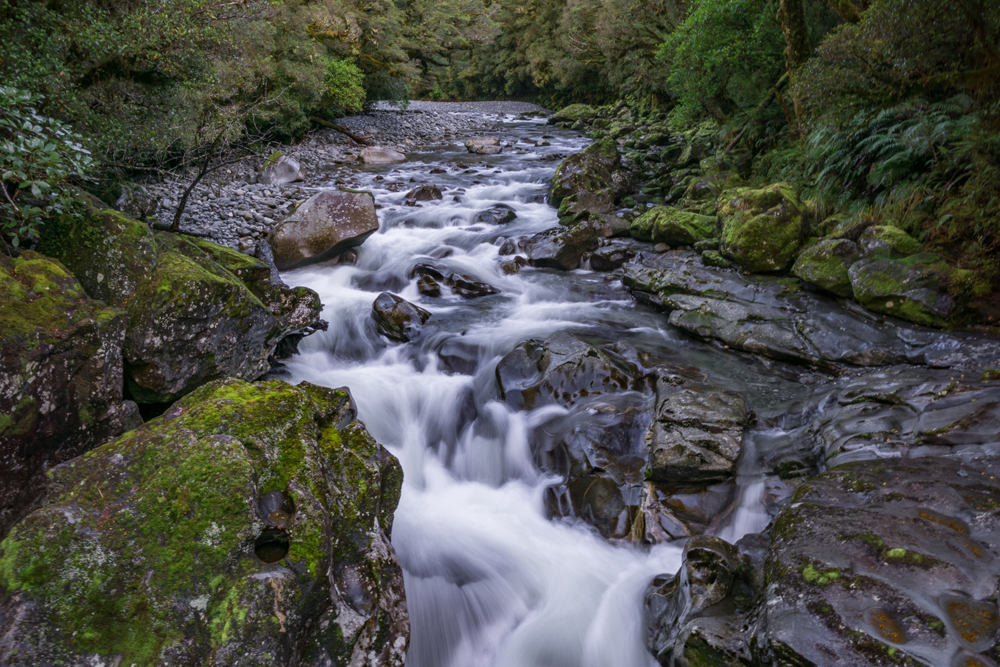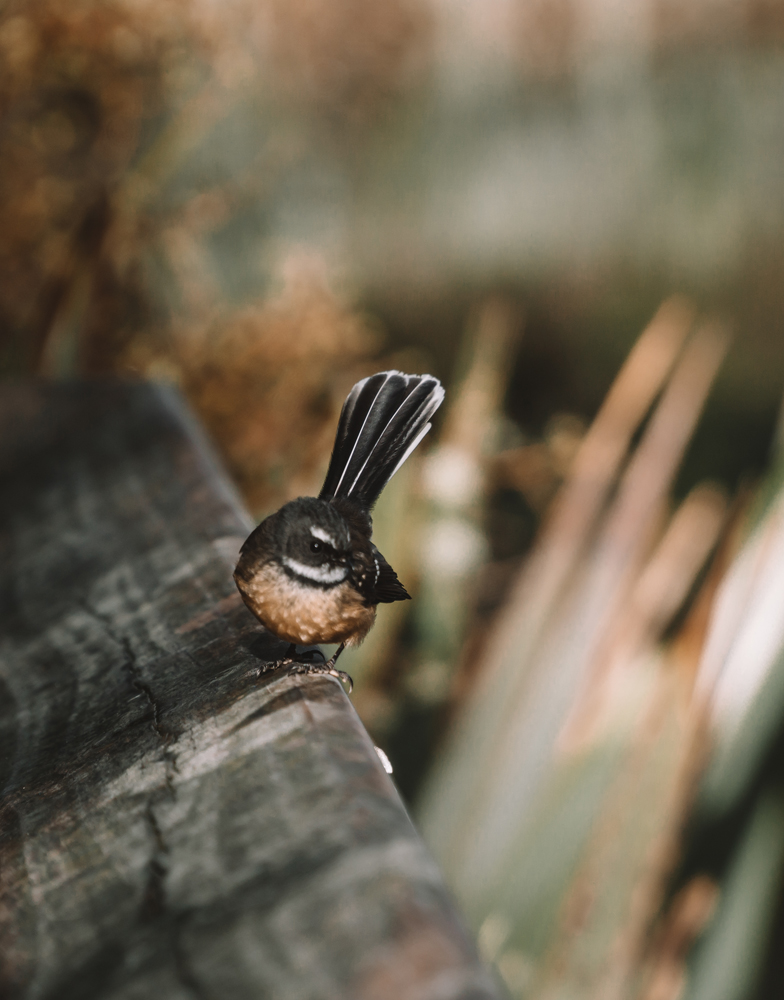 To book your stay in New Zealand, check out some these accommodation options at booking.com.
They offer the best deals for you and your travel entourage!