9 Best Whale Watching Hervey Bay Tours (fun & affordable)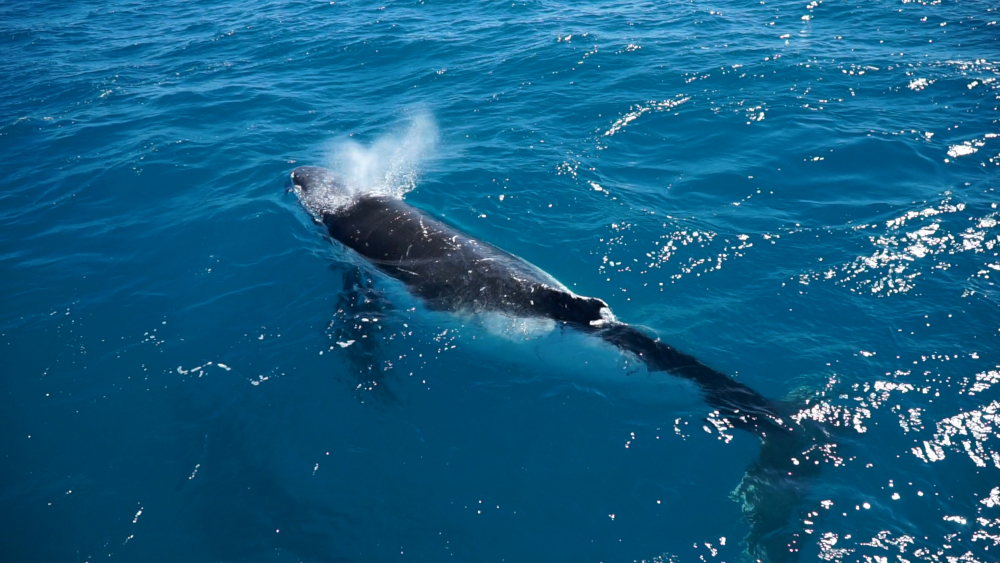 These are the best Hervey Bay Whale Watching tours & experiences on Fraser Island that you simply just have to try! It's that time of the year again – whale watching season in Hervey Bay.
What better way to interact with the gentle giants of the sea than with an up close and personal experience in the Great Sandy Straits off Fraser Island. It's known to the world as the whale watching capital, a title deservedly held by the Fraser Coast.
Numbers of Humpback whales are increasing each year in the region – a fact that became evidently clear as we recently set afoot Hervey Bay Whale Watch & Charters, all thanks to the team at Kingfisher Bay Resort.
During the second week of August and with whale activity at its prime, the decision to jump aboard a Hervey Bay whale watching tour and immerse ourselves in a once in a lifetime whale encounter was certainly an exciting prospect.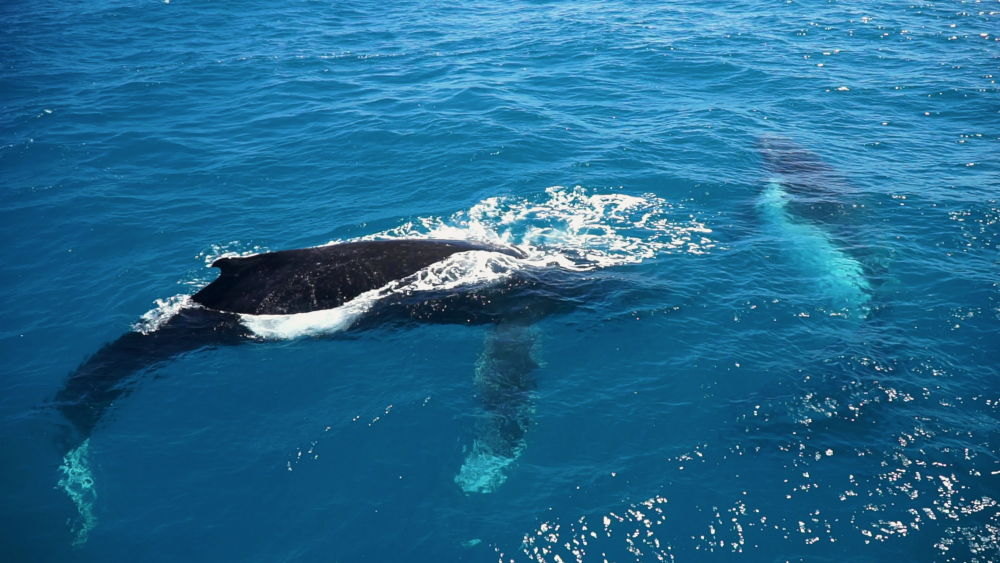 Here's our list of whale watching tours in Hervey Bay & The Fraser Coast for fun and affordability. There's a range to choose from, so just do your research and choose one that appeals to your travel style. Whether you want a smaller, more tailroed tour or a half day tour , we've included options for each.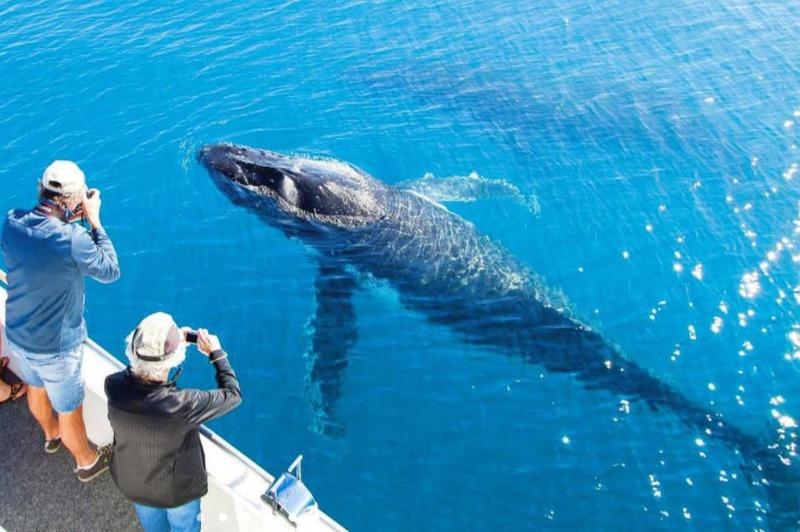 We cruised with Hervey Bay Whale Watch & Charters. Hervey Bay Whale Watch is the only tour that departs Hervey Bay and also gives you the option to stop at Kingfisher Bay Resort. It offers both a morning cruise and afternoon cruise.
For this particular trip, we were already staying at Kingfisher Bay Resort and boarded the tour at 7:30 am. Tours run each morning during the whale watching season (weather pending) which begins on the 1st of August each year. If leaving from Hervey Bay, you'll depart at 7 am.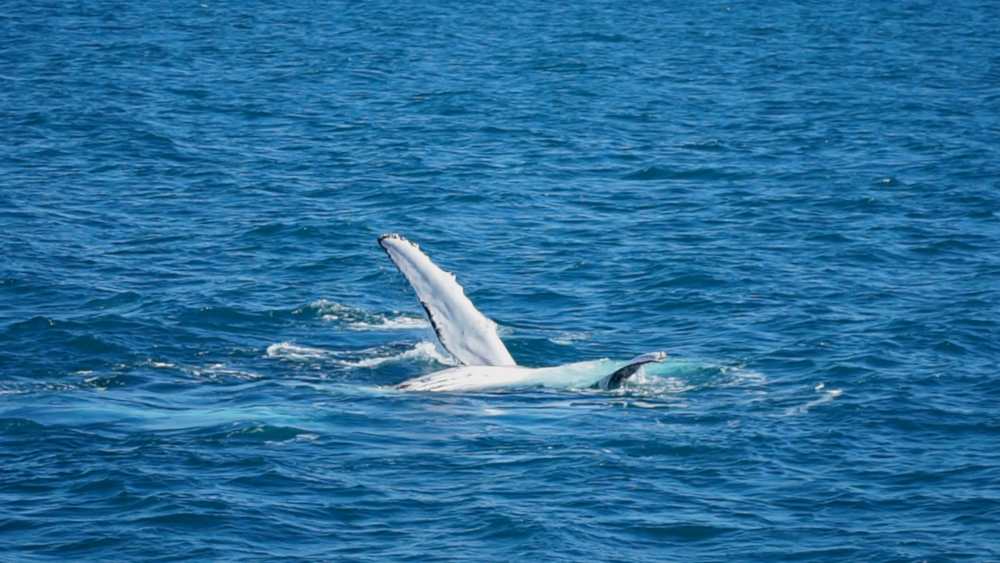 On Board Hervey Bay Whale Watch & Charters
The whale watching charter takes you out through sections of the Great Sandy Straight and onward, north toward Platypus Bay. From here, you're likely to spot countless pods of whales, both large and small.
If you're a keen eye, you'll notice the exhale from the whales on the horizon. Hervey Bay Whale Watch & Charters do a fantastic job of getting you as close to the whales as possible. Be sure to keep an eye out for specific whale behaviour such as mugging, pectoral slapping, breaching, lob tailing, spy hopping and many, many more.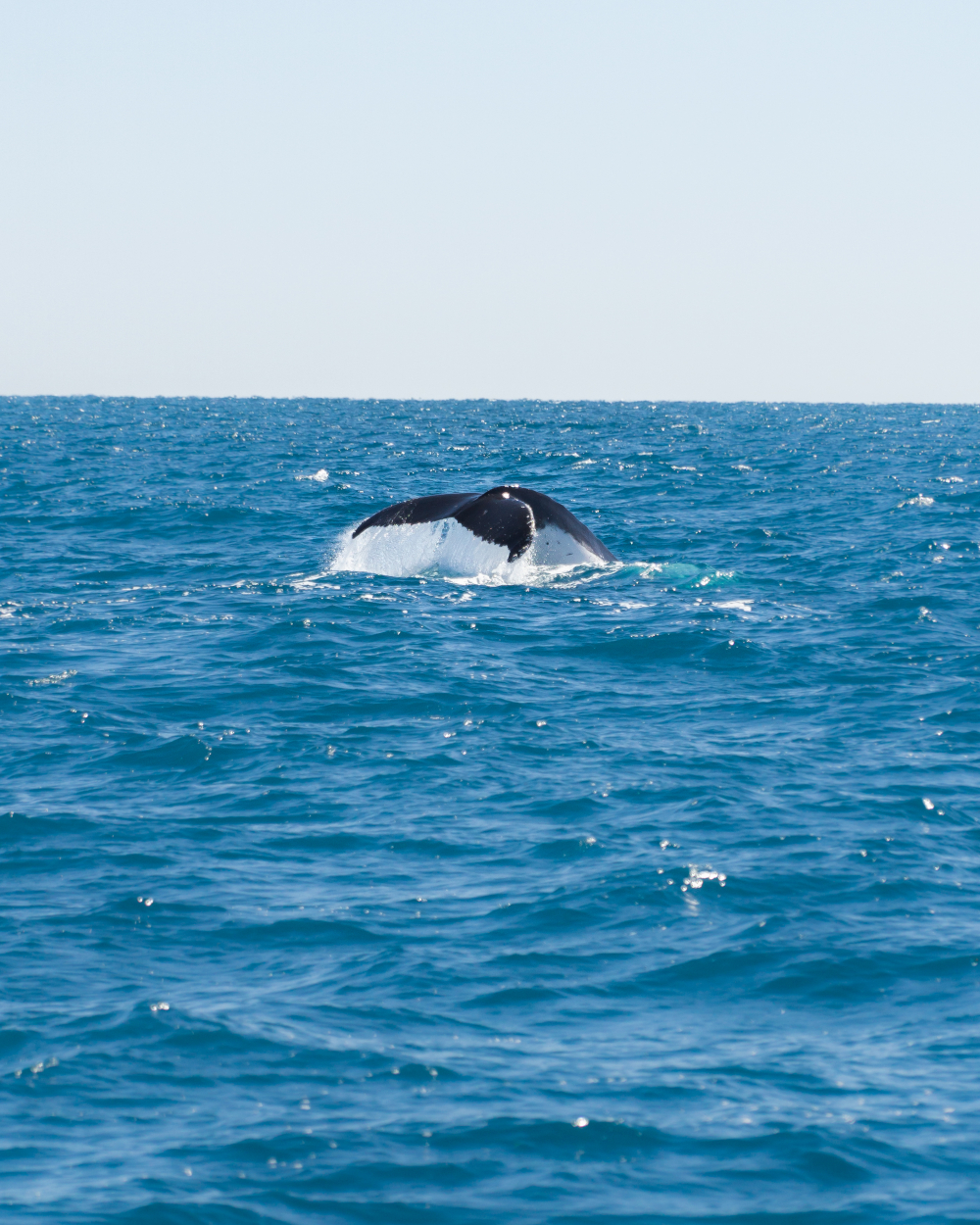 Whales are extremely curious creatures, so it's not uncommon for them to display the aforementioned behaviour on your charter. Don't forget, the whales are likely to be watching you, just as much as you're watching them, so be sure to give them a big wave and whistle.
Hervey Bay Whale Watch & Charters run a morning tea mid-way through the morning charter. If you can manage to drag yourself away from all of the action, the tour includes morning tea – a small selection of teas, coffee, pastries and fruit is provided for passengers.
Additionally, if observing the whales at a close distance still doesn't satisfy your soul, you might just be lucky enough to take part in a whale swim if the conditions prove favourable.
Swimming with whales has to be the ultimate experience, and is available with this tour for an additional charge (~$100 AUD). Just check in with your friendly team on board or prior to beginning your charter. After a successful morning out on the water, the team will drop you right back to the jetty at Kingfisher Bay Resort just in time for a lunch at the Sandbar.
Features
Half day tour
Morning tea
Afternoon tea
Kids activities
Features
Half day whale watch
Award-winning vessel
Morning/afternoon tea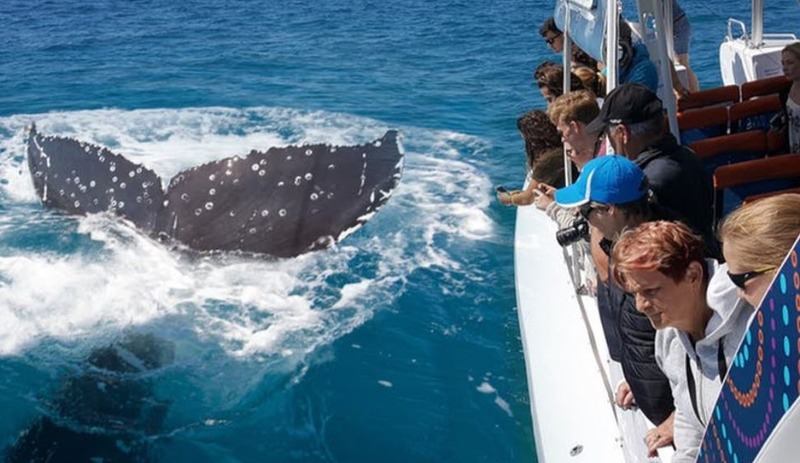 Features
Expert commentary
Low passenger numbers
Small group experience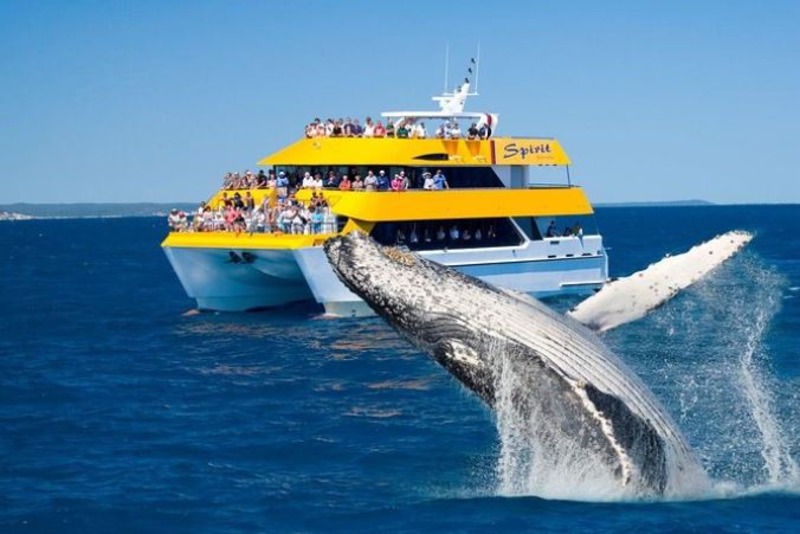 Features
Half-day tour
Morning tea/afternoon tea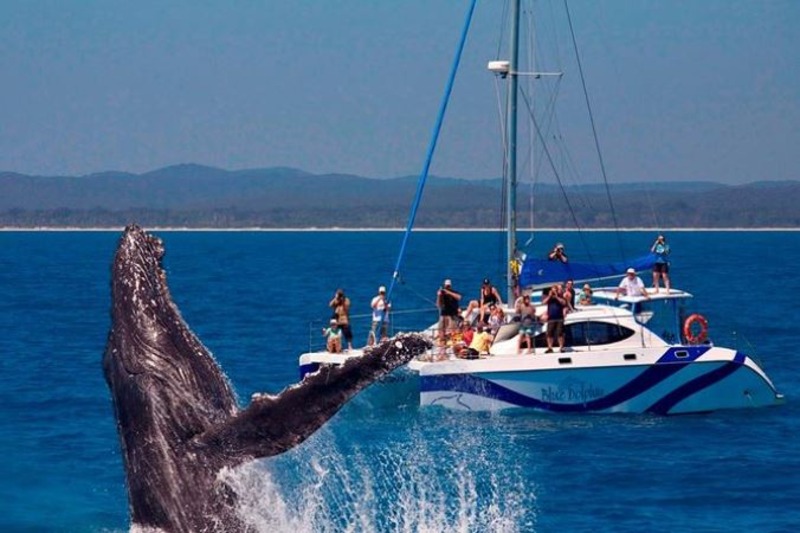 Features
Full day tour available
Buffet lunch
Morning/afternoon tea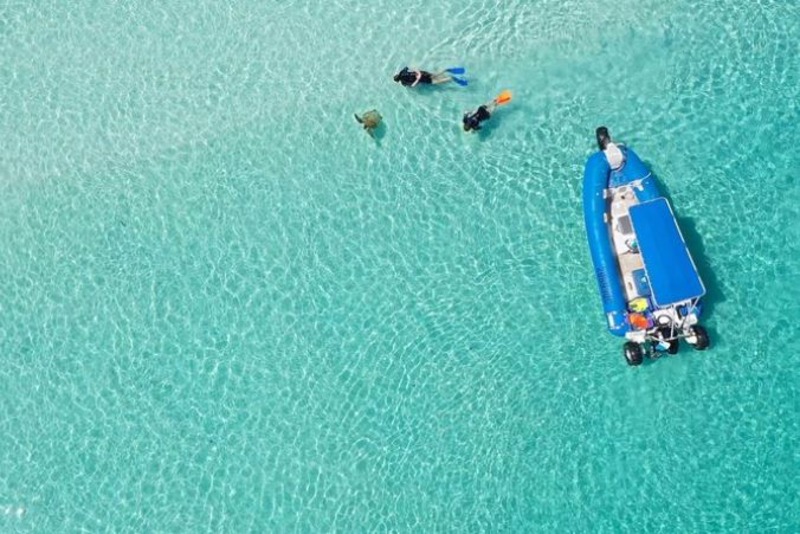 If you time it correctly, Kingfisher Bay Resort offers fantastic 'stay and play' bundled deals to ensure you're getting the absolute most out of your trip. Be sure to view their website for a full list of accommodation choices, dining options and adventure activities. Kingfisher Bay Resort is the premier choice for accommodation in the region, offering guests an unparalleled and immersive nature experience.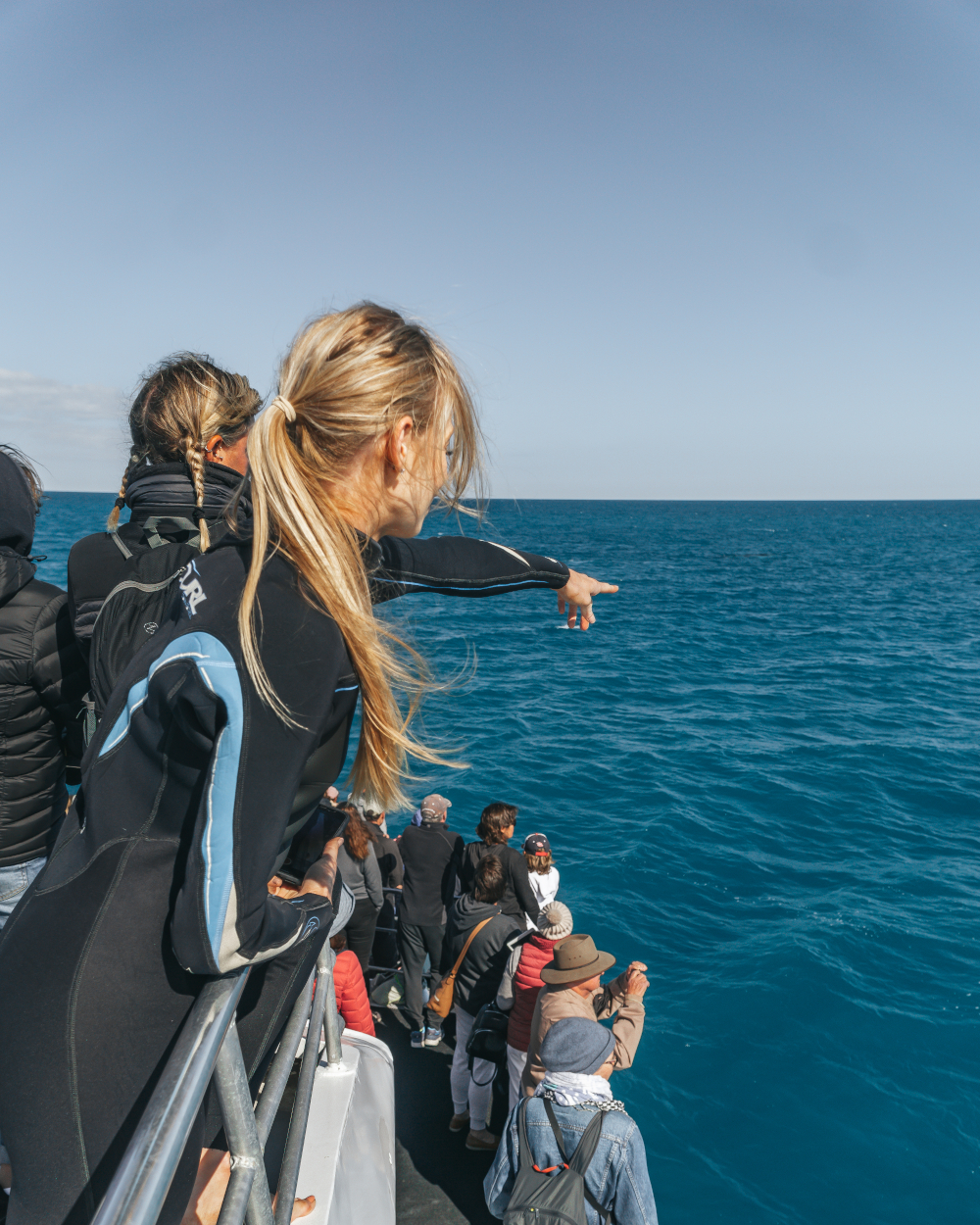 Looking for a list of other exciting 'must do's' whilst staying at Kingfisher Bay Resort? We've compiled a comprehensive blog post here, detailing all you need to know for your next stay. We'd highly recommend sunset drinks down at the Sunset Bar. Not only will you get to witness sunset over the water, but you'll also get to take in one of the most incredible views in the region. Couple that with a nice glass of champagne and a cheese board and you've got yourself the perfect end to an already magical day.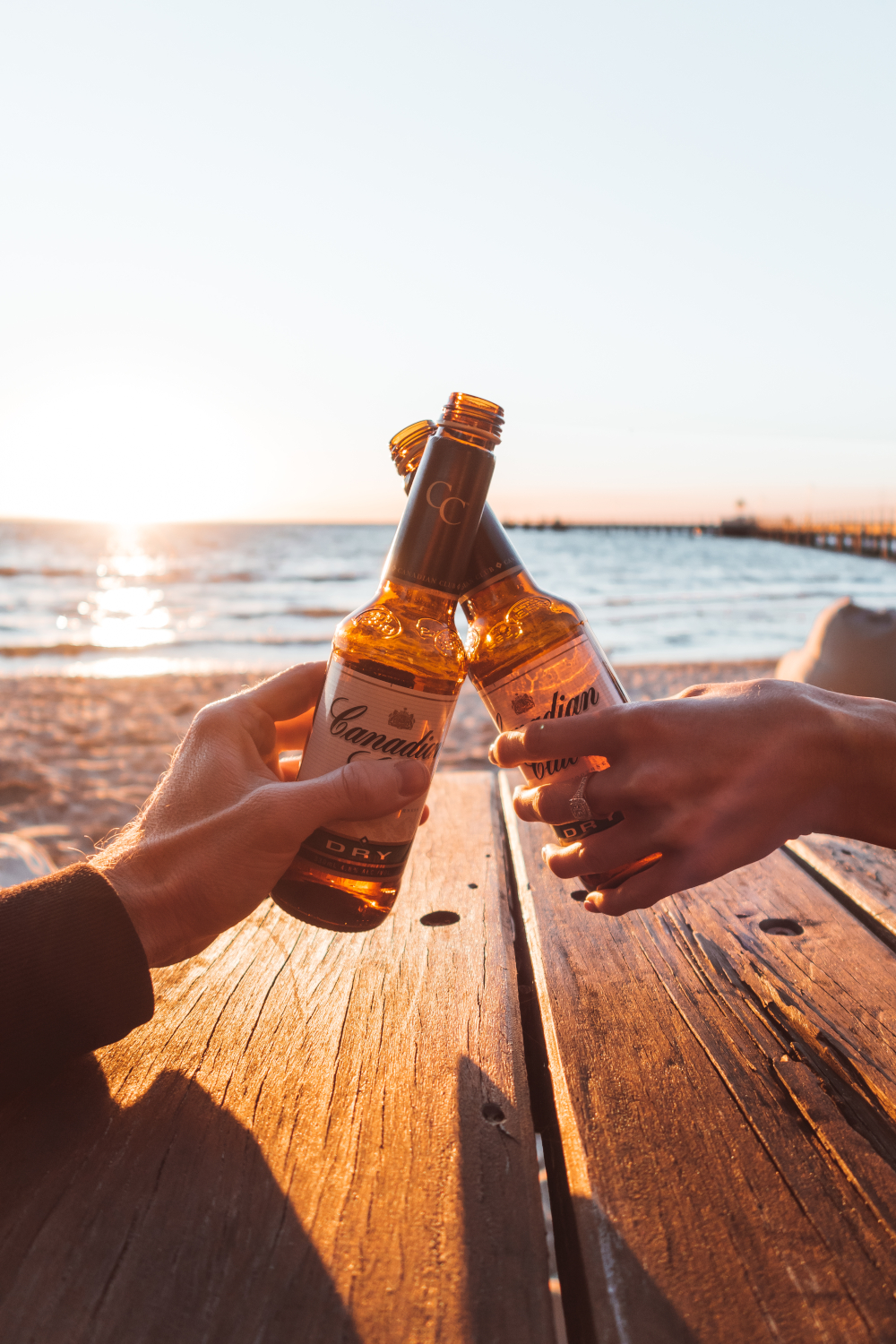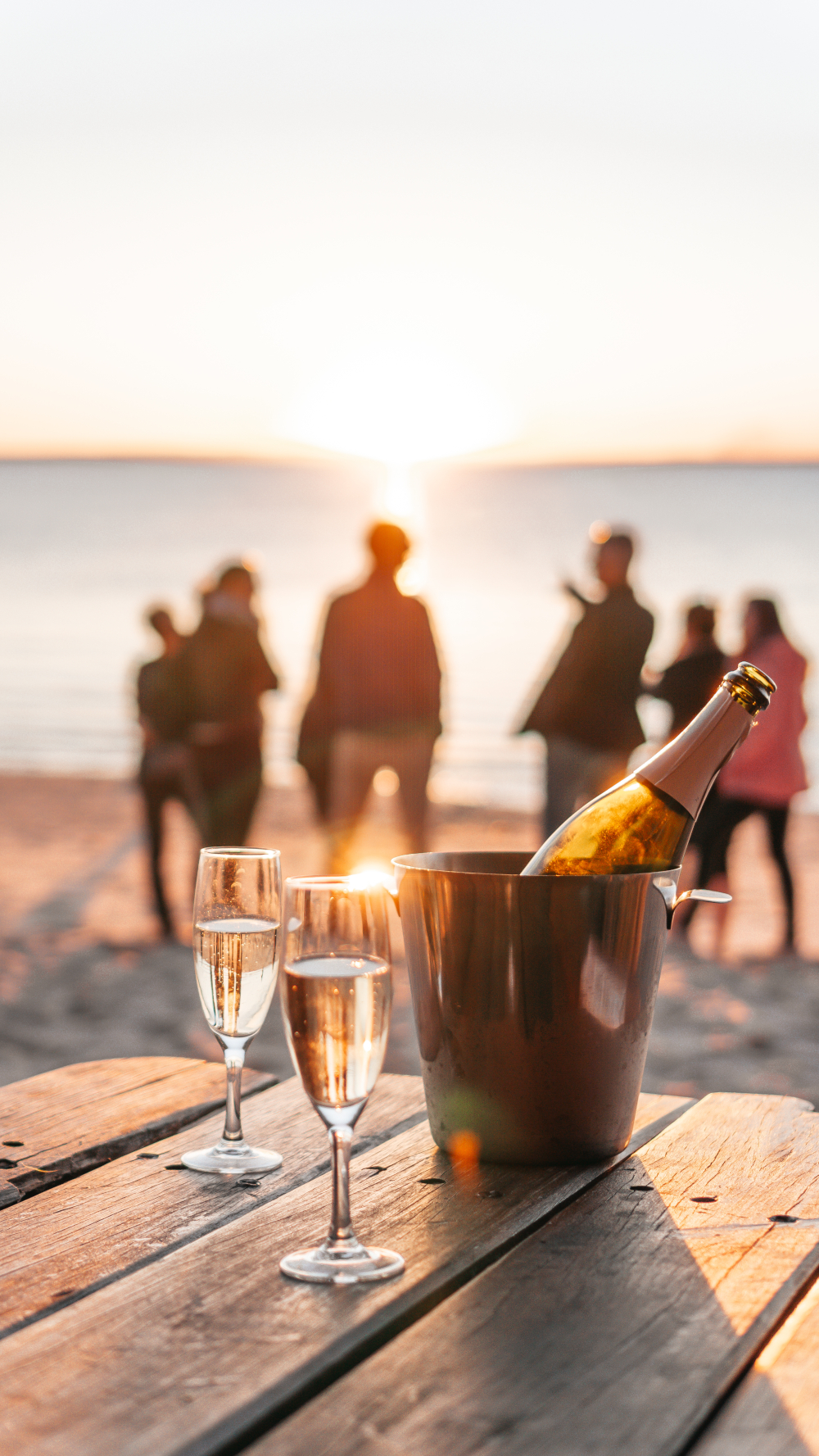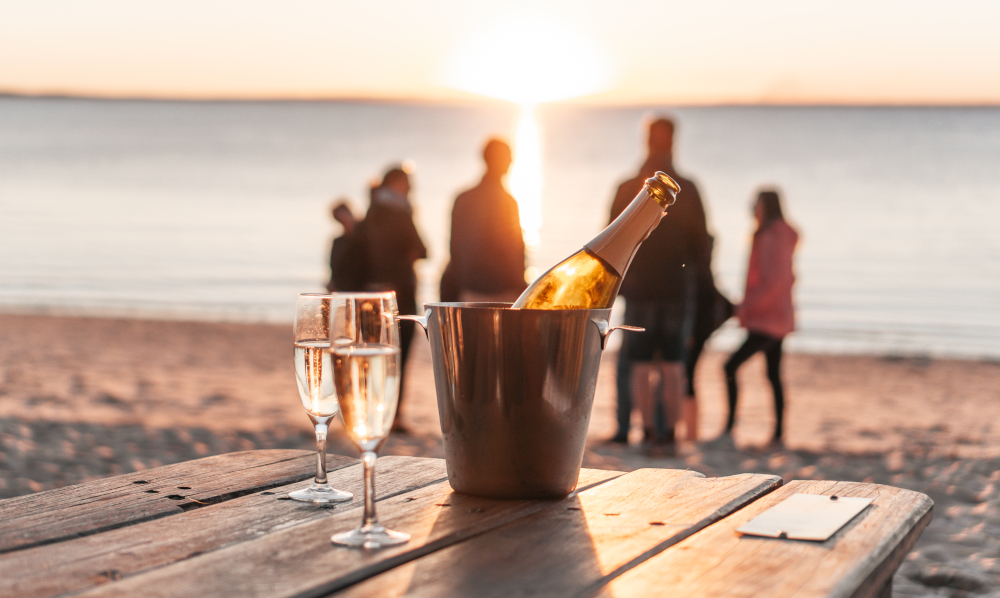 When is Whale Watching Season Hervey Bay?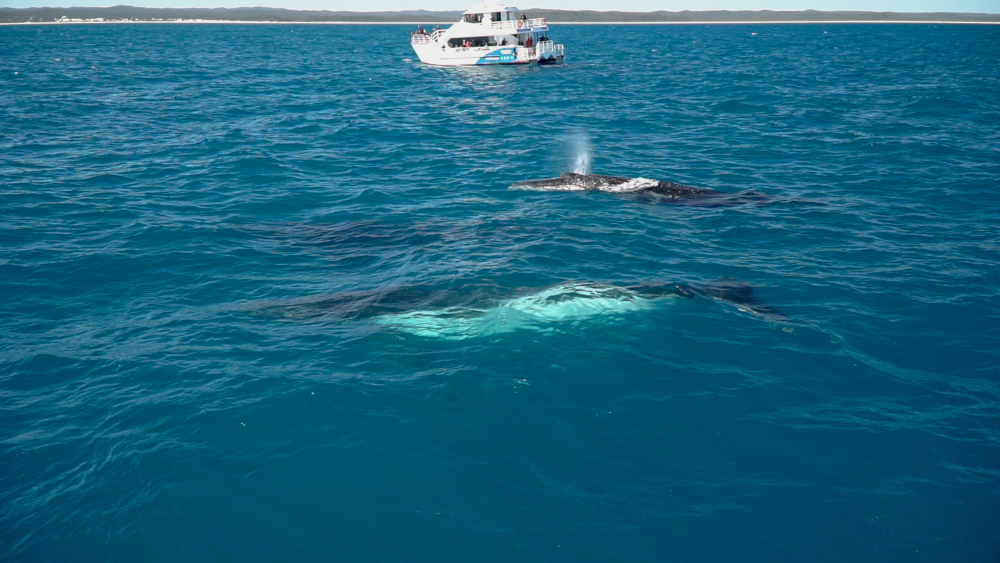 Whale season generally runs from August through to October in Queensland, so be sure to take advantage of the three-month period while you can and see these incredible creatures for yourself. In particular, Hervey Bay is renowned as a whale heritage site for whale watching, so it really is the best place to be. Don't miss the opportunity and be sure to book a whale watch cruise while you're there.
Humpback Whales & What to Expect
Young Humpback whales (calves) are taught life's fundamentals in the calm and protected waters of Platypus Bay – a whale sanctuary located along Fraser Islands' west coast. The location and annual occurrence make it the perfect opportunity for anyone looking to admire the beautiful creatures at a close distance. At this time of the year, guaranteed sightings are expected.
Fraser Island Tours
Up for a bit of adventure? Fancy exploring the hidden gems of Fraser Island on foot or by tour? We'd absolutely recommend hiking into Lake McKenzie. Warning: The hike is 20km return, so it's certainly a challenge, however the track is well maintained, easy to follow and provides some killer views at the end. Don't forget to log your walk with reception prior to hiking!
Check out a full range of Fraser Island tours & activities below:
Undoubtedly, this time of year is always exciting for outdoor enthusiasts and nature lovers. If you've not yet witnessed the magical experience of whale watching, I'd highly recommend you look into it for the upcoming season in Hervey Bay or Fraser Island. Not only is it an affordable day out as a group or family, but you'll also make special memories and learn a thing or two as well. Don't miss your close encounters with these majestic creatures on your next whale watching experience.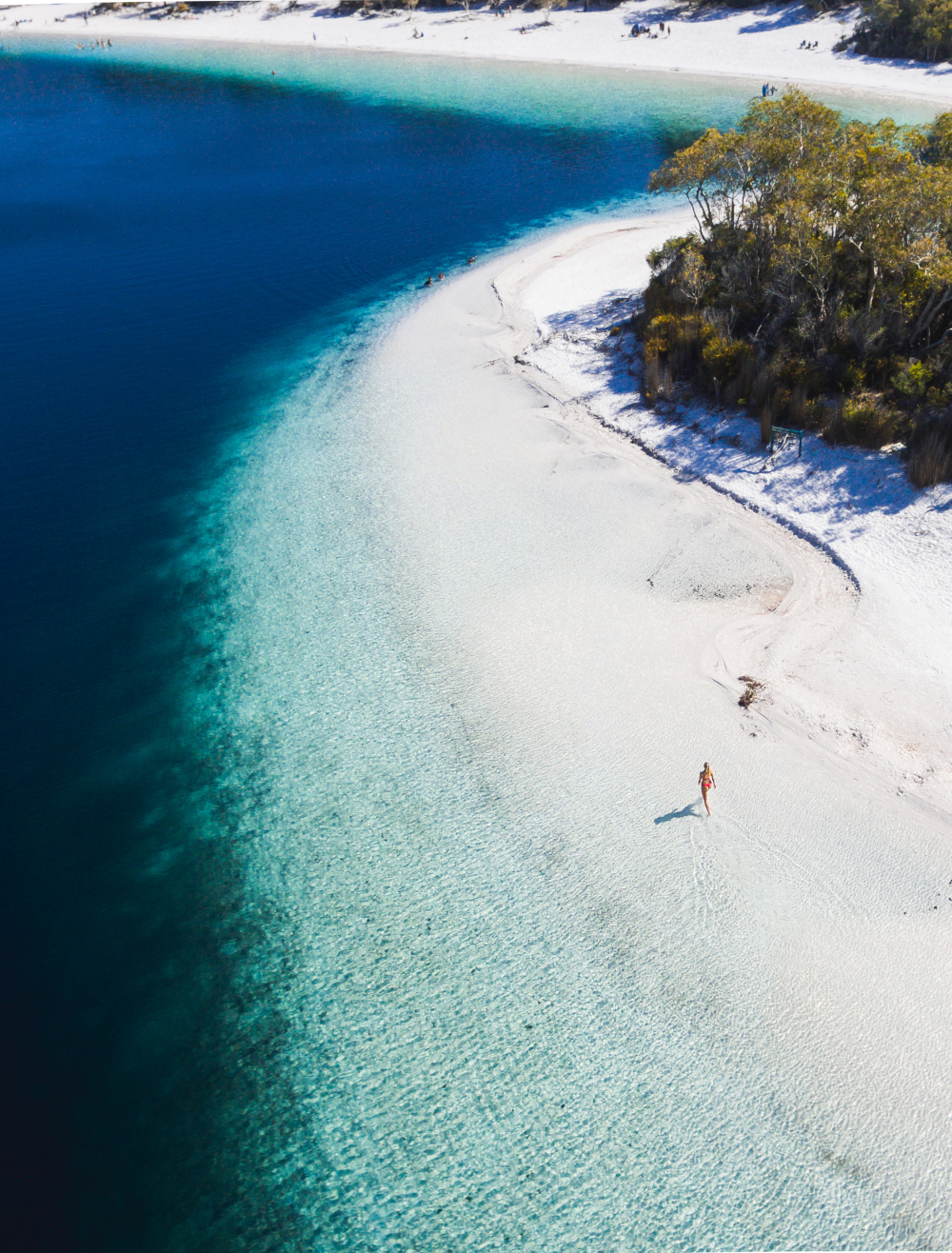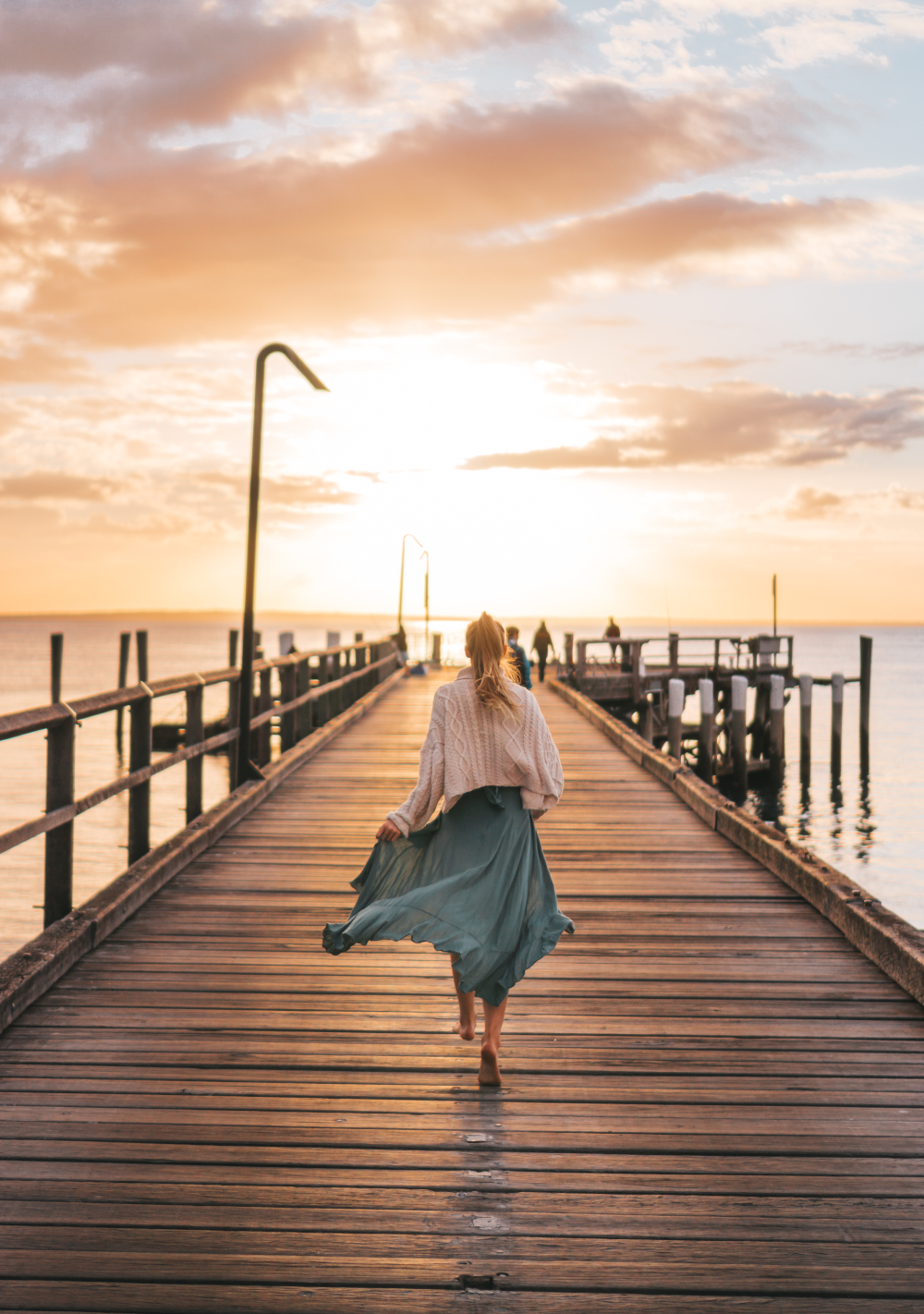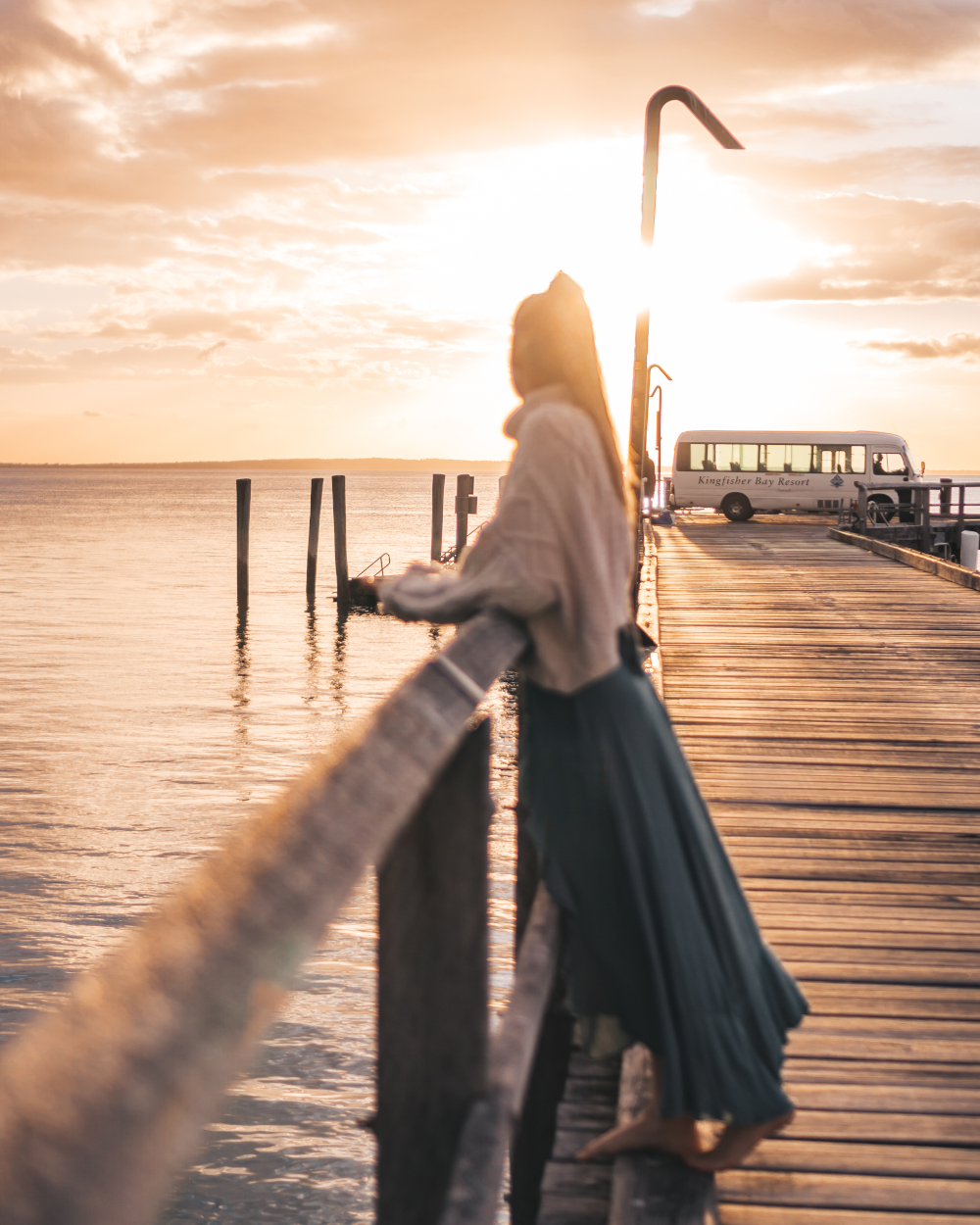 I hope you enjoyed this article and found it useful and informative. We book our accommodation through our affiliate partners here at Booking.com. Should you wish to support our blog so we can continue to provide informative and free content, consider booking your next adventure through these links here.
Safe and happy travels.
Disclaimer: These are my experiences, honest opinions and stories. We are proud to partner with many beautiful digital education & travel products and services as an affiliate. On some occasions, we may benefit from a commission when you make a purchase with these links. This commission helps to support the ongoing publication of free and readily available content designed for those who wish to get started in the online business and creator space. This is not financial advice.