21 Best Things To Do In Hervey Bay & The Fraser Coast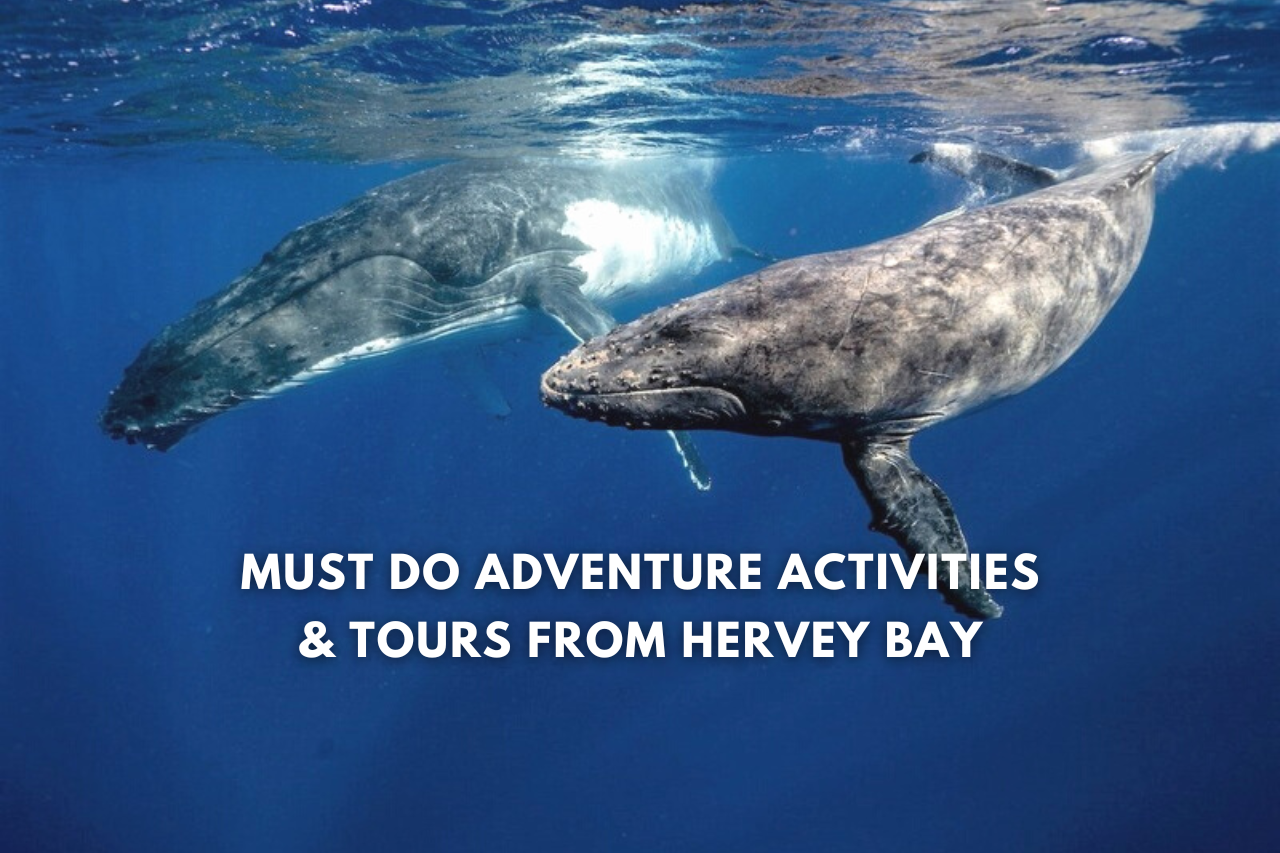 Hervey Bay & Fraser Island have to be two of the most underrated regions to explore in Australia. If you're planning on visiting Hervey Bay & exploring the draw dropping coastline of the Fraser Coast, here's 21 things to do in Hervey Bay & Fraser Coast you absolutely must do! You'll find the best adventure activities, escapes and hidden gems below: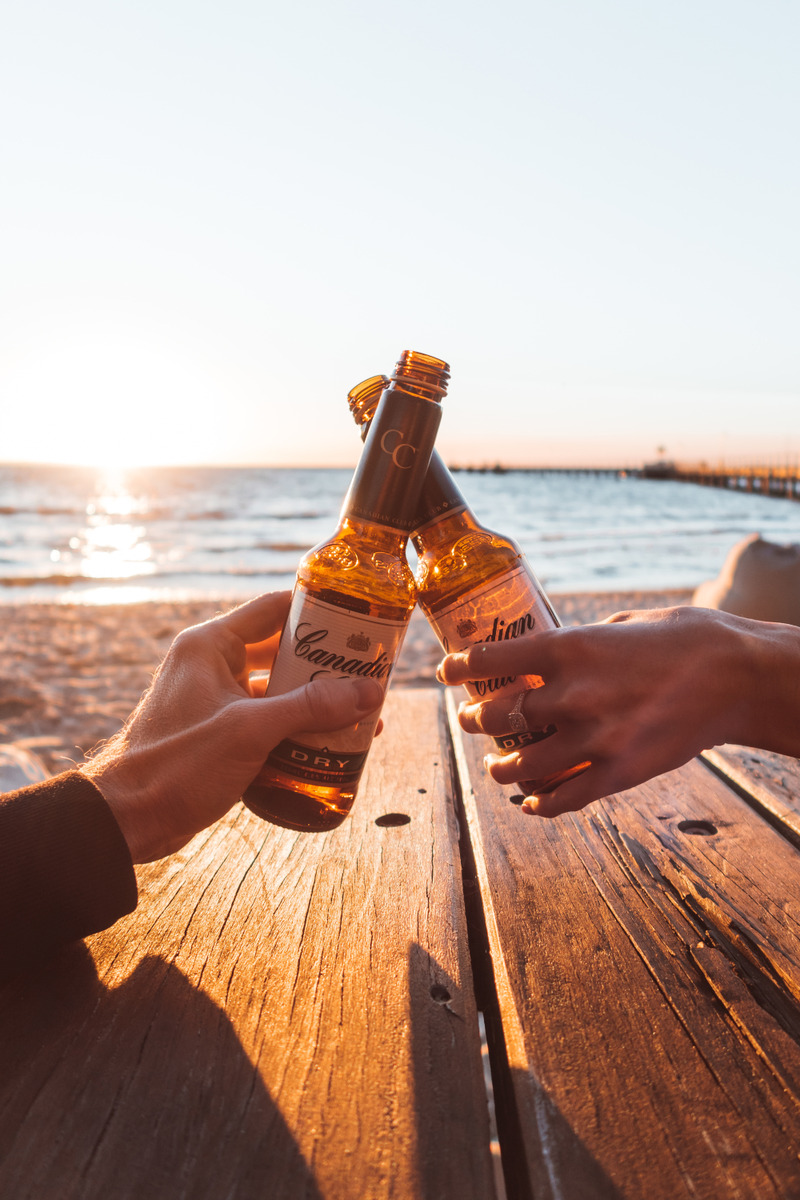 What Are The Best Things to do in Hervey Bay?
Here are 21 best things to do in Hervey Bay & The Fraser Coast
In 2019, Hervey Bay was named the world's first Whale Heritage Site by the World Cetacean Alliance. Humpback numbers continue to grow in the region, as do the number of visitors who come to see them. The quiet, calm & shallow waters of Platypus Bay and beyond are the home of Humpback whales, protected by the shores of K'gari – this makes for the perfect location to view these gentle giants. Instead of swimming along the coastline, the whales stop here in their long migration to rest, mingle and teach their calves important life skills.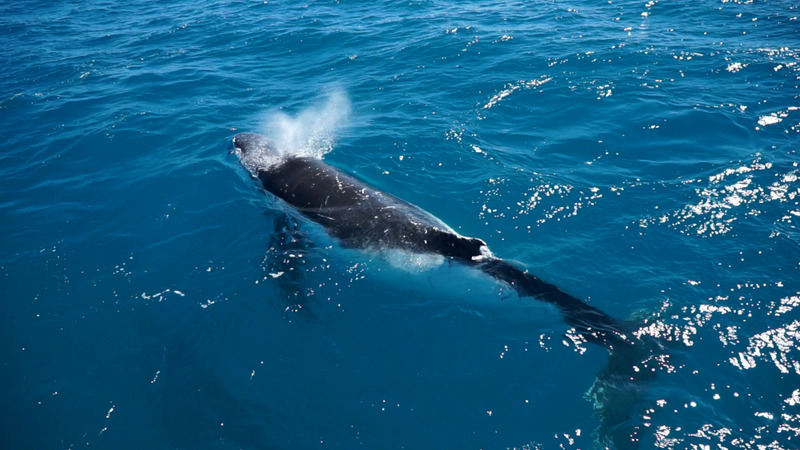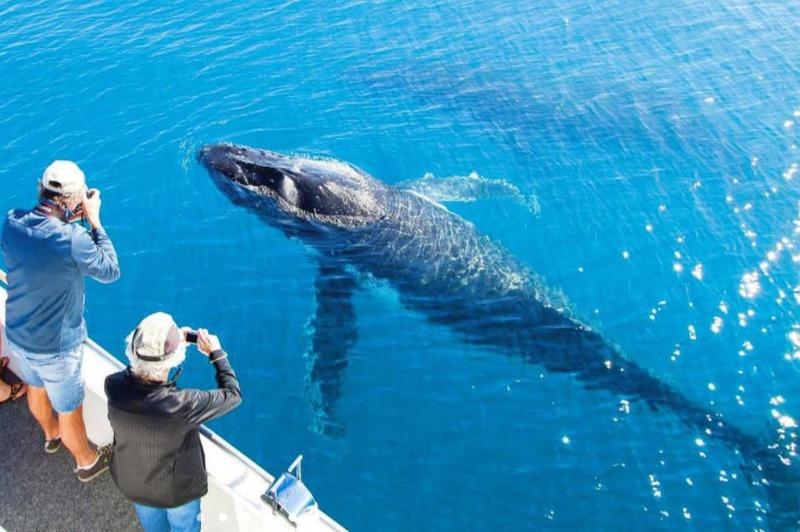 Recommended Whale Watching Tours
2. Take a Day Trip to K'gari (Fraser Island)
Known as K'gari by the traditional landowners, Fraser Island sits almost parallel to Queensland's coastline with access from the marina, River Heads and Rainbow Beach. It's the world's largest sand island and is UNESCO World Heritage-listed. It forms part of the Great Sandy National Park, located just off Hervey Bay Queensland.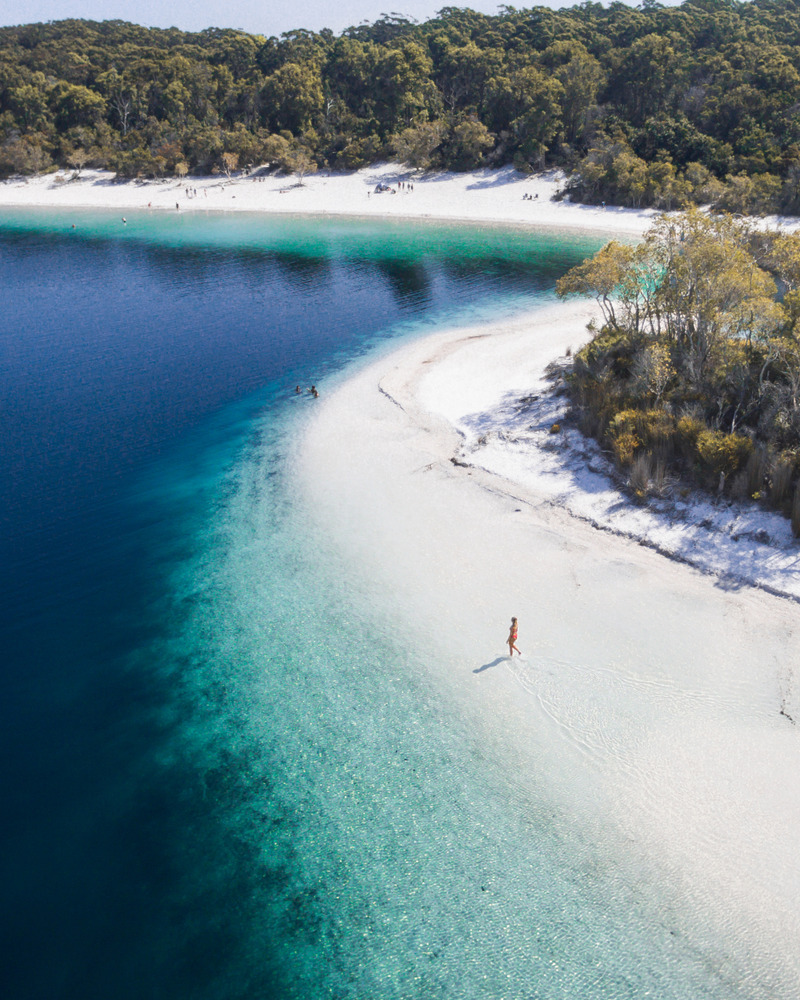 No 4WD? No worries! Take a day trip with Fraser Explorer Tours. Choose to leave from Hervey Bay or Kingfisher Bay Resort. The resort offers countless eco and adventure activities, places to sit back and relax, as well as meals and bars.
This has to be one of the most adventure-packed day trips in Australia! Upon arriving at Kingfisher Bay Resort, you'll duck and weave your way through incredible sandy terrain in this specially designed 4WD bus. On this Fraser Island tour, you'll visit natural highlights such as crystal clear lakes (Lake McKenzie), Central Station, The Maheno Shipwreck, Eli Creek & 75-mile beach. What a day out!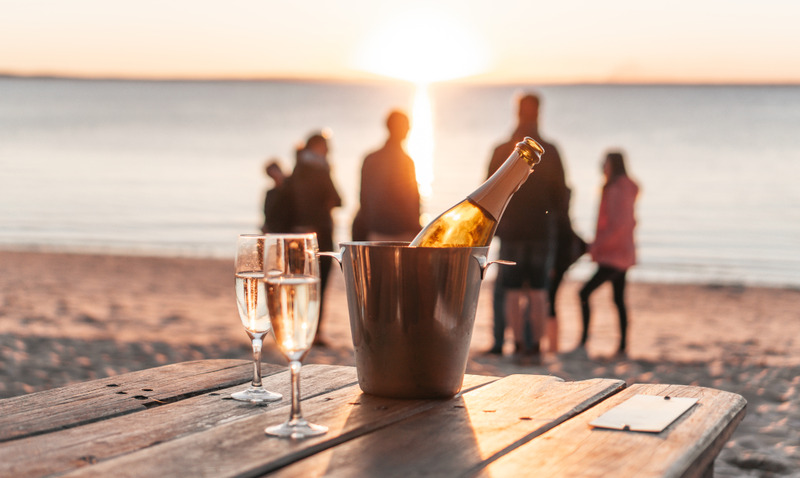 Did someone say staycation!? There are two key places to stay on K'gari – Kgari Beach Resort (formerly Eurong Beach Resort) along the East coast of the island and of course, the beautiful Kingfisher Bay Resort, on the West side. The island & resort is only accessible by vehicle ferry, and once island side, by 4WD.
Kingfisher Bay Resort
Features:
Endless adventure tours from the resort (4WD hire, hiking, visiting the lakes, 4WD tours to natural highlights on the island.

Sunset over the water at the Sunset Bar

Day Spa

Sit poolside & soak up the sun

Bars & restaurants

Guided nature walks

Stand up paddle boarding

Kayaking

Segway tours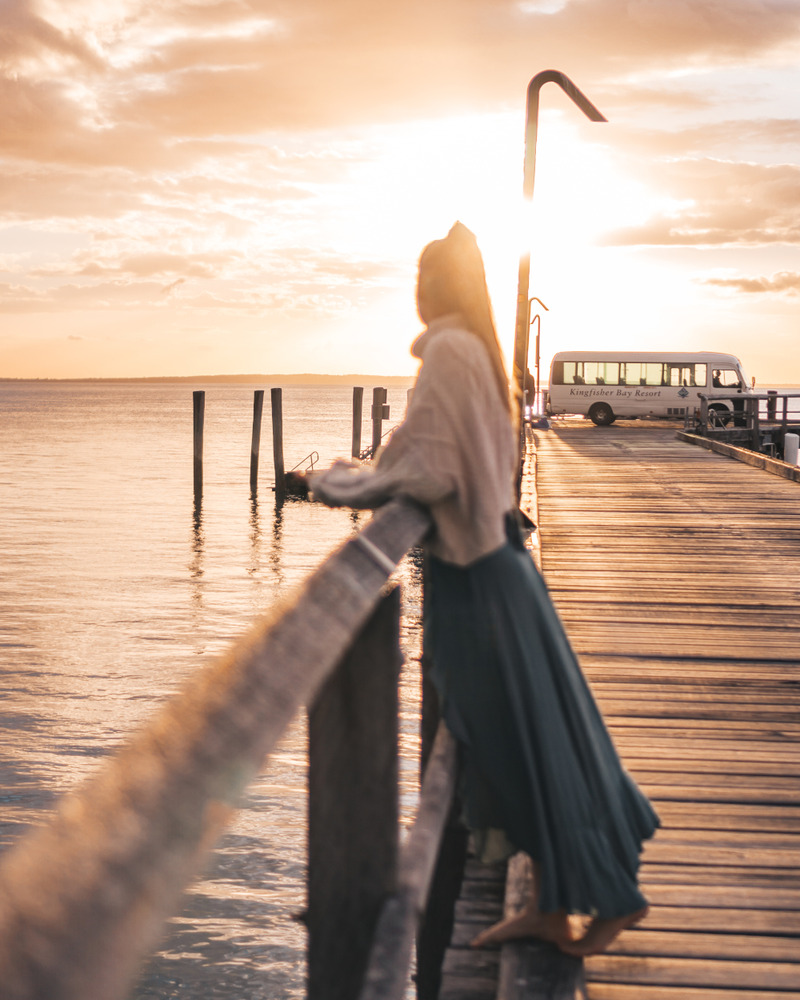 Take a four-hour, glass-bottom boat tour with Hervey Bay Eco Marine Tours. Cruise the remote waters of the Great Sandy Strait and immerse yourself in the rich Aboriginal culture on this award-winning, guided eco-tour. Explore Round Island and join the search for marine life such as dugongs, green sea turtles and dolphins.
Inclusions:
Tour guide

Snorkeling equipment

Light lunch (dietary requirements catered for)

Onboard bathroom facilities

Beach umbrellas for use on the islands visited

Fresh fruits

Tea, coffee, and water
You can't go wrong with this tour when researching all the things to do in Hervey Bay & beyond. On this full-day excursion with Tasman Venture, you'll make your way to the more remote areas of Fraser Island.
Explore the magical, clear waters of Awinya or Bowraddy Creek by kayak.

Swim with turtles & marvel at the azure waters of Wathumba Creek

Spot dolphins, dingoes and dugongs.

Enjoy a buffet lunch.

Snorkeling trip & water sports including tube rides.
Jump aboard one of the Blue Dolphin Marine Tours and enjoy a 90 minute sunset cruise, with a glass of champagne in hand. Tours depart the Great Sandy Straits Marina and take in panoramic views of the bay & Fraser Island.
Features:
Low passenger numbers

Sparkling wine

Finger food

Complementary beverages (beer, wine & soft drink)

Courtesy bus
Arrive in paradise on your very own secluded & remote sand cay, just off the shores of Fraser Island. Welcome to Pelican Banks – all thanks to a beautiful 4-hour day trip sailing adventure with Blue Dolphine Marine Tours. Enjoy a slower pace, calm day on the water as you cruise the calm waters of the Great Sany Strait. This is such a brilliant activity both solo, and with the whole family.
Features:
Low passenger numbers

Modern sailing vessel

Free wifi

Fully licensed
Serene, private and remote! Check out this incredible offer from Fraser Island Boat Charters. Spend 3 days and 2 nights cruising at your own pace, exploring all the hidden beaches, anchorages, creeks and islands along the way. Grab a small group of mates and book out this incredible experience, with a whole catamaran to yourselves! You can either charter a yacht yourself (bareboat sailing) or you can have a private skippered charter. Spot wildlife, switch off and wake up in paradise.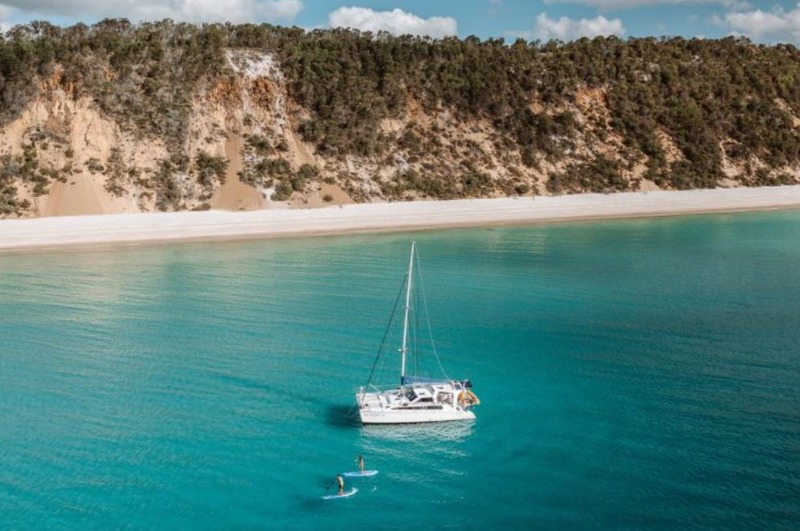 Features:
3 day, 2 night charter

Private sail guide

Fully equipped kitchen for cooking own meals

All bedding and linen

Onboard toilet and shower
Visit every inch of Fraser Island on this incredible 2-day remote tour with K'gari Explorer Tours (formerly Fraser Explorer Tours). Spend 1 night at K'gari Beach Resort with all meals included! This has to be the ultimate adventure tour on the island!
Features:
Lake McKenzie

Coloured sands

Eli Creek

Central Station

The Maheno Shipwreck

Eli Creek

75-mile beach

Champagne Pools
Got the need, the need for speed? This is your adventure activity – with a side of paddle boarding of course! Aboard K'gari Salty Safaris, you'll spot sea life, soak up the sand and sun or enjoy snorkeling in the most remote and beautiful areas of K'gari. K'gari Salty Safaris is one of the quickest ways to get out and about on the bay and over to Fraser Island.
11. Plan a Picnic at the Hervey Bay Botanic Gardens
The botanical gardens are an oasis of calm, surrounded by lily-filled ponds. It also happens to be an ideal place to picnic. The gardens feature plant species from wide-ranging areas of the Wide Bay & Great Sandy Regions, with bridges and pathways connecting wetlands, rainforests and formal gardens. Green thumbs will be a delight when visiting this themed garden. Relax in the inspired Chinese garden, look at colourful orchids at the orchid house (the orchid house has over 5,500 orchids) or learn about the indigenous heritage of the Butchulla people at The Bush Tucker Garden.
12. Bike, Jog, Skate, or Stroll Along the Hervey Bay Esplanade
The Esplanade extends from Point Vernon to Torquay Beach (Pialba) and then all the way to the Urangan Pier. Gaze at sunrise and sunset, stop by the beaches for some swimming, get in your next workout or stop by Enzo's Restaurant & Bar for a coffee and a feed. Other areas to explore in Hervey Bay include Dundowran Beach and further up the coast to Toogum & Burrum Heads.
Accommodation Options:
13. Stroll Along the Urangan Pier
This historic landmark was erected between 1913 and 1917 and is located just next to Urangan Beach along the Hervey Bay Esplanade. At 867 m long, the Urangan Pier is the perfect place to enjoy a sunrise or sunset beach walk while enjoying the breathtaking scenery of the bay. This is a particularly special spot to explore at low tide at sunrise or sunset.
The Great Barrier Reef runs over 2000 kilometers along Queensland's coastline. In the Southern section, rests Lady Elliot Island – a small coral cay, accessible from the mainland. Lady Elliot Island is accessible by boat and plane and can be done as a day trip with Lady Eliott Island Hervey Bay Tours or a more extended visit at the Lady Elliott Island eco-resort. It's the undisputed home of the Manta Rays.
Other wildlife you're bound to spot are turtles, reef sharks and many species of reef fish. If you're planning to visit Hervey Bay & you'd like the added bonus of seeing the Southern Great Barrier Reef, this is once in a lifetime experience to really immerse yourself in nature. It's not to be missed!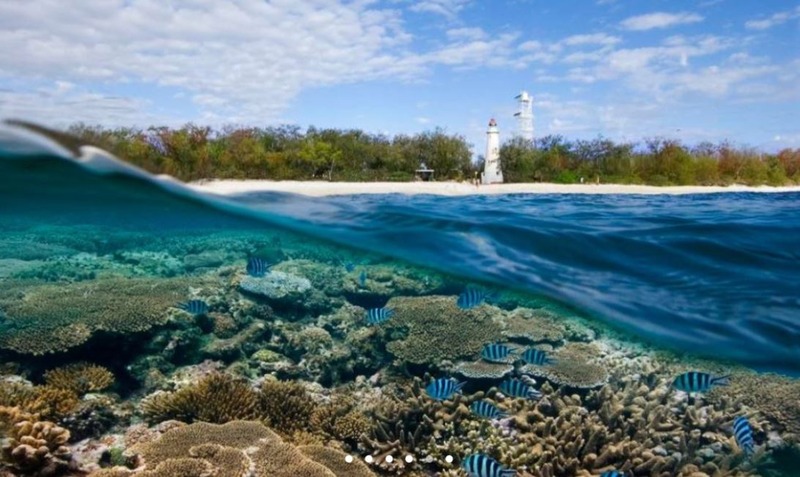 15. Visit the Wetside Water Park
Keep the children entertained with the Wetside Water Park on the waterfront between Pialba and the Esplanade. In the evening there is an outdoor pool with a playground and even lights for the kids. For the adults, take advantage of the provided cafe for snacks, drinks and fish and chips.
Accommodation Options:
16. Relax on the Deck at the Hervey Bay Boat Club
The Hervey Bay Boat Club is a wonderful area within the marina and consists of an enormous, panoramic deck to enjoy the views of the bay. The food is absolutely fantastic! It's a great spot to grab a few drinks and watch the afternoon go by. Just next door, you'll also find the Reef World Aquarium.
17. Swim, Stroll, and Paddle Along Hervey Bay's Beaches
The beaches & esplanade in the area offer ideal accommodation for families and nature enthusiasts. It's generally a calm, safe, and fun location for children & families to splash about. Scarness Beach runs along the central district of the Esplanade, only steps from many popular restaurants, shops resorts and hotels. Take an early morning swim down at the esplanade and then pop back up to Enzos on the Beach – one of the more popular places to grab coffee and meals.
Accommodation Options: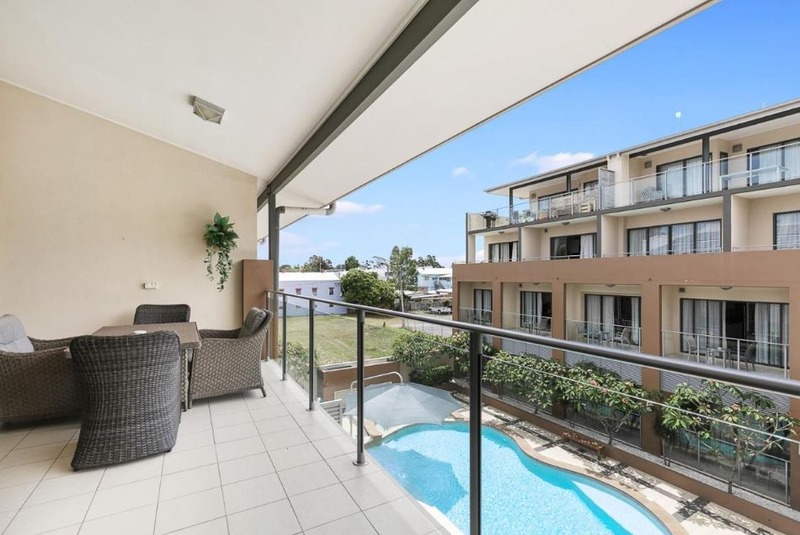 18. Spot the Local Kangaroos at Point Vernon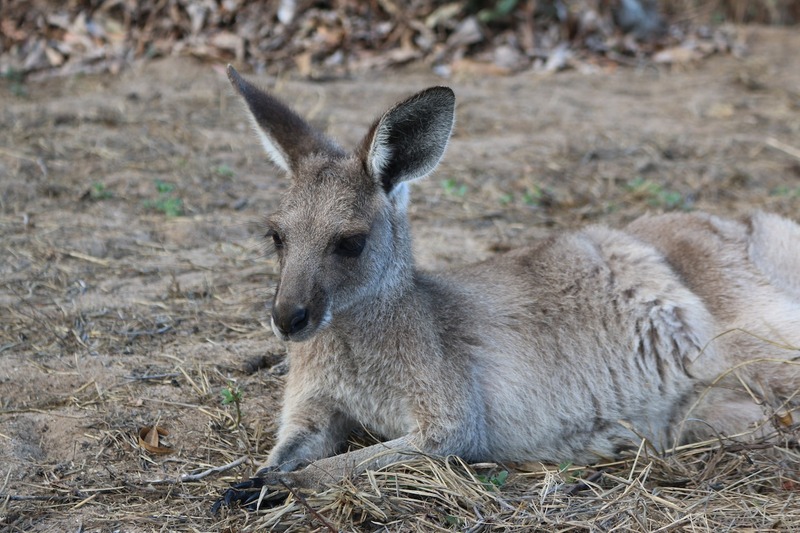 Spot a few locals of a different kind with a visit to Point Vernon. There are quite a few kangaroos to spot on the many walking trails in the area. You can also take a leisurely stroll down to Gatakers Bay Beach, a popular spot for locals alike.
19. Mingle With Locals at the Hervey Bay Markets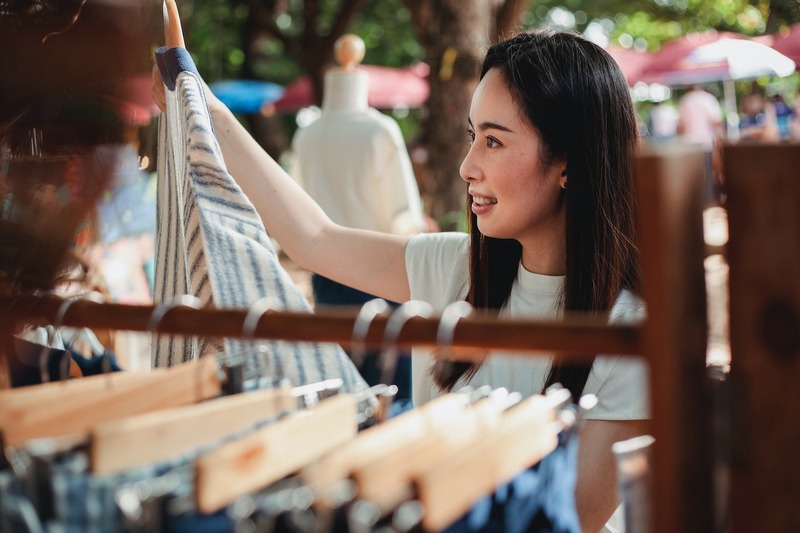 Weekend markets are operated in the region across a number of locations:
Torquay Beachside Markets (Every Saturday from 7 am)

Ninkenbah Markets (1st & 3rd Sunday from 8 am)

Urangan Pier Park Community Markets (Every Saturday from 7 am)

Koala Markets Urangan (every 2nd & 4th Sunday of the month)
20. Explore the Marina Shops and Cafes
Aptly named the Great Sandy Straits Marina, there is plenty to see and do down this way. Explore the specialty stores before boarding a whale watching charter or grab a delicious coffee from one of the many cafes. Stop in at Balaena Cafe or Bayaroma to enjoy a coffee, cake or a full meal. You'll also find the Hervey Bay Dive Centre located here – another great option if you're looking for exciting adventures and things to do in Hervey Bay.
Nearby accommodation options include:
21. Hervey Bay Historical Village and Museum
The Hervey Bay Historical Village and Museum is an award-winning attraction, offering guests an insight into the history of the local area. You'll experience regular blacksmithing, woodworking, rope making experiences at selected times throughout the week. The historical village also has plenty of BBQ facilities for visitors to enjoy.
Hervey Bay Accommodation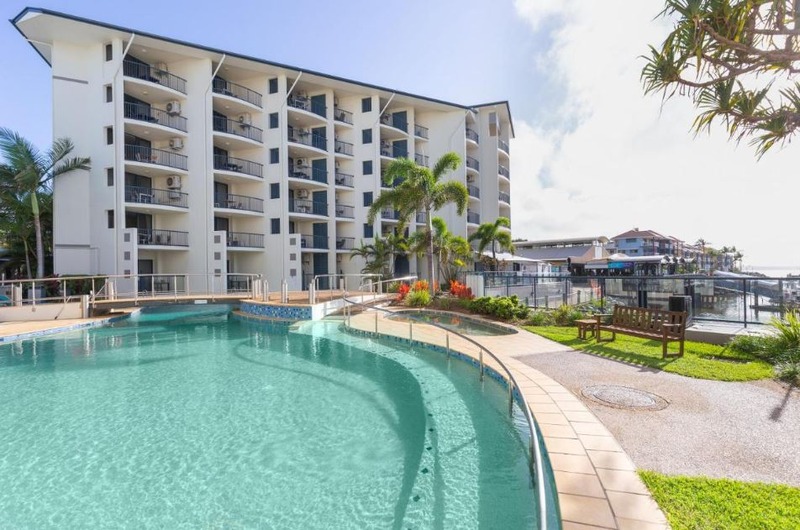 These hands down, are my favourite Hervey Bay accommodation choices in the area: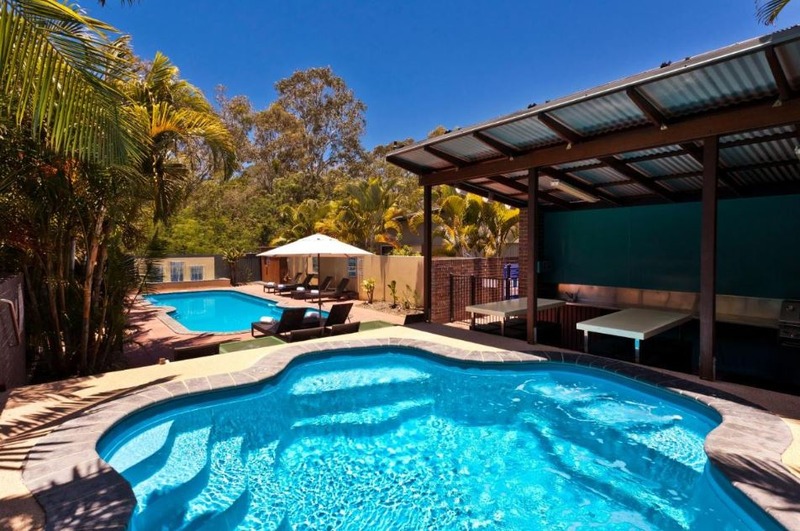 FAQ's About Hervey Bay & The Fraser Coast
What Does Hervey Bay Have to Offer?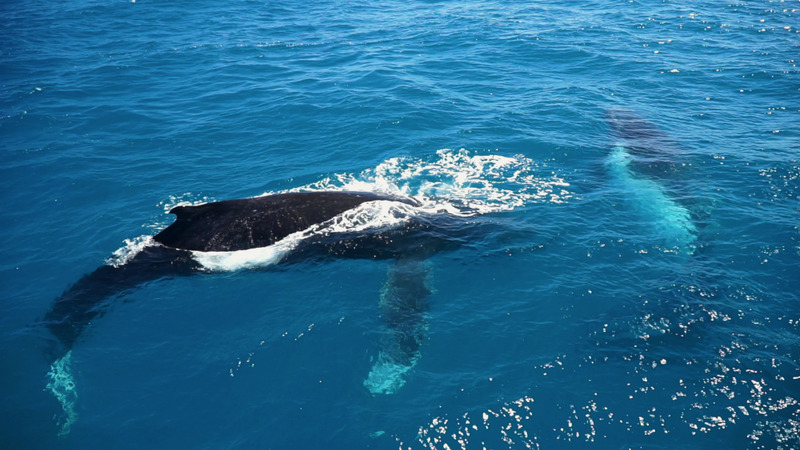 Hervey Bay is located 3.5 hours north of Brisbane and is an entry point from which historic towns can be accessed. The Fraser Coast region includes Hervey Bay, Maryborough and K'gari (Fraser Island). By staying in the area, you can also easily reach the Bundaberg and Gympie regions.
Hervey Bay is the whale watching capital of the world! It's renowned for its extended whale season (August through November), as well as high-frequency sightings, despite its relatively small area. This also serves as an entry point for your trip to the world's largest sand island – Fraser Island. The region offers so much more than just whale watching, however. There are an incredible variety of trips from Hervey Bay to experience.
Is Hervey Bay Worth Visiting?
The Hervey Bay area has many world class attractions & features. I've often told friends and family that there's SO much more on offer than anyone ever gives it credit for. I've visited countless times, working with marketing and tourism boards in the region – so I've experienced the absolute best on offer.
Friends always come back, telling me just how right I was! Whether you want to enjoy long strolls on pristine beaches, enjoy vibrant cafe culture, spend days endlessly adventuring or enjoy sweeping water views, then this is the perfect destination for you.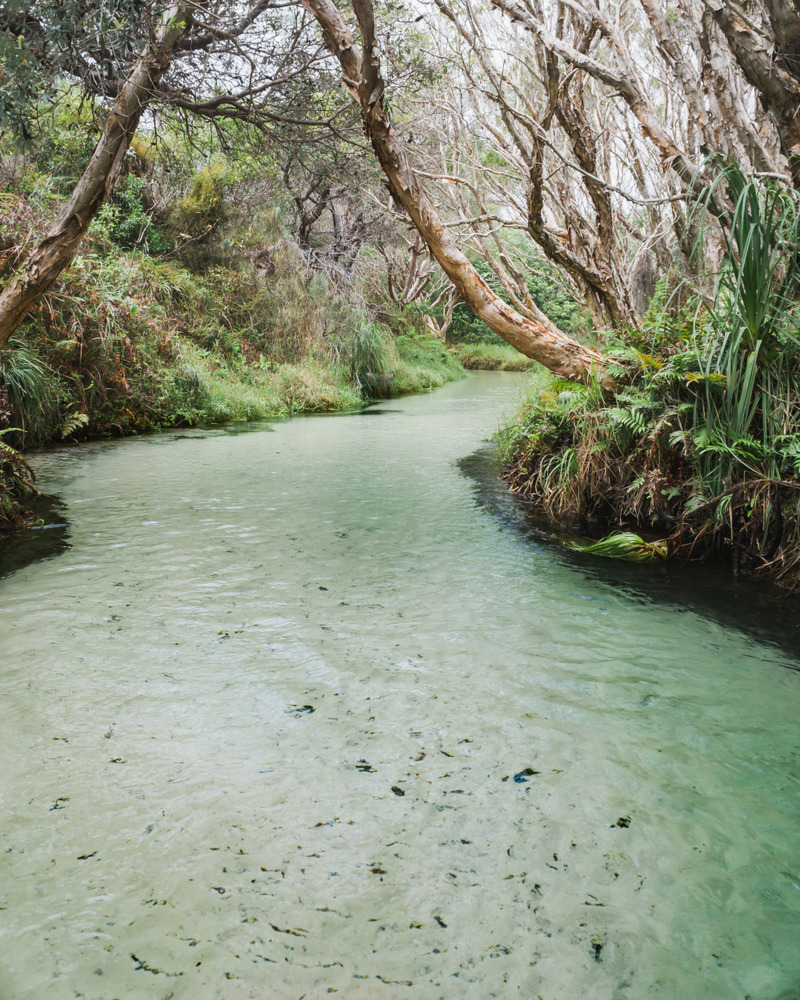 How Many Days Do You Need in Hervey Bay?
This depends on how much you'd like to explore and see. If you're visiting and wish to stay at Kingfisher Bay Resort, I'd recommend 2-3 nights. If you want to explore more of Fraser Island, I'd recommend staying 4-5 nights minimum. A stay in just Hervey Bay itself, anywhere from 1-7 nights.
Is it Worth Visiting Hervey Bay?
Absolutely! Hervey Bay is definitely worth visiting for many reasons. There's such a huge range of adventure tours, expeditions and activities right on your door step!
Is Hervey Bay or Rainbow Beach Better?
Rainbow Beach is a much smaller, surf and coastal town. It's generally visited by those with 4WD vehicles as it's a popular spot to visit Double Island Point and Teewah Beach. Hervey Bay is much larger, with better proximity to K'gari Island.
What Are the Best Hervey Bay Whale Watching Tours?
Personally, I'd recommend Tasman Venture, Hervey Bay Whale Watch & Charters & Whale Song Cruises.
Disclaimer: These are my experiences, honest opinions and stories. We are proud to partner with many beautiful digital education & travel products and services as an affiliate. On some occasions, we may benefit from a commission when you make a purchase with these links. This commission helps to support the ongoing publication of free and readily available content designed for those who wish to get started in the online business and creator space. This is not financial advice.