Espiritu Santo Vanuatu (Best Things to See & Do)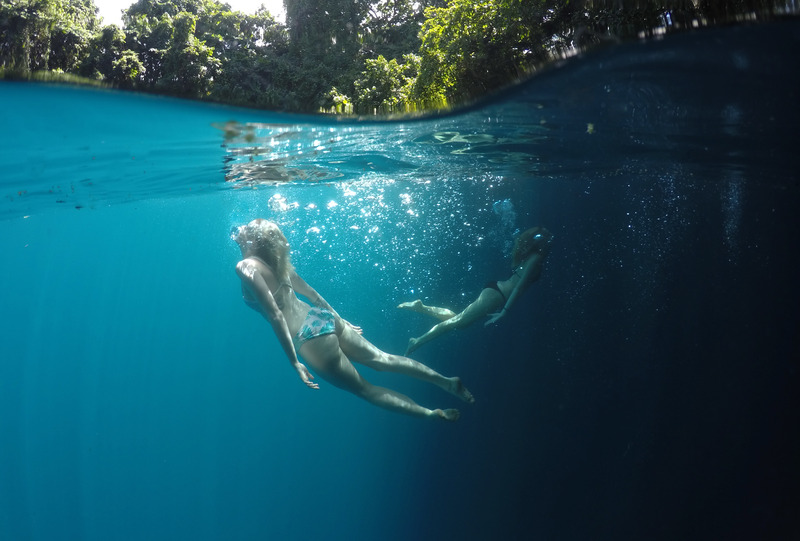 I've travelled to quite a few island destinations in my lifetime, but very few compared to the raw beauty and tropical richness that is Vanuatu. Espiritu Santo Vanuatu exceeded all of my predisposed expectations, but most notably, Champagne Bay & Port Olry.
If you're craving isolation, simple and intentional travel moments fuelled by indescribable natural beauty, this should be your next stop.
Where is Espiritu Santo
Espiritu Santo (also known as Santo) is the western most and largest island in Vanuatu.
It's situated in the Southwestern Pacific Ocean, approximately 2 hours and 50 minutes flight from Brisbane, Australia.
Espiritu Santo is known for:
Incredible diving & snorkeling.
It's World War 2 history.
Natural blue swimming holes.
Incredible natural beauty.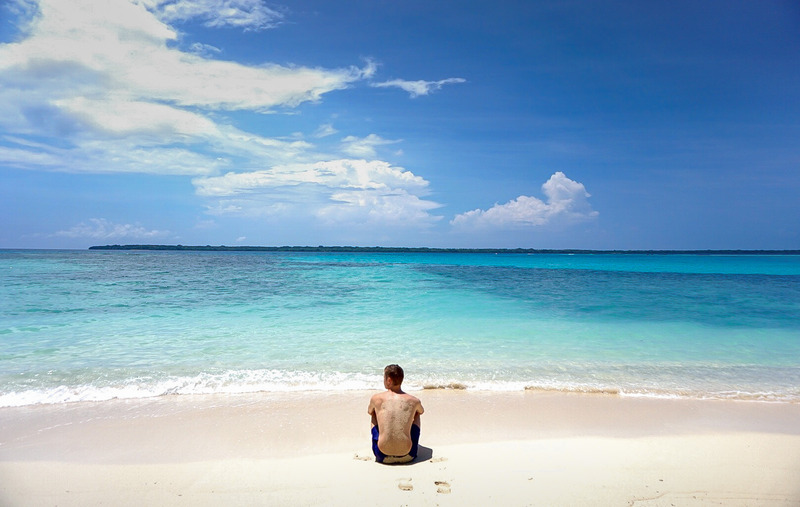 How to Get to Espiritu Santo
The island is accessible via a 2 hour & 50-minute flight from Brisbane, Australia with Air Vanuatu.
Alternatively, many cruise lines stop at Champagne Bay, Espiritu Santo.
We travelled with Princess Cruises on a ten-day journey throughout the New Caledonia and Vanuatu archipelagos with a two-day stop over on the island of Espiritu Santo, Vanuatu. I shortly returned a couple of months later to photograph for one of the island's best resorts – Barrier Beach Resort.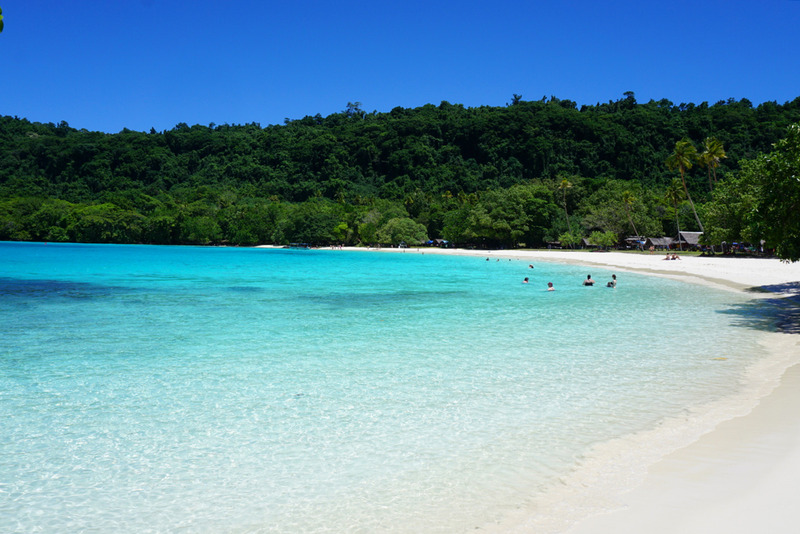 Our ship anchored offshore by the incredible Champagne Bay stretch, nestled in amongst thick rainforest that intertwined alongside the electric blue waters of Champagne Bay.
This location was like nothing I'd ever seen. It even rivalled that of the Cook Islands, which (in my opinion) is saying something.
With two days of explorations to be had, I had already pre-planned a rough idea of what I wanted to see whilst visiting Espiritu Santo. A trip to the Riri River Blue Hole was one of them, accompanied by a trip down the Riri River in a traditional canoe.
Things to do in Santo
Canoe the Riri River
Riri River blue hole Vanuatu
Champagne Bay
Matevulu & Nanda Blue Hole
Port Olry
Luganville
Diving & snorkeling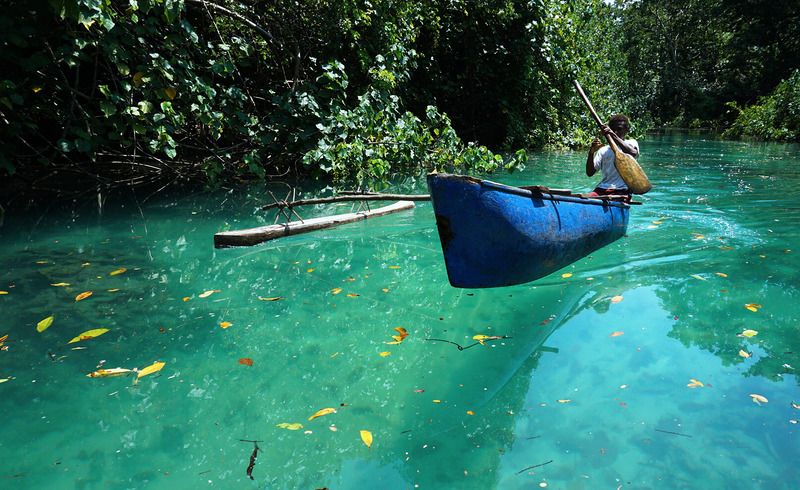 Canoe the Riri River in Espiritu Santo
The Riri River is…insanely beautiful!
The river itself (and all of the blue holes in Vanuatu) are comprised of a limestone base, giving it that iridescent, electric blue colour.
They are fed by freshwater underground springs making the clarity absolutely indescribable.
Take your GoPro or underwater camera, as it's a moment never to be forgotten. I attempted to record the moment by vlogging and photographing, as it truly is breathtaking.
The Riri River Blue Hole Vanuatu
What awaits you after venturing down the Riri River is a tropical oasis – something only dreams are made of. A plethora of dark green jungle overwhelmingly surrounds the most exotic and vividly coloured blue lagoon – the Riri Blue Hole.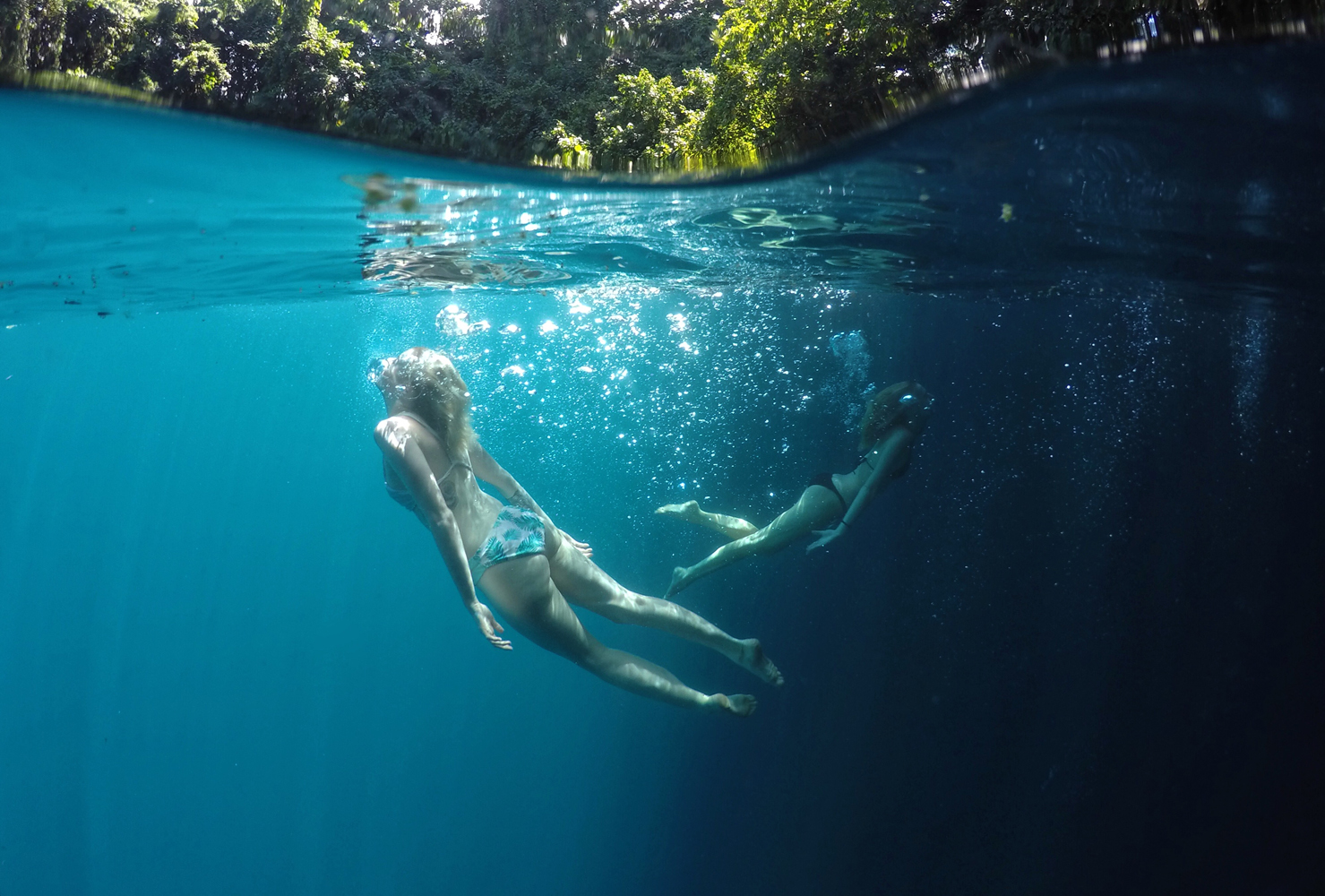 Rope swings are at the ready with timber platforms enticing you to the water's edge.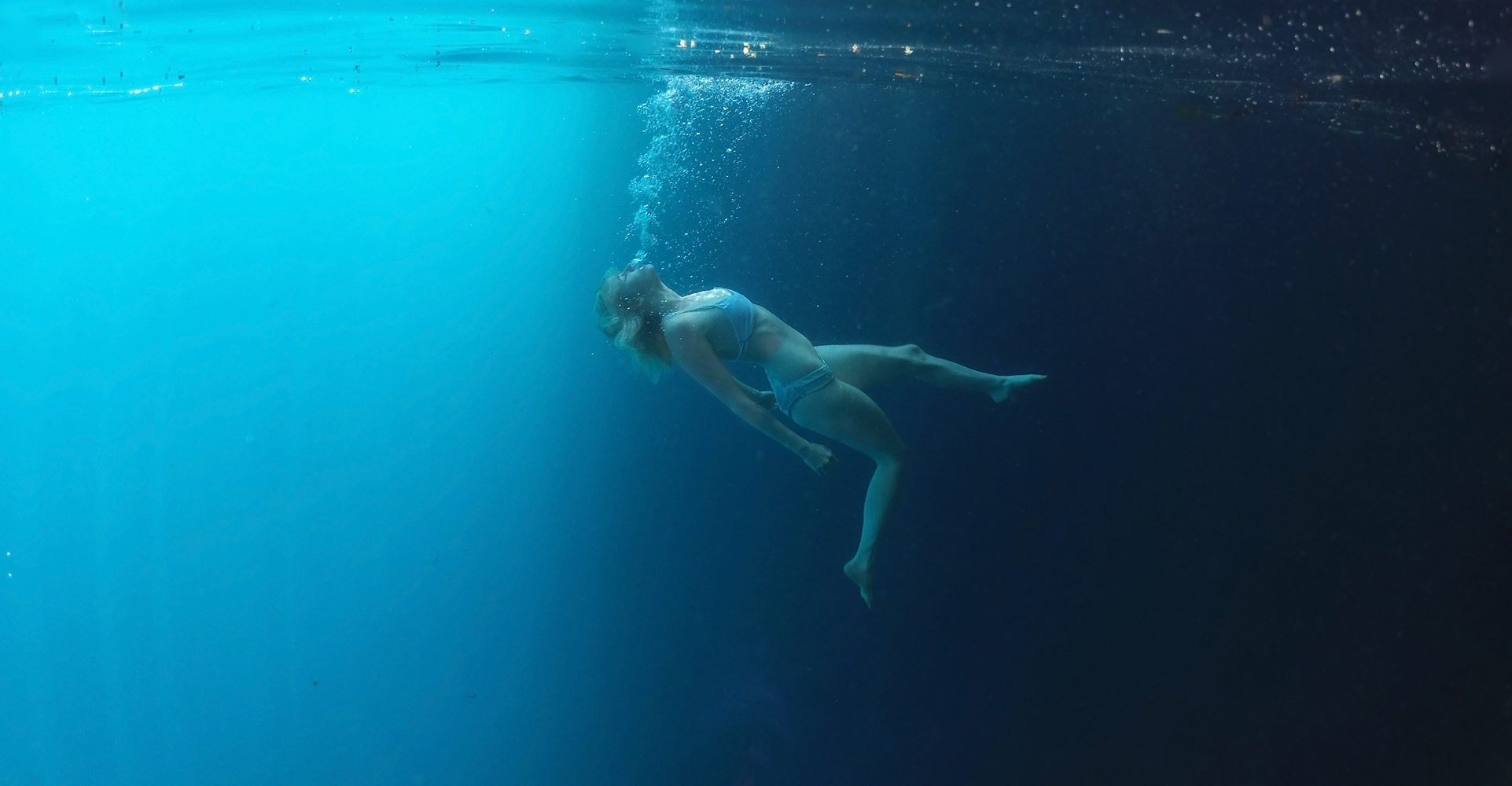 Champagne Bay
The jewel of the island – Champagne Bay.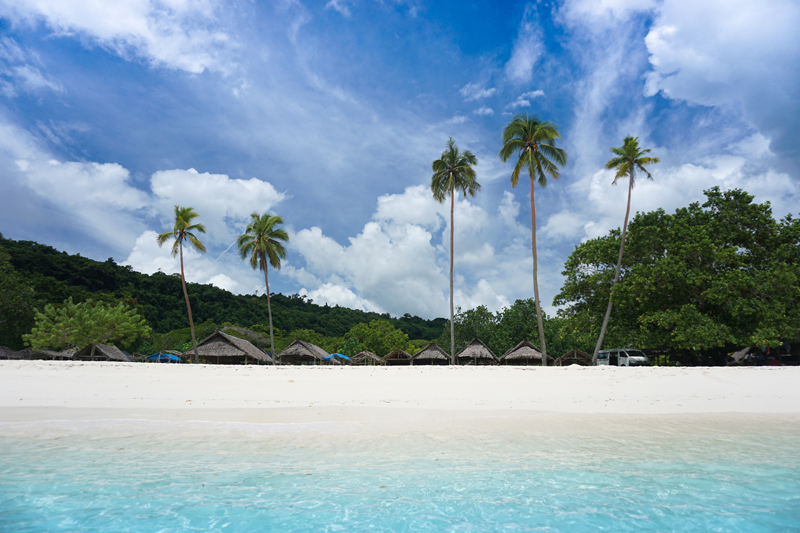 It's constantly voted one of the best beaches in the world, and for good reason.
Champagne Bay is located at the northern end of the island. It's an approximate 1-hour drive from Luganville, and a 40-minute drive from the Riri River.
The beach is blindingly white, with the most beautiful blue water lapping at the shores.
How to Get There
Book a full day adventure tour here to see the scenic highlights including Champagne Bay.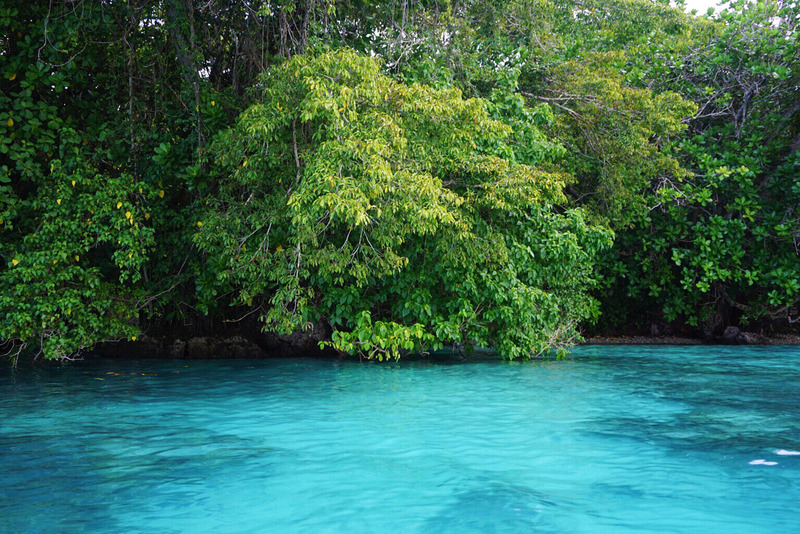 The Matevulu Blue Hole & The Nanda Blue Hole
Along with a trip to the Riri River and Riri Blue Hole, we adventured to two other blue lagoons – the Matevulu Blue Hole and the Nanda Blue Hole.
Each has an entry cost payable to the owner of the land and is fairly minimal (AUD $5-10).
Port Olry
Port Olry is even slightly further north of Champagne Beach, approximately another 20 minutes north.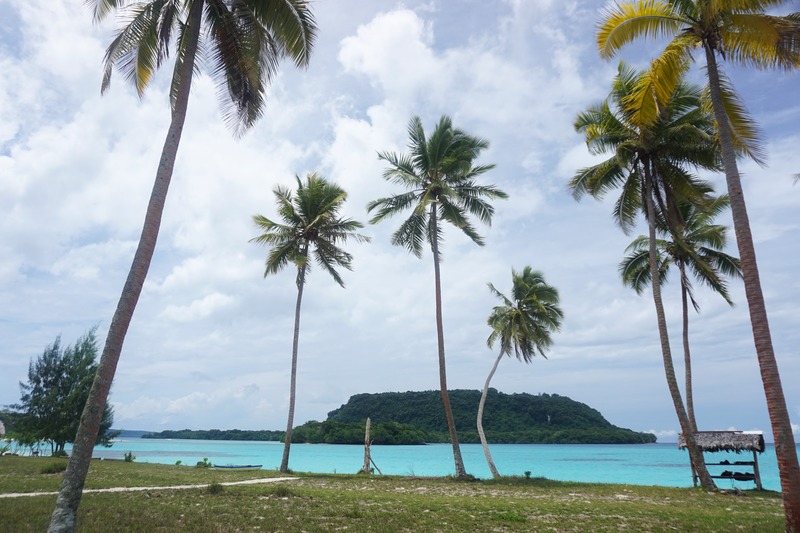 This is an incredibly quiet and beautiful seaside village with absolutely killer views.
You'll feel like you've been cast right the way back in time with a visit to this part of Espiritu Santo.
Best Vanuatu Tours (Espiritu Santo)
I can't emphasise enough, the importance of experiencing travelling like a local.
You'll get to travel in a way that is so free and fulfilling – soul enriching. We booked our day once we arrived onto Champagne Bay through a couple of local Vanuatu guides. They know the island inside-out and offered prices that just can't be beaten.
Alternatively, you can book Vanuatu Tours on Espiritu Santo that pick up and drop off from your accommodation on the island.
Here's some of my favourite Vanuatu tours for your next adventure.
Best Vanuatu Tours, Espiritu Santo:
Full day Santo Blue Hole, Champagne Bay, Million Dollar Point & Port Olry Tour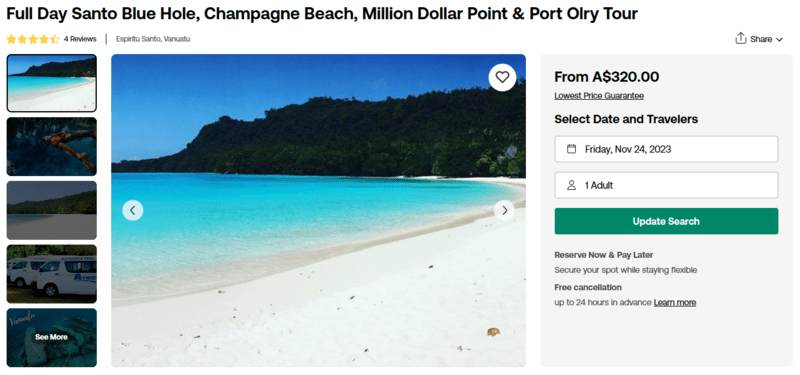 Best Vanuatu Tours, Port Vila:
Coongoola Full Day Sailing Tour + Snorkeling & Moso Island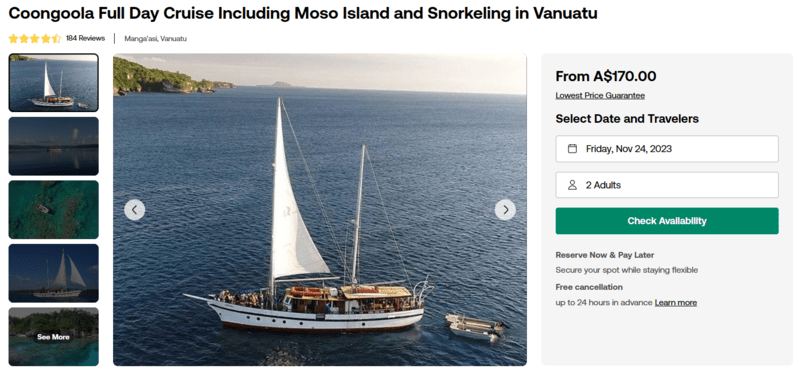 Port Vila: Pepeyo, Blue Lagoon & Eden Tour
Espiritu Santo Accommodation
There are quite a few incredible places to stay on the island. Here's a list of some of my favourites.
There's a reason Aore Island Resort is constantly reviewed as the best resort on the island.
Barrier Beach Resort holds a special place in my heart – this was my very first 'travel photography job' working in the travel space.
Firstly, the location is incredible. Think oceanfront bungalows with incredible views, dining oceanside, with the calm lagoon water lapping at your feet.
Secondly, the accommodation, service and accessibility to activities is perfect! (20 minutes from the airport and only 8 minutes to the Riri River & Blue Hole).
Final Thoughts
The highlight of a visit to Espiritu Santo Vanuatu is without a doubt its beaches and magical blue lagoons.
Nothing beats cruising around in the back of a beat-up, old ute with not a single worry in the world – the wind ripping past your face and the friendly cheers and waves from the locals is hard to beat. It's such an ultimate contrast to the western world where our creature comforts are often taken for granted. The Vanuatu jungle is wild – its landscapes, breathtaking.
If it's your first time visiting, I'd recommend booking a couple of different tours or asking your accommodation for recommendations.
For more inspiration, check out my feature video in Vanuatu below.
Disclaimer: These are my experiences, honest opinions and stories. We are proud to partner with many beautiful digital education & travel products and services as an affiliate. On some occasions, we may benefit from a commission when you make a purchase with these links. This commission helps to support the ongoing publication of free and readily available content designed for those who wish to get started in the online business and creator space. This is not financial advice.