How to Attract High Paying UGC Creator Jobs (On Autopilot)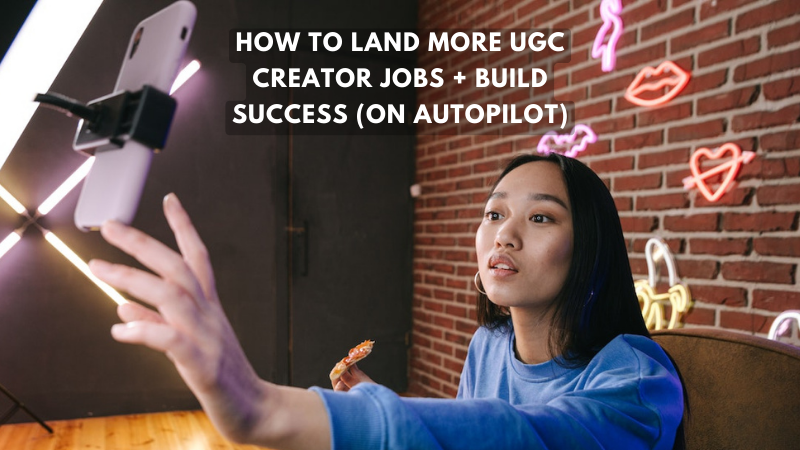 This is the story of how I became an in demand UGC creator & learnt to attract high paying, high-value UGC Creator jobs on autopilot!
I did it all in a matter of weeks, and so can you!
I went from being an out-of-work travel photographer and 'influencer wanna-be', to building one of the most successful businesses of my life through User Generated Content.
Here's what I did, and how you can follow the exact same steps for yourself!
Becoming a UGC Creator isn't easy, but it can be simple…
Attracting UGC Creator jobs on autopilot with high-value clients is an art!
Imagine taking your creative ideas and building a highly successful business in UGC creation – from scratch. This is the journey of how I built an online business that gave me back my time and allowed me to work from home and earn great money while doing so.
I faced all the struggles and made all the mistakes, so you don't have to!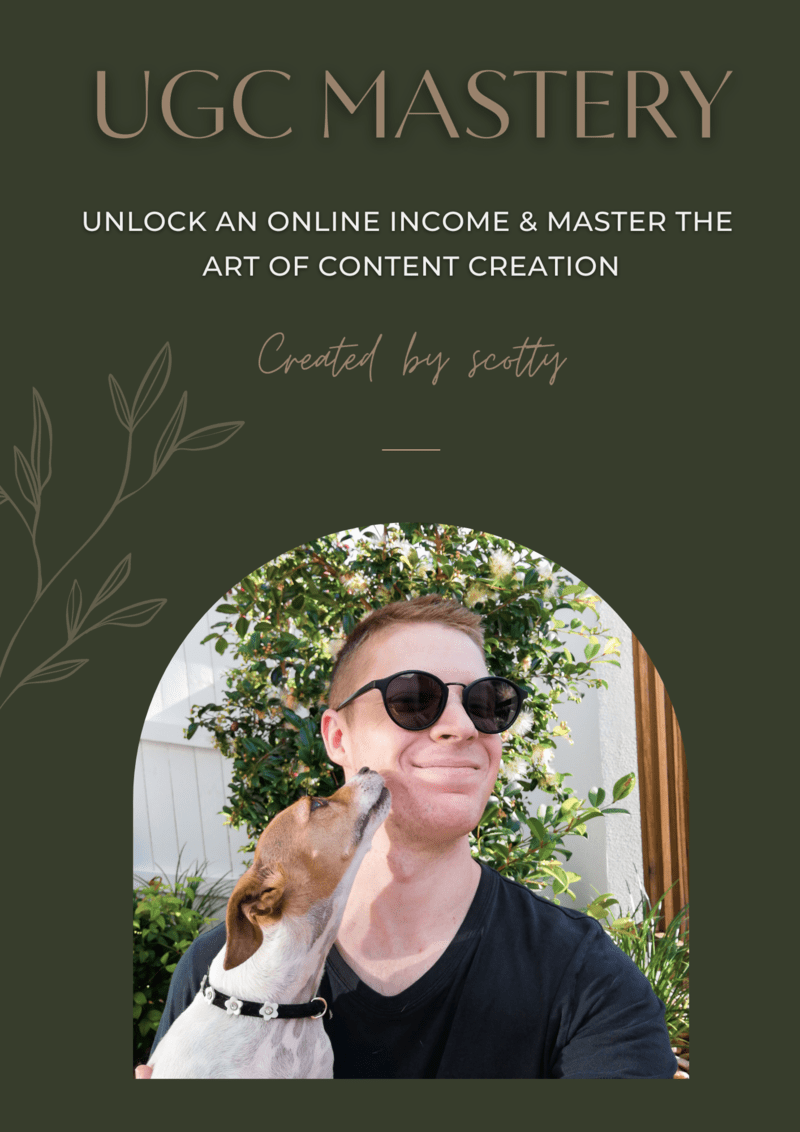 Unlock an online income & master the art of content creation. UGC Mastery is a holistic, deep dive into positioning yourself correctly as a UGC creator, building an unstoppable online biz & learning to create an income online.
Now, let me show you how to transform your passion into a raging online success.
I want you to feel empowered, and ready to build your own version of success – however that might look for you.
What is a UGC Creator?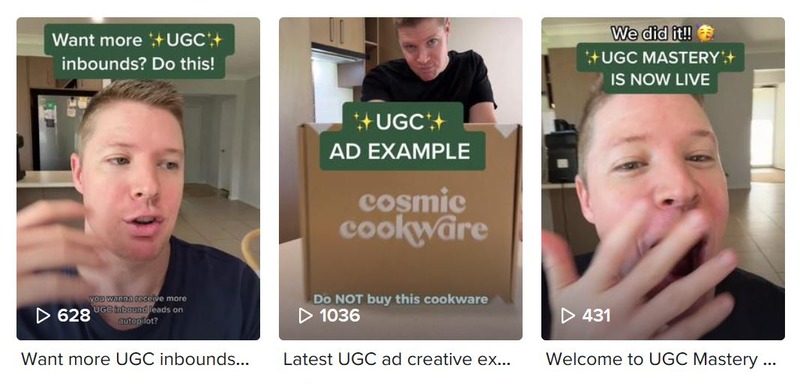 UGC stands for User Generated Content.
It's content intended to be created by users themselves. In this case, a customer.
UGC is a rather important part of the marketing strategy for brands and businesses. It essentially provides additional marketing touchpoints for a brand's target audience.
It's a critical step in digital marketing, where users (or customers) talk about their experience with a product or service. They might even create video or photo content for brands and businesses to use as social proof.
It's designed to emulate that of a customer testimonial or experience ie. unboxing videos, testimonial or review-style content from a customer perspective.
UGC isn't always easy to come by organically for a brand or business, which is why the creator landscape has seen a meteoric rise in UGC Creators, and ultimately, UGC Creator Jobs (also known as brand deals or partnerships).
User generated content creators are those who specifically tailor and craft content to look like organic and natural content online.
Brands hire UGC creators to accommodate the need for native content that an audience can feel included in.
Best of all, you don't need a huge following to become a UGC creator. This is where user generated content creation differs wildly from typical 'influencing'. Brands are wanting access to your content creation ability and not your audience.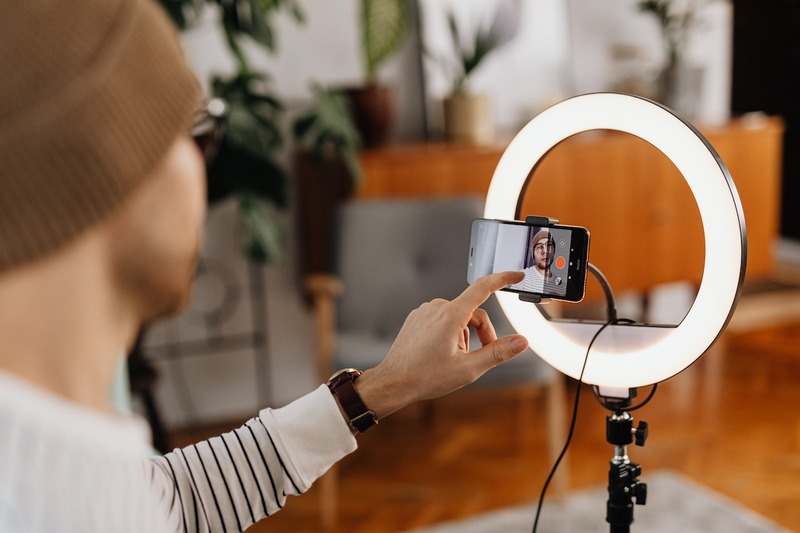 UGC content has two major content types:
1. Organic UGC
Organic UGC is exactly that – its content created organically for use on social media platforms. It doesn't have an advertising budget attached and is used primarily to grow an audience or bring awareness to a specific product or service.
These styles of videos are generally more relaxed, comedic, fun and have less structure than most Ad Creatives.
It's the job of ugc creators to create content that brings these ideas and concepts to fruition on behalf of the brand or business they're engaged to work with.
2. UGC Ad Creatives
UGC Ad Creatives are creative videos that follow a proven marketing framework and structure. They're typically crafted to elicit a direct response ie. a purchase, throughout and toward the end of the content. 
This style of content is used in online advertising, usually across social platforms such as TikTok, Instagram and Meta Advertising.
Brands use the content created by ugc creators and add an advertising budget behind it to reach a wider audience.
With UGC, the brand or client simply pays you to deliver high quality content. There's no need for you to post it to your own social media channels. That being said, many UGC Creators still choose to upload the content to their socials as proof of work, and as an extended version of their portfolio.
What Makes a Successful UGC Creator?
With the rising popularity in UGC Creators in the digital landscape, it's important to distinguish yourself from the other creators in the space.
There are incredible amounts of money to be made as a user generated content creator, so it's in your best interest to set yourself apart from the sea of creators. That's exactly what I did and continue to do so.
$10K months aren't uncommon, with many of the industry's ugc content creators clearing 5 figures consistently! Learn how to do it with UGC Mastery!
I have different approaches and strategies that are geared towards building client relationships and partnerships that effectively meet their target audience requirements.
You'll need that differentiation in your work and business if you wish to become a UGC creator who is earning consistently and being paid well.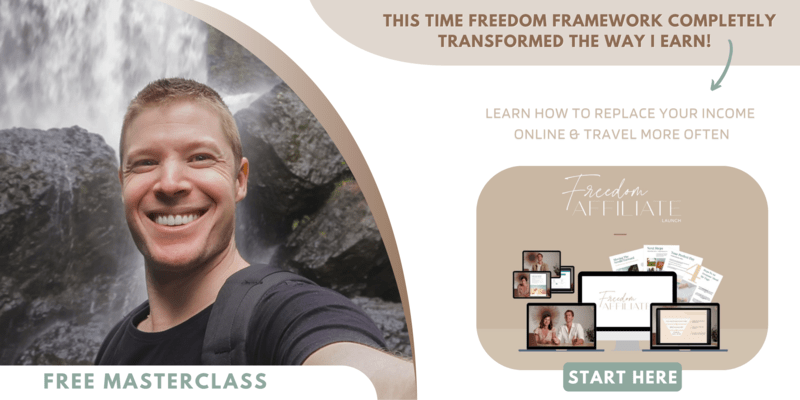 These Things Make a Successful UGC Content Creator:
1. Content That Sells – Content That Converts.
Brands MUST be able to see that you can craft content and stories that ultimately sell. The end result is to encourage a purchase decision, particularly in a UGC Ad Creative.
Ensure you've built a strong UGC Portfolio, that showcases your content creation skills. Brands will only continue to hire UGC creators who can deliver strong creatives with a compelling portfolio of work. So, ensure you understand how to create videos that convert for your clients.
2. Effective Negotiating Abilities
Selling your UGC services is difficult if you lack the ability to negotiate. Strong negotiation skills largely come down to your unique value proposition – more on that in just a second.
3. Know What Red Flags to Look Out For
Avoid nefarious industry pitfalls, dodgy deals and sketchy clients who are only trying to rip you off. Your work is extremely valuable! You deserve to be paid well for it!
4. Clear & Concise Communication
Effective & clear communication is a must! This will help aid your negotiation phase when dealing with client interactions.
5. Deliver Killer Content On Time, Every time 
How efficiently does your workflow & system process operate? Is it clunky and time consuming? Or is it streamlined and efficient?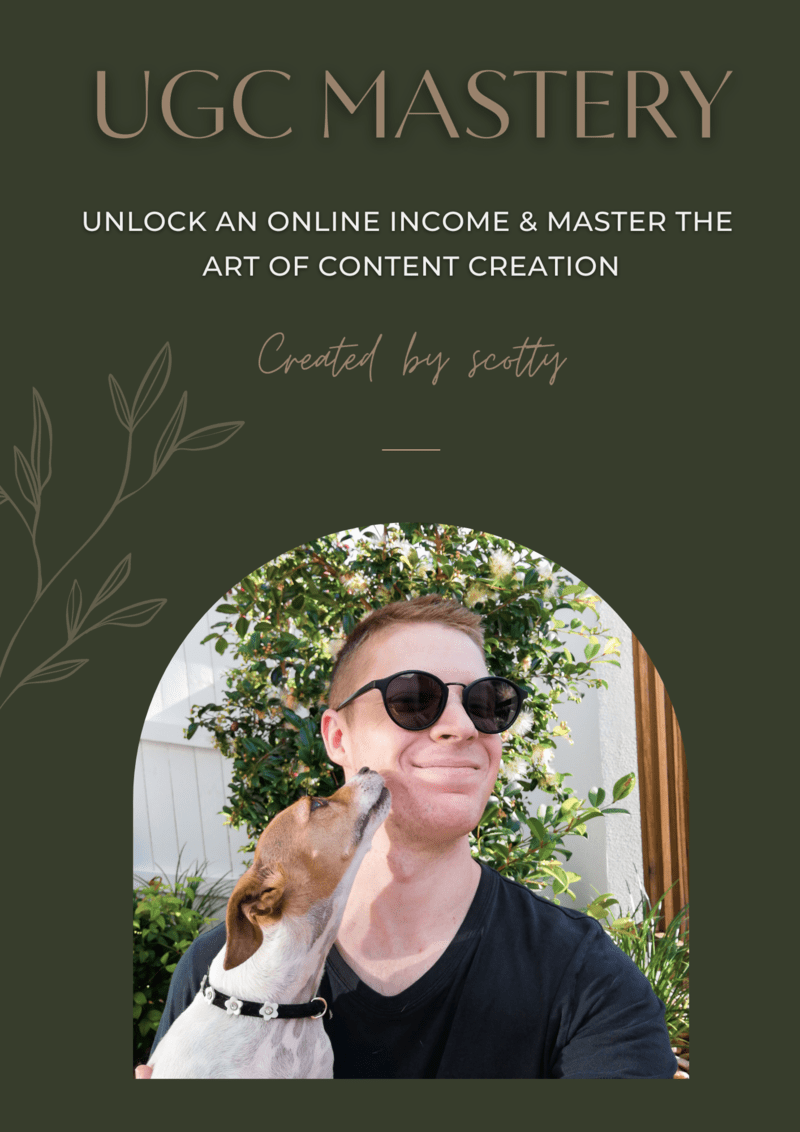 Unlock an online income & master the art of content creation. UGC Mastery is a holistic, deep dive into positioning yourself correctly as a UGC creator, building an unstoppable online biz & learning to create an income online.
How to Land UGC Creator Jobs (That Are High Value & Pay Well)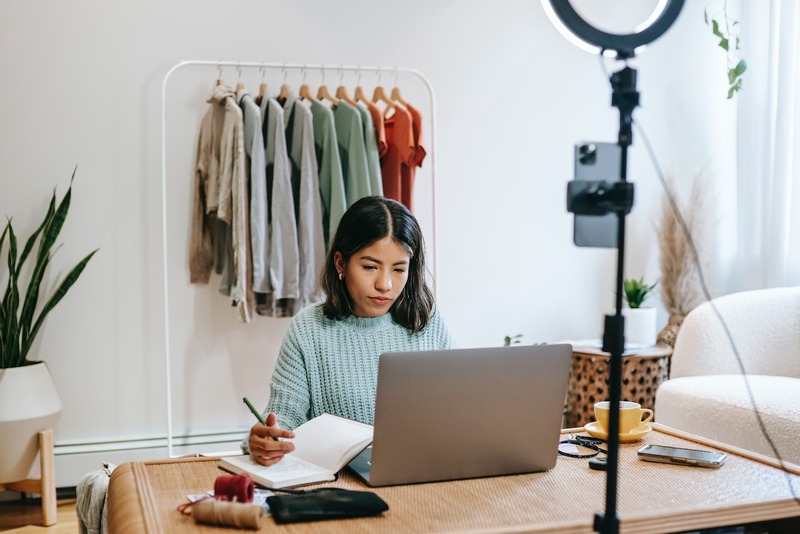 Perhaps you've been doing UGC for a little while, but you're still struggling to build consistent clients or monthly retainers.
Maybe you're feeling like the UGC creator jobs are few and far between? Maybe you're just starting out and you're wondering how the frick you're going to attract clients regularly?
We've all been there, but the trick is attracting the right clients to you, and not chasing them.
Desperation is not the vibe!
You need to learn how to become magnetic in your personality and on-screen presence within your UGC content.
You need to know how to position yourself in the space where clients are coming to you on autopilot. Receiving inbound leads on tap, every day without lifting a finger is a skill – I'll show you how to finesse it! 
Landing UGC Creator jobs where the client values your work & experience is the holy grail. Clients who understand the process and are willing to pay you your worth is crucial in building an online income that's sustainable.
Do This to Land More UGC Creator Jobs:
1. Build out your unique value proposition (UVP)
What is it that you offer that's different to the rest? How do you present your work and personality as a point of difference?
Creating a UVP is a crucial step in being able to negotiate with brands and businesses. This will be a culmination of all your current & previous work, your personal brand, your portfolio, and how your photo & video content is able to convert to sales for past and present clients.
2. Elevate your creative concepts and execution.
Your content is king! Are you able to provide unique concepts and stories for your client to leverage?
3. Is your outreach and pitching strategic?
If you choose to pitch to brands, is your outreach effort strategic? Is it going to close a deal for you? If not, it's time to reconsider how you're reaching out to brands!
My comprehensive course in UGC, business & strategic positioning shows you how to do this strategically, in a way that's designed to create a sale on your services immediately. Check it out here.
4. Elevate Your Editing Skills to Reflect Great Storytelling.
Telling a compelling story is an artform! Showcasing that in your work is even more so. Capturing the attention of an audience, and then keeping is something you'll learn over time, and with practice.
If you'd like to learn how to do it, and also accelerate the growth of your own audience, check out Rock Your Tok below.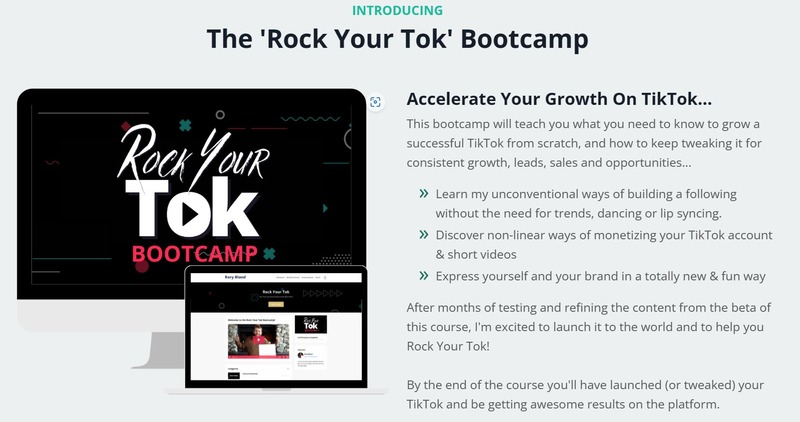 How to Become a UGC Content Creator Who Is Successful & In Demand
1. Research User Generated Content
Spend some time researching the industry, successful creators and other ads that you see in your feed.
2. Establish if You're Really Prepared to Run a Business or Not
Are you cut out to run a business? Can you dedicate the time & energy. It's a lot of work and success is never guaranteed.
3. Take Inspiration from Your Favourite Creators
Take note of how they operate, how they structure their work, and what they're charging. There's a reason they charge what they do.
4. Build Your Foundations (This Will Set You Up for Long Term Success)
Website & SEO (start generating organic traffic)

Positioning Yourself Effectively (In Your Content, Personality & Online Presence)

Posting Your Work to Attract the Right Clients (High Vibe & High Value)

Building Strong Brand Partnerships & Relationships

Effective Communication (Email, DM's)
5. Understanding the Value of Your Content & Importance of Your Work
As a creator, you form a pivotal role in the creator economy. Devaluing your work, or letting other agencies or brands do that for you, harms the rest of the creator industry.
Setting low rates, limiting your value and contribution as a creator not only harms you, but everyone else. Ensure you set rates that mimic the quality of your work and the results that it drives for your clients and business.
Start your rates at $300 and work from there. We want to set precedent for the industry where we're all being paid fairly for our work.
Is Becoming a UGC Creator Really for You?
If you love to create content and you also love the business and marketing side of things, this is absolutely something you should be exploring!
The opportunity to earn money from home, work on your own schedule and start living a life on your terms is INSANE!
It's honestly been one of the most incredible business opportunities I've ever decided to take on.
If you'd like to get started, but need guidance and an actionable way forward, check out UGC Mastery here. It's a holistic deep dive into UGC, business and how to effectively position yourself in the space.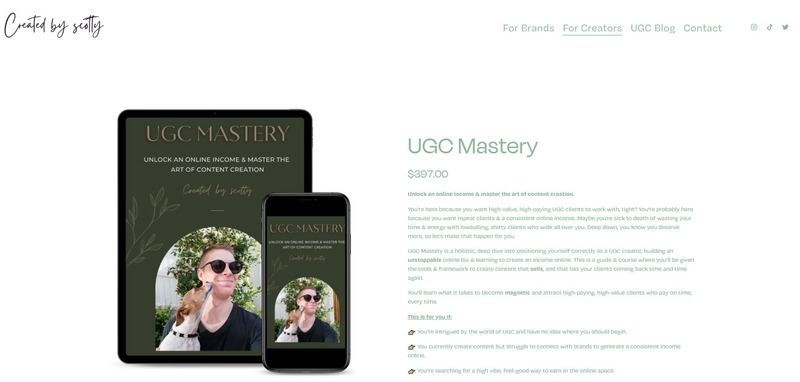 I don't pitch to brands; I don't perform any UGC outreach for UGC jobs – I simply let interested clients and brands come to me. I don't chase, I attract!
That's why I created UGC Mastery! You'll learn how to become magnetic and how to attract high-paying, high-value clients on autopilot.
Unlock an online income & master the art of content creation. UGC Mastery is a holistic, deep dive into positioning yourself correctly as a UGC creator, building an unstoppable online biz & learning to create an income online.
If you've been dreaming of having so many UGC inbound leads that you simply don't know what to do with them, then UGC Mastery is a must for any new creator looking to level up.
FAQ's
How Much Do UGC Creators Make?
How much you earn as a UGC Creator really comes down to how well you create content that converts for your client. The real goal here is to encourage a direct response to the content you create – ie. a sale!
The more you're able to achieve that, the more in demand you'll become. You'll build repeat clients who come back time and time again because you create ugc that delivers a result. This will ultimately lead to more high-value, high vibe ugc opportunities for your business.
What Does UGC Stand For?
UGC stands for User Generated Content.
What is a UGC Job?
A UGC job, or UGC gig is a partnerships opportunity between the content creator and their client/brand.
What is the Difference Between UGC & Influencer?
As a UGC Creator, you're creating content to license to a brand or business (your client). They take the content and use it on their social media or in their advertising. They pay you a fee to do so. There's no responsibility or obligation to post the content to your own socials or audience.
As an influencer, a brand or content opportunity is looking to leverage your audience, by putting their product or service in front of that audience.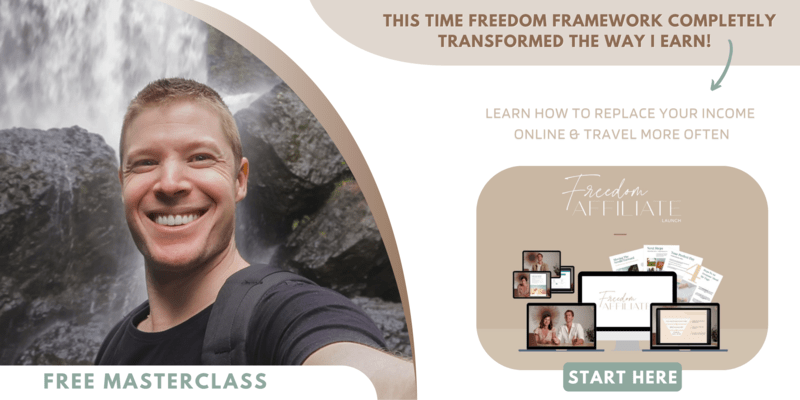 Disclaimer: These are my experiences, honest opinions and stories. We are proud to partner with many beautiful digital education & travel products and services as an affiliate. On some occasions, we may benefit from a commission when you make a purchase with these links. This commission helps to support the ongoing publication of free and readily available content designed for those who wish to get started in the online business and creator space. This is not financial advice.